The glut of affordable streaming services available right now has made it easier than ever to make a clean break from your cable subscription. But just like when any long-term relationship ends, it can be tempting to rekindle the flame rather than go without what brings you so much joy: NFL football.
Be strong, cord-cutting football fans. There are plenty of ways to watch your favorite games this season without spending a dime. Here are six of 'em.
Switch to Verizon Wireless
This year, Verizon will allow its customers to stream live local and primetime games on CBS, NBC, ESPN, FOX, and NFL Network on their mobile devices for free (and without using any data) via their slick NFL Mobile app. And if you have an Apple TV, Roku, or Chromecast you can easily beam the action to your big screen.
Watch on Twitter
Starting this year, Twitter is letting users stream 10 regular season Thursday Night Football games for free. To take advantage, take a peek at the schedule, and tune-in via Twitter before kick-off. And again, if you have an Apple TV or similar set-top console you can easily broadcast the feed from your phone, tablet, or laptop to your big screen.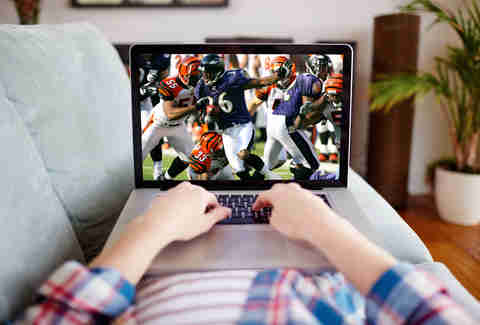 Try Periscope
As long as you don't care about stellar picture quality, you can usually find someone broadcasting games from in front of their TV via the livestreaming app, which you can watch from the comfort of your phone or tablet. Also, because Periscope is owned by Twitter, it will be streaming live pre- and post-game coverage on the app for those 10 games that'll be broadcast for free.
Google it
This one may be obvious, but when all else fails, the best thing to do is just start Googling around for free streams of the game you want to see. With enough sleuthing and patience, you'll probably end up discovering something at least borderline watchable/questionably legal. There are a handful of mostly dependable sites that aggregate links to illegal streams for pretty much any game you'd want to watch. Protip: minimize any sidebar live chats on the screen to improve streaming quality, and keep in mind that they're all fairly sketchy. You could get bounced off at any moment, and there's no telling what potentially harmful and intrusive software you may expose your computer to, so stream cautiously and at your own risk.

Sign up here for our daily Thrillist email, and get your fix of the best in food/drink/fun.
Joe McGauley is a senior writer for Thrillist. He's been in a really good place since he broke it off with Big Cable.