How to Support the Asian-American Community in Los Angeles Right Now
Take a stand against AAPI hate in all its shapes and forms.
Anti-Asian hate is nothing new. You're just hearing about it more—from last week's racially motivated attack in Atlanta to the alarming uptick in hate crimes across the country. But from everyday microaggressions to violent incidents, the AAPI community has historically experienced discrimination—which has only been fueled by COVID-19 and the harmful rhetoric surrounding it. Approximately 1.5 million AAPI call Los Angeles County home, with some of the largest Asian ethnic enclaves outside of their native countries. These vibrant, diverse communities contribute so much to our city's rich cultural tapestry—and right now, they need us.
If you're saddened, disturbed, and outraged by the racism and xenophobia, it's time to take action. Here are several ways you can show support and allyship to your Asian and Asian-American friends, family, coworkers, and neighbors.
Donate to nonprofits supporting Asian and Asian-American residents
Asian Americans Advancing Justice provides free resources and services—especially for vulnerable, low-income immigrants who aren't proficient in English—in addition to running an anti-Asian discrimation project you can help fund. If you're incensed about the increasing occurrences of violence against the elderly, Asian American Senior Citizens Service Center is dedicated to increasing awareness of this community's needs—now more important than ever. The Center for Asian Americans United for Self-Empowerment (CAUSE) advances political and civic empowerment through nonpartisan voter outreach, training, education, and leadership development.
You can also donate to any of Los Angeles's many community-oriented organizations, including the Little Tokyo Service Center, Chinatown Service Center, Korean American Family Services, Filipino American National Historical Society, Search to Involve Pilipino Americans, and The Progressive Vietnamese American Organization (PIVOT).
Volunteer to keep elderly members of the AAPI community safe
Inspired by a similar project in Oakland, Compassion in SGV is a new organization that helps keep vulnerable people in the San Gabriel Valley safe. Volunteer chaperones provide a sense of security by accompanying the elderly to their cars, buses, or other destinations. Don't live in the SGV? Mobilize volunteers to offer assistance to AAPI neighbors in your community.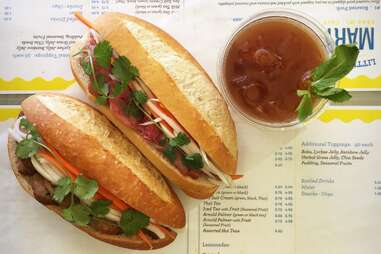 Patronize AAPI-owned restaurants and businesses
The pandemic dealt a huge blow to the restaurant industry, but many Asian eateries endured the added hardship of COVID-19-related stigma. One of the best ways to show your support is by spending your dollars at AAPI-owned places (which, coincidentally, will also make your stomach very happy). While there are far too many to name, some of our favorites include Mei Lin's newly opened Daybird, cooking up Szechuan hot chicken in Silver Lake, and Ryan Wong's Needle, serving tasty Hong Kong eats in the same neighborhood. There's also Little Shop of Mary's mouthwatering banh mis, family-run Woon Kitchen, Lao Tao's Taiwanese street food, Yang Chow's Chinese classics, Saikai Ramen Bar's perfectly executed bowls, Broken Mouth's homestyle Hawaiian dishes, Pokéworks' famous sushi burritos, Lasita's Filipino rotisserie and lechon-inspired menu (a new concept from the guys behind LASA), Simpang Asia's crave-worthy Indonesian fare, Pho Hue Oi's noodle soups, Mayura Indian Restaurant's Kerala-based cuisine, Gamboge's Cambodian sandwiches, and any number of restaurants in the SGV (here's a primer on the area's best dumplings).
Once your stomach's satiated, start shopping at Now Serving—which stocks must-have cookbooks, ceramics, and more in Chinatown. Sawtelle mainstay Black Market is a lifestyle boutique with the coolest clothes and trinkets. Over in Eagle Rock, Leanna Lin's Wonderland curates covetable art, toys, and decor, while Japanese gift shop Bunkado is still going strong at its original downtown location since 1946. Founded in 1888, Pasadena's family-owned F. Suie One Co. is your go-to for Asian antiques and furniture.
Original wedding plans derailed? Monica Wang's The Revery (a gorgeous, natural-light-filled photo studio and event venue) is partnering with Studio Komorebi on all-inclusive micro wedding packages from April to July. Also, look into floral design and event planning company The Loved Co.
Or pay a visit to any one of LA's ethnic pockets, where you'll find a plethora of AAPI-owned restaurants, markets, and small businesses that deserve your patronage—like Thai Town, Historic Filipinotown, Koreatown, Little Bangladesh, Chinatown, Little India, Little Tokyo, and Sawtelle's Japantown.
Support local entrepreneurs' social-media-based pop-ups
Last year's restaurant lockdown birthed exciting, new culinary ventures on social media (and shined a spotlight on a few existing concepts, too). Chinese-Indonesian-American Brian Moeljadi helped launch a new sambal sauce with Cash Only Productions, a culinary collective that creates food products, apparel, and events. Burmese Please shifted from cooking at Smorgasburg pop-ups to offering takeout from an Arts District kitchen. KinKan and Debi Sushi create artisanal chirashi boxes that are almost too pretty to eat. You'd be remiss not to order one of Ishnoelle Chin's's delectable ube cheese or buko pies. Sandy Ho's beautifully dyed dumplings and fortune cookies make the perfect gift (plus, she's committing 10% of all online sales to a different nonprofit each month). So do Jennifer Ban's' stunning Korean rice cakes—which are steamed and piped with intricate white bean paste flowers.
Follow LA-based thought leaders and groups who promote AAPI interests
Chinese-American chef (and Thrillist Local Hero) Jenny Dorsey offers a unique point of view through her work with Studio ATAO, which uses events and exhibitions to explore issues like unconscious bias and immigration. Her commentary on how food can be used as a medium for identity, representation, and social change is enlightening. Entrepreneur Jing Gao is another prominent voice in the community, leveraging her premium Chinese food company Fly by Jing (a.k.a. makers of your favorite chili crisp) to challenge the hierarchy of taste in the West. Writer/comedian/actress Jenny Yang combines humor and activism to tackle race and class, while Angry Asian Man's Phil Yu has voiced his opinions on Asian-American affairs and pop culture for years.
A nonprofit collective of creative voices and influential leaders, Gold House rallies for multicultural representation and socioeconomic equity. Meanwhile, apparel brand Asian American Girl Club, founded by actress Ally Maki, celebrates AAPI women.
Speak up if you witness anti-Asian crimes or biased incidents
We don't have truly comprehensive and accurate data on anti-Asian crimes, so it's critical to keep track of them. You can report crimes to Stop AAPI Hate, which helps monitor and respond to incidents of violence, harassment, and more. Between March 19, 2020, and February 28, 2021, the organization logged nearly 3,800 incidents in the U.S., a figure that's likely far higher in reality.
The National Asian Pacific American Bar Association has established pro bono legal resources, while Asian-Americans Advancing Justice offers free bystander training workshops that teach how to intervene effectively without compromising your safety. Fearful for her own parents' well-being, Esther Lim—a second-generation Korean-American born in LA—launched a grassroots project, creating booklets on how to recognize and report hate crimes. Digital and print versions are now available in seven languages.
Tiffany Tse
is a Thrillist contributor and a proud member of the AAPI community in LA.