Tailgating at Baseball Games is Real, and It Can Be Spectacular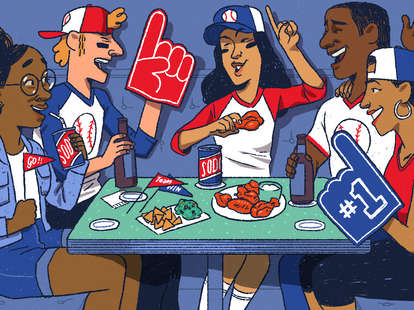 David Saracino/Thrillist
David Saracino/Thrillist
Oh, did you think tailgating was reserved for cold weather sports involving guys named "Brady" only? Well you'd be mistaken, because even if you've never tailgated at a baseball game before, there are cities where it's practically as important as the game itself. (Looking at you, Milwaukee.) And if you've never tried it in your home city, we've got you covered: from how to choose the right day to tailgate to flawlessly executed food. This way, you're all set for opening day.
PLAN OF ATTACK
Save the tailgate for the big games
When it comes to a football tailgate, every game is a reason to break out the grills (and customized RVs). But that's because each NFL® team is only guaranteed 8 home games in their season. Baseball though? Those guys play 162 games, 81 in their home city. Clearly, not every one of those games is going to be a party. Instead, look for weekend games and those that involve team rivalries, or if a key player is about to break a personal record -- and, of course, opening day is always huge. Sure, those tickets may be a bit pricier than a Thursday game after work -- but trust us, no one is breaking out the hot dogs there.
Check the local rules
Each stadium is going to have different regulations about tailgating and protocol. For example, it's good to know that you can bring food into the Phillies' Citizens Bank Park, and that their local restaurants in the stadium area normally offer a discount if you come into your seat a few hours before the game. The Angels, meanwhile, don't allow any alcoholic beverages in their parking lot at all, and you can't use a charcoal grill. You'll find most of this info on the MLB® website for each stadium. You may have to move it elsewhere, so...
Be prepared to bring the party to a local bar
While in some cities, like Milwaukee and Kansas City, tailgating at MLB games is practically a rite of passage, in others it's just not going to be feasible. Some ballparks are specifically designed to be centrally located, or easily connected to public transportation, and you'd be a bonafide moron to try to park your car there. (Looking at you, Bronx Bombers.) There are some that completely outlaw grills in their parking lot. That means you may be bringing your pre-game "tailgate" to a favorite local sports bar instead.
In New York, The Dugout is conveniently located across the street from Yankee Stadium, and is a regular spot for fans to hit before the game. In Chicago, The Cubby Bear is the spot in Wrigleyville -- for before or after the game. But you can also try to find an unorthodox choice nearby that will give you more wiggle room. Most bars that don't serve food are fine with you bringing your own, and if a place isn't a sports bar, you can call to see if a small gathering is welcome and can get the game on the screen.
PREP WORK
Get there early
At a baseball game, most parking lots only open about two to three hours in advance of the game. That means getting there as the gates swing open, and having your parking paid in advance. Some fields, like Citizens Bank Park, only allow tailgating in specific lots -- and if those lots fill up, you're not breaking out the grill. If you want a spot that's close enough to the stadium so you won't be waiting long to get through the metal detectors, or want to be nearby bathrooms, all the more reason to plan to be in line when the lot opens.
Know the terrain
Some fields, like Dodger Stadium in Los Angeles, ban tailgating outright. However, nearby Elysian Park is a known spot to meet up before the game for some food and (non-alcoholic) drinks. That being said, it's best to check not only local stadium websites, but community groups to find out exactly where the best options are. You may also find that there are even more options available for bigger groups. Tailgating is allowed in three lots at a Kansas City Royals game, for example, but if you're planning on having more than 20 people, you're going to need to reserve a space with a deposit. In Kansas City, people are known to stake out spots five hours in advance to get going on their barbecue. (More on that in a bit.)
Prepare for contingencies
Listen closely now: Pack. Some. Toilet. Paper. Think we're kidding? If 1,000 people are trying to use the same set of porta-potties, they are bound to run out. So it's best to be prepared. (And why not throw in some hand sanitizer while you're at it?) Plus, being prepared will make you the prom queen of the tailgate -- because these kind of parties are normally sharing economies. That means if someone asks you to spare some ice, you don't scoff. (Especially because you may want to borrow a phone charger at some point.)
Also, be prepared for weather changes: a tent can help shield the sun and a sudden summer downpour, especially where those are common: take the Seattle Mariners, for example -- Safeco Field sees about 40 inches of rain a season, the most out of any MLB stadium. So pack an umbrella... but also bring the sunscreen. This isn't football tailgating -- its most likely gonna be hot outside. That aforementioned tent will come in handy, but making sure you stay on top of sunscreen application will ensure you aren't miserable come time for the opening pitch. Just remember: reapply every hour.
Put a flag on your car
At Milwaukee's Miller Park, where tailgating is a regular baseball season activity, it's common for most cars to hang a unique flag above their site -- that way their party can find their spot, and it makes it easier to find their ride after the game. We say you do the same, and find (or make) a unique option to fly from the car. That way, after nine innings, you aren't wandering around Lot H wondering where you parked. Plus it's a great way to put some personality into your tailgate.
FOOD
Partake in the local dishes
In cities that take baseball tailgating as seriously as New York takes dollar slices, there's normally some food that's essential to serve up -- otherwise you're just doing it wrong. Take Kansas City, for instance. At Kauffman Stadium, barbecue reigns over Royals games. Clearly, we're not talking burgers and hot dogs (that's called grilling) -- we're talking full-fledged, slow-smoked Kansas City barbecue. In Milwaukee, it's all about the bratwurst -- fittingly, brats are boiled in beer before getting tossed on the grill. (Brewers fans, get it?)
Prep what you can
A few hours may seem like a lot of time to get everyone fed and happy before the game starts, but when you're trying to heat the grill, maintain a conversation, and referee a game of catch, it's going to fly. Because of that, you should try to prep up as much as you can before you get to the lot. That means slicing up the veggies and cheese, having any side salads ready to go, and if you're going the bratwurst route, pre-boil them in some beer the night before. That way, you just have to get a nice char on them, instead of cooking them all the way through.
Save room for the ballpark eats
These days, you'll find more than popcorn and hot dogs inside a baseball stadium -- as many have opened up concessions to include some favorite local bites. We're talking elote at a White Sox game, or smoked brisket in Houston, for example. That makes the job of a tailgater even easier -- because you don't have to worry about keeping everyone full for nine innings. Save some room to sample what's best, that way you're not in a food coma by the seventh inning stretch.
And keep some leftovers for the game
That being said, you will definitely want to check the prices on some of those eats before you shell out $48 for a quick bite for the fam. Some stadiums actually allow fans to bring food into the game, so bring a small cooler to pack up any tailgate leftovers for later, as well as some bottles of water. Your wallet will thank you.
ENJOYING THE TAILGATE
Be prepared for kids to be there
Baseball games are notoriously family-focused activities (it is called America's Favorite Pastime, after all) and because the tickets are less expensive than other sports outings, expect to see some kiddos around. That means you should keep it PG -- drink temperately, make sure the music isn't completely offensive, and have your eye out for a youngster before you start bad-mouthing the opposing team in an, ahem, adult fashion.
Have a trash plan
Bring enough trash bags to take out everything you carry into the tailgate, plus be able to separate properly for recycling. You should also bring a few extra to protect your car from getting grease stains if you're lugging your grill in the trunk. To avoid that, your best bet is to wrap up the grates in plastic, too, once they've cooled.
Wrap it up in time for the first pitch
Everyone loves a good tailgate, but it's not the main event. So keep in mind that some stadiums have rules about how long tailgates can go on for, and you don't want to be waiting in line to enter or shuffling to find your seat when the first pitch is being thrown. You came for a reason, and that was to see the baseball game. (And, sure, have a few brats and beers while you're at it.) Now get in there and have a good time.