10 Tips to Take Your Cornhole Game to the Next Level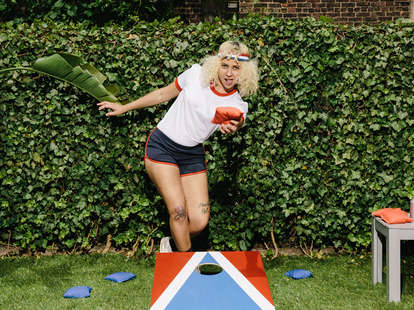 Photography by Nathan Perkel, Prop Styling by Sophie Strangio
Photography by Nathan Perkel, Prop Styling by Sophie Strangio
Despite what Urban Dictionary says, cornhole is a backyard game that is grounded on a simple premise: get a 1-pound beanbag through a hole in a board. Seems easy, and it is, if you just want to play, but what if you want to, you know, win?
To make sure that you don't make a fool of yourself at this year's barbecues, we've reached out to some of the nation's top cornhole players: six-time World Cornhole Champion Matt Guy, Eric Zocklein -- who also holds a world championship title, as well as top-ranked female player Christine Papcek, top-ranked senior Allen Rockwell, and pro players Michael Byrd and Eric Hinerman, the latter of whom is also Director of World Certified Officials for the American Cornhole Organization. They've all shared a few tips to make sure your cornhole game is on lock before the first hamburger hits the grill this season.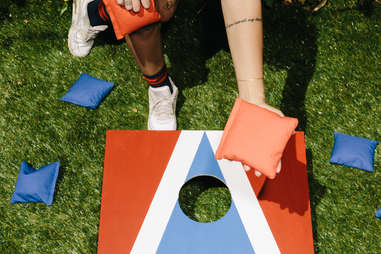 Get your bag flat
If you keep the bag bunched up in your hand, it will tumble all over itself as it makes its way to the board. Not ideal, and you're probably never going to make it in the hole that way. "The biggest mistake I see is that rookies try to wad it up like a ball and throw it," says Guy. "When you do that, it's harder to release it out of your hand, then of course it doesn't fly straight, and when you hit the board it doesn't go straight." Instead of gripping the bag like a ball, you should grip it more like a frisbee or a sandwich, for those non-athletic types. The bag should be flat in your palm, with four fingers on the bottom on the bag and your thumb on top, and your palm should be flat and facing upwards when you throw it.
Aim for the middle of the board
This may seem obvious, because, you know, that's where the hole is. But, there's another reason to aim down the middle, as Guy points out: "Regardless of whether your bag is going in [the hole] or not, the key to the game is to consistently be down the middle of the board. That way if your bag ain't in, you're still in your opponent's way." This is called a "blocker shot" and it's used as a defensive strategy in professional games, because it requires your opponent to nail a difficult shot over your bag, called an "airmail," or to push your bag in with his.
Use double-sided bags
Making the upgrade from generic cornhole bags to fancy double sided ones will be like when you got your first smartphone, or bought your first bottle of wine that was more than $15. These double-sided bags are what the pros use, and have a suede side that's better for sticking shots to the board, and a canvas side that's slicker for speed.
"For the backyard, the corn-filled bags are good, but when you start trying to get competitive, you start thinking strategy, you start thinking defense. You start thinking offensive plays, pushing bags, airmails," Byrd says. "If you throw the suede side down with a flat bag, it's going to grab the board and slow up with more friction on the board. You put the slick side down to have more momentum and less friction so you can push your other bag in the hole."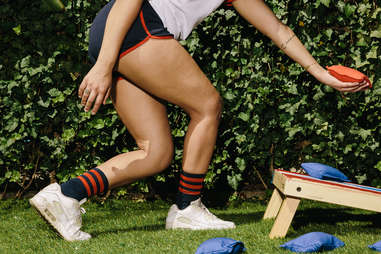 Donate your cargo shorts to Goodwill
Seriously, your "shorts" shouldn't practically reach to your ankles, and that's good advice for cornhole and life in general. You don't want to wear anything baggy, because the material could mess with your throw. "Some shorts like cargo shorts, when you come through [on your throw] you might hit the pocket that's on the side and it can interfere," Zocklein says. "I also take everything out of my pocket so I don't hit it."
If you want to be really cautious, or send a message to your friends that this backyard game is about to get intense, you could also take this tip from Papcek: "We actually know guys that, when we're playing the real competitive games, will actually rubberband their shorts."
Find a stance that works for you
There are two common throwing stances in cornhole: you either stand still and use all arm in your throw, which is good for keeping your movements fluid, or you take a step to get more momentum behind the throw. Hinerman suggests that you just stand in the way you're most comfortable and stick with it, because it's difficult to change stances and maintain your consistency. "Once someone has their comfortable shot, they just know that's their type of game. I stand still, so I just know that when I push a shot, I've got to use more arm."
Zocklein, however, was a bowler before he was a pro cornhole player, so he's used to taking a step and knows that he needs to control his speed so the bag doesn't fly off the back of the board.
Keep it smooth
During a cornhole game, you should be channeling your inner Harrison Ford or Sean Connery, rather than any of the characters on Silicon Valley. You want to keep all your movements smooth and controlled. "It's all about being smooth-- having a very smooth back swing and a very smooth front swing and delivery, you're not whipping the bag or anything like that. When I see people play in the backyard, they're like chucking it and have jerky movements, you just want to stay smooth," says Hinerman.
Leave the sandals at home
Unless you like the idea of potentially twisting your ankle, or messing up your shots. "I see some people wearing flip-flops or people wearing sandals, and you're going to slide in your shoes," Rockman says. Matt Guy agrees, "I've never ever, in my life tried to play in sandals. I would suggest comfortable gym shoes."
Let your partner be your eyes
When you're playing a game with a partner, you have an advantage in that there is someone who is close to the board and can see your next shot, most likely better than you can. "A lot of people come up to us and say 'you guys talk to each other a lot during the game' and, well, you should, that's the whole point of having somebody at the other end," Papcek says of her and her cornhole partner, Stacia Pugh. "Sometimes, you might want to airmail, but maybe there's a good chance you're going to take the other person's bag in before you take yours. And you can't see that."
You'll nail an airmail if you keep all your shots a little higher
Line drive shots should be reserved for baseball, Rockman says. Your "sliding shot" or the shot that slides up the board and into the hole, shouldn't be low. That's because if you want to try to nail an airmail shot, you'll need to majorly readjust how you throw. "The airmail and your slide shot should be very close to the same throw, that way it's in your muscle memory and you're in the same rhythm," he says. "The trick is to have pretty much the same height when you throw a slider and an airmail."
Put the beer down when tossing
There's nothing wrong with enjoying an adult beverage during cornhole -- in fact, there's everything right with it. But during play our pros suggest you go empty-handed, as the distraction of holding anything (a beer, a rolled up newspaper, a very small dog) outweighs mythical notions of "balance." "I definitely drink, but I would recommend putting it down when you play," Guy says. "I've seen people hold it, and I love playing against those guys that keep their beer in their hands." Sip between throws, and you'll have plenty left for your celebratory victory pour.