How to Throw a Perfectly Spooky Halloween Party
Jenna Gang/Olivia Mack McCool
Jenna Gang/Olivia Mack McCool
Sure, anyone can hang some orange and black crepe paper, set out a bowl of candy, put "Monster Mash" on the speaker, and call it a Halloween party, but it takes a savvy host to take this annual holiday to the next level. From how to get your guests to commit to the theme, to the best snacks and drinks to serve, to making sure you have enough SOLOⓇ cups and plates on hand, we've got some ideas on how to wow your guests -- and maybe even earn you a reputation as the ultimate Halloween party planner.
Pick a theme and commit to it
Whether it's puns, your favorite TV show, or '90s pop culture, setting a theme -- and getting really into it with costumes and decor -- will take your party from forgettable to legendary. For punny costumes, think someone with a potato chip on their shoulder, or a breadwinner decked out in gold medals and whole wheat slices. If you're going '90s, plaster your walls with vintage boy band posters and and don't forget to have TV shows and music from the decade playing in the background. No small detail is ever wasted when it comes to setting the mood.
Set up a DIY costume table
Even if your invitations have made your theme intentions clear, it's pretty much guaranteed that a few of your guests won't follow through. Combat their laziness by providing a costume table so that they can deck themselves out in on-theme props upon arrival. While you might not be able to spring for a bunch of denim jackets for that '90s party, you can still provide scrunchies, slap bracelets, trucker hats, and other items that are relatively inexpensive and easy to get. That way, all your guests will look right on trend.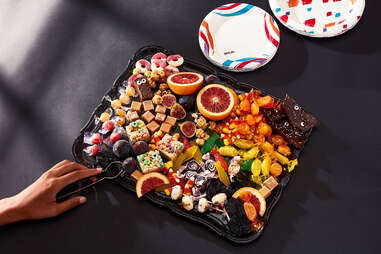 Elevate your candy game
Halloween is all about the candy, but bowls of fun-size chocolate bars are for trick-or-treaters, not a grown-up party. Upgrade your snack bar with a sweet take on a grazing board -- swapping the usual charcuterie and cheeses for an array of fruits like figs, plums, and blood oranges; plus treats like candy corn, chocolate bark, and wrapped candies. The finger foods make it easy for guests to eat and mingle with a SOLO plate in hand, not to mention make for a light cleanup. Plus, you'll no doubt get compliments on that sophisticated palate of yours.
Scare guests with your baking skills
To show you put extra thought into your Halloween party, make some sweets yourself. They don't have to be complicated to be impressive, either. For example, pipe white icing onto cut sheet pan brownies to turn them into "mummies." Or make frozen, white chocolate ghost bananas: using a popsicle stick, dip half of a banana in melted white chocolate, add chocolate chips for eyes, and let it harden in the freezer. Spooky? Not really. Delicious? Very much so. Place a stack of SOLO plates next to your treat buffet so that guests can make their own assortment -- then watch them come back for seconds (or thirds).
Award the best costume of the night
Some people go all-out for Halloween and should be duly rewarded. During the party, have guests nominate one another for Best Costume using write-in ballots and a voting box (another use for a pumpkin, maybe??), and then vote via loudest applause. Award the winner a prize like a gift basket filled with candy, a pack of Halloween movies, or even a "mini bar in a jar" stocked with a few liquor samples.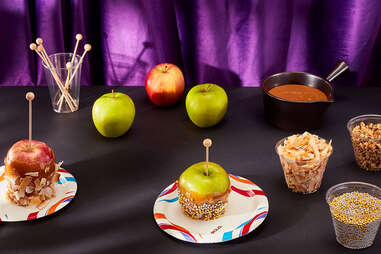 Set up a caramel apple bar
Let guests put a spin on this childhood carnival favorite by making their own caramel apples. Heat the caramel in a slow cooker, then after dipping the apples, use colorful SOLO plates to roll them in toppings like crushed nuts, sprinkles, or coconut flakes. If you've got the stove space, melt one or two types of chocolate, too... since you know you can't go wrong with caramel and dark chocolate swirl. Once the candied apples harden, these treats also make the perfect party favor.
Go antiquing for decorations
If you really want to go for the gold here and add that perfectly spooky atmosphere, hit up some local antique shops for decorations. Anything from old dolls (seriously creepy) to old oil lamps and clocks can provide a brooding atmosphere to any Halloween party. You can also score some vintage photos or tintypes, which you can frame and adorn in fake cobwebs to hang on the walls. It'll feel like that Haunted Mansion amusement ride all over again.
Use pumpkins for literally everything
Pumpkins are synonymous with Halloween, but the seasonal fruit (yes, fruit!) can be used for more than decorations and pie. After a visit to your local market or pumpkin patch, consider turning your larger finds into fondue pots, ice buckets, candy dishes, and even punch bowls for your party (especially if you're serving a pumpkin-spiced beverage). You can even set out a few pumpkins carved into spooky little fairy houses with candles inside to shine through their windows, because those are still fun to make and super cute.
Keep an eye on the drinks
Classic party problem: You put your cup down for a second and forget which one is yours. Solution: Set out a few sheets of spooky stickers, googly eyes, and other fun crafty items next to the SOLO cups so guests can differentiate their drinks. If you're feeling really creative, you can even encourage them to make "monsters" out of their cups by providing pipe cleaners, foam bat wings, etc.
Make supernatural cocktails
To extend the Halloween spirit to your party's drinks, simply employ a little science. For example, if you've got a gin & tonic on the menu, try serving it under a blacklight. The quinine compound in tonic water allows the cocktail to shine bright under a UV light. Or, if you're feeling like the host or hostess with the mostest, take your home bar to the next level with dry ice. The solid form of carbon dioxide is colder than regular ice and can produce very cool smoking effects (since it melts into a gas) that you might want to use for your punch bowl, in a decorative pumpkin on the bar, or even in your SOLO cup (as long as you follow all the safety precautions not to touch or eat it).
Freak everyone out with scary stories and tarot cards
If you want to give your guests a real scare, dim the lights and encourage everyone to get really quiet. Partygoers can then take turns telling their very best ghost stories -- this is your time to wax nostalgic and pull out the old Scary Stories to Tell in the Dark. Or, if you've got a friend who dabbles in tarot readings, have them bring along their cards and set up shop. Make the tarot-reading corner spookier with a candle and eerie harp music on the speaker (if it's quiet enough around), and you've got yourself a truly spooky Halloween party.