Brilliant IKEA Hacks to Make Your Home Less Boring
IKEA furniture is sleek. IKEA furniture is affordable. And sometimes, IKEA furniture is as bland as the veggie balls in the cafeteria. But it doesn't have to be. Using the help of furniture-based innovators from all over the world, IKEA Hackers finds the cleverest ways to turn minimalist IKEA furniture into unique-looking pieces you'll be proud to have in your home. Here are the coolest hacks it's featured over the years, all of which you can put together using IKEA furniture.
Coffee table/stool
Price:
$60
Materials needed:
4 KNUFF magazine files
,
1 FROSTA stool
(or any rotating stool)
How it's done:
Apply some liquid nail on the stool, perch the magazine racks on top, and you're basically set. Remember magazines? You can store them inside, too. [
More...
]
Bar cart
Price:
$120
Materials needed:
2 VITTSJÖ laptop tables
, TEKS screws, corner supports, L brackets, wheels, spray paint
How it's done:
You've gotta have some sort of basic building skills to put this together (you're chopping up those desks pretty good), but the IKEA Hacker who came up with this genius bar-cart idea says it saved him from spending at least $200 on a bar cart. And it looks snazzy. [
More...
]
"Death Star" light
Price:
$80
Materials needed:
IKEA PS 2014 copper lamp
, acrylic paint, the Force
How it's done:
It already looks like a Death Star, so all you need to do is dismantle it and add the paint. Then tweet your work to J.J. Abrams, who'll be like, "Damn, nice work! Here's a free ticket to my new movie!" [
More...
]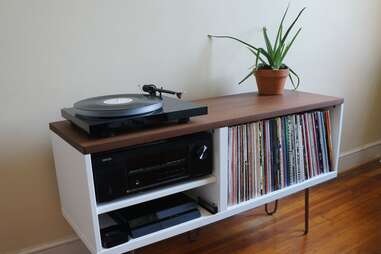 Record cabinet
Price:
$93.50 (IKEA furniture cost only)
Materials needed:
BESTÅ shelf unit
, hairpin legs, Brazilian hardwood
How it's done:
Two key additions to the boring-ish BESTÅ: hardwood replacing the top of the IKEA unit, and hairpin legs at the bottom. [
More...
]
Sideboard
Price:
$59.99
Materials needed:
KALLAX shelving unit
, two legs
How it's done:
IKEA discontinued the beloved EXPEDIT which this hack was based on, but the current KALLAX shelving unit is essentially the same. Add a maple finish and glue on two legs, and you've got a modern sideboard. [
More...
]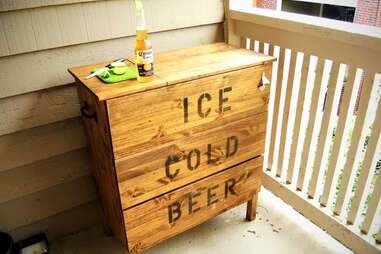 Beer chest
Price:
$79.99
Materials needed:
TARVA drawer chest
, hinges, walnut stain
How it's done:
The guy who created this is comfortable with saws and hinges, so if that doesn't sound like your cup of tea, perhaps pass on creating a custom beer chest. For the adventurous hacker (or the hacker with a friend who's good with tools), however, this is an incredible-looking temporary beer-storage unit. [
More...
]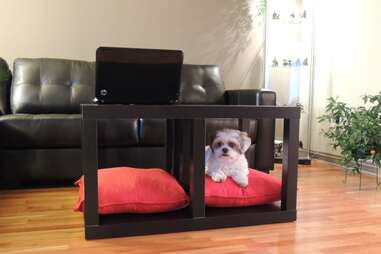 Coffee table/pet bed
Price:
$41
Materials needed:
LACK coffee table
,
two GURLI cushion covers
,
two ULLKAKTUS cushions
,
a dog
How it's done:
IKEA doesn't sell dogs (YET), so make sure to acquire a dog or cat prior to putting this together. Otherwise, what are you even doing with your life? Simply move the LACK shelf to the bottom, add some cheap pillows, and now your dog has a place to chill that's not on the couch. [
More...
]
Shoe rack
Price:
About $400
Materials needed:
KALLAX shelving units
,
KALLAX wheels
,
DIODER LEDs
,
VARIERA shelves
How it's done:
IKEA sadly discontinued the EXPEDIT bookshelf that was used to make the original shoe rack, but the KALLAX should suffice here. The toughest part of putting this together is amassing a shoe collection worthy of such greatness. [
More...
]
Desk
Price:
$280
Materials needed:
ALEX drawers
,
two SJUNNE legs
,
HAMMARP countertop
How it's done:
Instead of buying the same desk everyone else has from IKEA, you can attach a file cabinet and two legs to a beautiful countertop (the hacker who made this stained it too, but you don't have to put that much effort into it). They also added drawer pulls to the file cabinet, which can be had for cheap at
Home Depot
for added fanciness. [
More...
]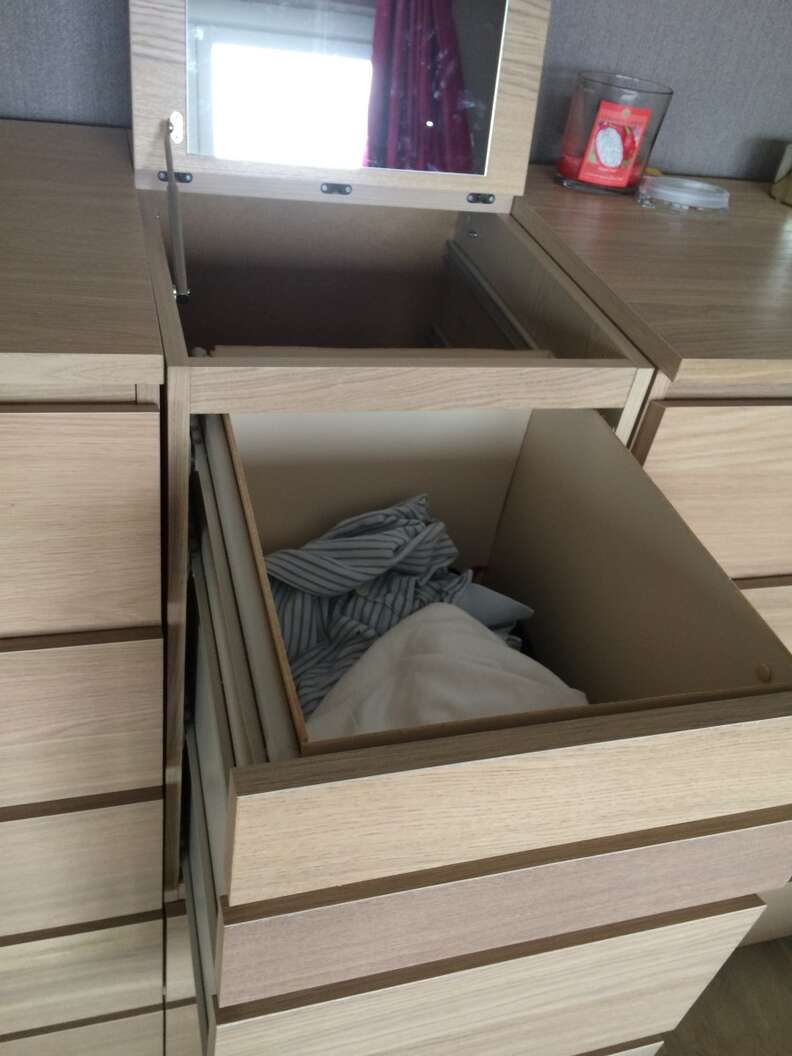 Hidden laundry basket
Price:
$189
Materials needed:
MALM drawer chest
How it's done:
If you remove the horizontal planks between the drawers, it opens up some space in the MALM. And in that space you can conveniently hide your ketchup-stained, booze-soaked shirt from last night. Unless you live in Chicago, where your shirt is only covered in relish, mustard, and booze. [
More...
]
Wallet
Price:
$.99
Materials needed:
FRAKTA shopping bag
How it's done:
No, it's not something that'll make your house look better, but for the real IKEAheads out there (that's a thing, right?), you gotta carry around a $.99 shopping bag fashioned into a wallet. Gotta be able to sew though, so open up the PDF instructions and get cracking. [
More...
]
Sign up here for our daily Thrillist email, and get your fix of the best in food/drink/fun.
Lee Breslouer is a senior writer for Thrillist, and cannot sew. Follow him to sewing lessons: @LeeBreslouer.