Improve Any Music Festival With These Transformative Tips
With your tickets purchased and your flight booked, you might assume that your music festival planning is complete. But that's how you end up shivering in the parking lot, desperately charging your phone with the car's cigarette lighter while The Weeknd's fourth encore softly fades out in the distance.
So to make this the best weekend of your life, you'll need to plan just a few more details -- like what tech can withstand the heat and where you plan on sleeping. Luckily, we've got you covered. To make your experience seriously transformative, here are just a few easy tips for what to bring and how to stay organized so all you need to worry about once you get there is getting to the coveted front row.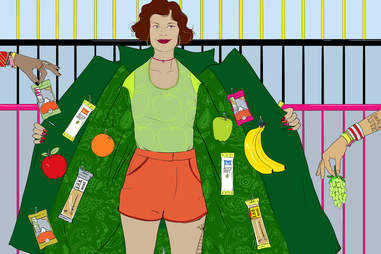 Lindsay Mound/Thrillist
Pack yourself energizing snacks
DIY trail mix
The great thing about trail mix is that you can put whatever you want on it based on your palate. Here's somewhere to start though: this healthy, chocolate-free (so it won't melt) mix is protein-packed, only takes 15 minutes to make, and can last up to four days without being refrigerated. Just toast some raw almonds, raw cashews, and raw walnut halves at 350 degrees for 10 minutes, salt them a bit, and mix them with raisins, dried cranberries, dried apricots, and banana chips for a little sweetness. Add in some goji berries if you're feeling crazy, even craisins if you please. Want to take it to the next level? Toss it all with brown rice syrup, press tightly, and bake it into granola bars. You'll feel so invigorated, you'll forget they even sell funnel cake.
Fresh fruit
It might seem obvious, but fresh fruit will go a long way when the only options are overpriced burgers and chicken tenders. Apples, bananas, and oranges can last the long weekend and will replenish lost nutrients.
Peanut butter
PB is universal. Breakfast, very good. Lunch, amazing. Dinner, put it on a burger and we are there. But peanut butter is particularly great when you need enough fuel to last you a long time and you're rushing out the door to see, let's say, Chance the Rapper. A serving (two tablespoons) has eight grams of protein, so throw that and some of those aforementioned fresh bananas on a sandwich and you're set... to catch some sick sets. (Sorry.)
Protein bars
You've gotten the memo about filling, healthy snacks by now -- but here's something else to consider. Especially if you're camping, know that you'll pretty much be on your own for breakfast. Most things don't open before lunch and the sun will wake you up at the crack of dawn. Natural-ingredient protein bars are easy to throw in your backpack and can serve as meal replacement since they clock in at over 10 grams of protein. Try the options from 22 Days, or Health Warrior -- which use superfoods like chia and quinoa to keep you feeling your best.
Make yourself comfortable
Lightweight portable chairs
Sitting on the dirt is fine for a few minutes, but we're all getting too old to do it for an entire day -- and really, we were born too old to do it for four straight days. Once you bring a couple of chairs to a festival, you'll never look back. The Coleman Stadium Seat is cheap and so light, you'll pretty much forget it's on your back all day. And for something a little sturdier, Ozark Trail Folding Chairs can be used to round out any campsite.
A blanket
But listen, if you're not going to opt for chairs, at the very least get yourself a great blanket. Something light and thin (think fleece or cotton) that can fit in your backpack will come in handy when your body tells you it's time for a nap under a nice big tree.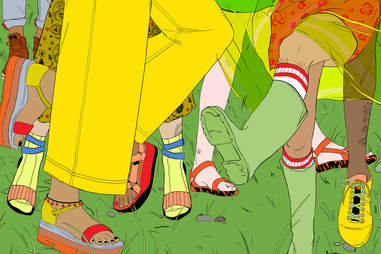 Lindsay Mound/Thrillist
Build a tricked-out campsite
A tent big enough for all your friends
There aren't any walls on festival campgrounds -- so count on bringing your own. If you plan on making it one giant party, grab a tent big enough to fit your whole crew. The Coleman 8-Person Instant Tent can be set up in just minutes, and a wall divides it into two rooms -- kind of like a luxury hotel suite... if you use your imagination (and ignore the mosquitos).
An air mattress to recharge from the day
Well you're not gonna sleep on the floor of that tent, are you? Festivals are exhausting and a good night's sleep is essential to keep going day after day. Opt for an air mattress meant for the outdoors (meaning super durable and waterproof fabric) -- and even better, one that allows you to charge the pump battery beforehand, so you don't have to hook it up to your car.
A portable shower
You will be the grimiest you've ever been by the end of Day 1. Trust us: don't wait to find out what happens by Day 3. Some campgrounds have showers for use but lines are long and showering in front of countless strangers can be...uncomfortable. It's worth springing for something like the RinseKit portable shower, which delivers a pressurized spray for up to three minutes. Fill it up with two gallons of water and wash the day off of you -- every day. Sure beats stinking up the car on the ride home.
A rechargeable lantern
Consider the fact that there might not be a ton of light wherever you set up camp and your nights will end around 2 or 3am. Make sure you bring exactly what you need -- including a little camping lantern so you can see what you're doing when you head to bed (or have a late-night jam session).
A big ol' cooler for all your drinks and food
Leaving your beer, fruit, and grub in the trunk of your car pretty much guarantees it'll all be ruined in mere hours. (And considering the whole point is to not have to eat those fried fest foods all weekend, we definitely don't want that.) Coolers are inexpensive and can keep things the right temperature for days if they're stored correctly. If you want to just angrily haul everything in at the beginning of the weekend and set up shop, try something like Coleman's 52 Quart XTreme 5 Cooler, which can easily fit up to 82 cans and accommodate 250 pounds. But if you're looking to splurge a bit and need something more easily transportable, Yeti's Hopper line of soft coolers come with durable straps so you can carry them anywhere -- as long as you're not too tired from partying.
Know where you're headed
Read up on the city beforehand
Don't spend half of Ultra trying to figure out all that is Miami. Do your research beforehand and take advantage of Google Maps. Use your phone's app to star your hotel, stands and shops within the festival, and some diners and bars you might want to check out while you're there. If you're camping at somewhere like Firefly, you can even star your tent's location so you don't waste any time finding it at night. And check out local restaurants; some might even offer deals if you present your ticket or wristband since the influx of people from these festivals seriously benefit a community's economy.
Write down where you parked
This seems totally obvious but you can forget simple details when you're excited to finally arrive at Roo. Taking the time to write down this simple detail will save you a major headache later. Not to mention, when you consider how many people attend these festivals (Lollapalooza drew in 100k people each day in 2015), you'll realize that's a ton of Toyota Priuses to sort through.
Stay connected
Bring a few portable phone chargers
While some festivals provide charging stations, you shouldn't underestimate how many people will need to charge their devices, and the fact that you won't want to be tied to an outlet for 45 minutes in the middle of the day. You need to bring your own provisions so you can have your phone when you need it. (Aside from taking photos, tons of festivals partner with apps like Snapchat or PayPal to offer you discounts on food and drinks.) Try bringing an easily portable solar phone charger if you're camping, and just a tiny brick charger if you're staying in a hotel or somewhere nearby. You can plug it in overnight and get at least one full battery life from it throughout the day.
Pick a meeting place if you get separated from your friend
Mobile phones are finicky beasts, so have a plan. As soon as you see the festival grounds, you and your crew should pick a be-all-end-all meeting place for when you can't find each other. Come up with a plan. Let's say if you can't find one another after 20 minutes, head to the designated spot. Maybe it's the giant fountain or the left side of the ice cream stand -- just make sure everyone knows exactly what and where it is.
Lindsay Mound/Thrillist
Dress smartly
Hiking sandals
A quick dive through Reddit and the verdict is in: festival-goers swear by Chacos and Tevas. Both brands make durable hiking sandals that are suited for any weather condition. So, if it rains on the first day of Gov Ball, you're covered. These babies can withstand the mud, the heat, and the mosh pit -- and they'll last you years.
A hydration backpack
With a ton of festivals taking place in the hot summer months, you need to stay hydrated. Free filtered water is offered at Bonnaroo, Austin City Limits, and Lollapalooza, so bringing your own bottle is the move. This backpack has a hydration pouch tucked in, with a straw/tube that goes all the way around to your mouth. It's also got plenty of pockets for keys and sunglasses, and even a rain cover if the weather turns against you.
Sunscreen
When you're not outright tanning, you often forget how sunburnt you can get just standing around. Word of advice: don't. You will be sorry. Rated the best spray sunscreen by Consumer Reports in 2016, Trader Joe's Spray SPF 50+ is easy to apply, and is definitely the best bang for your buck at only $6. No need to suffer crispy shoulders while waiting in the crowd for The xx.
Earplugs to keep you from going deaf by 55
With an entire weekend of continuous music, you're gonna want something to filter the noise and protect those precious little ears. Etymotic Research ETYPlugs replicate the natural response of the human ear, so they lower the volume without compromising audio quality. And they're only $13. You'll be able to hit every festival this season without suffering through weeks of residual ear ringing.
Plan everything
Devise an exit strategy
If you're staying off-site, it can often take almost an hour to get off campgrounds at the end of a night. Plus, anyone who's been to a festival before knows that at the end of the night you're tired, cranky, and totally over being around thousands of people. No need to do it for longer than necessary. If you value your beauty sleep and want to get there early the next day, consider leaving before the end of the headlining act to beat the crowd. Just skipping one song can make a world's difference. Or, note the exits beforehand -- which is the closest to your car (or campsite), and which will get to home fastest.
Don't forget about your DD
Everyone's here to have a good time, but make sure to put your safety first. If you're all of legal age and plan on drinking, it's important to plan who'll be the designated driver every night (if you're staying off-site). That person will also probably have the very important job of wrangling the rest of the gang when the party's over.
Don't wait to book a room
Don't wait to pull the trigger on booking a room for your weekend getaway. Hotels fill up fast and Airbnb options can often be expensive since everyone's looking for somewhere to stay. Consider a motel if it's the closest and most reasonable option. Because really, what are you looking for other than somewhere pretty close to the festival with a clean shower and somewhere to rest your head? There are tons of options -- as long as you act fast.