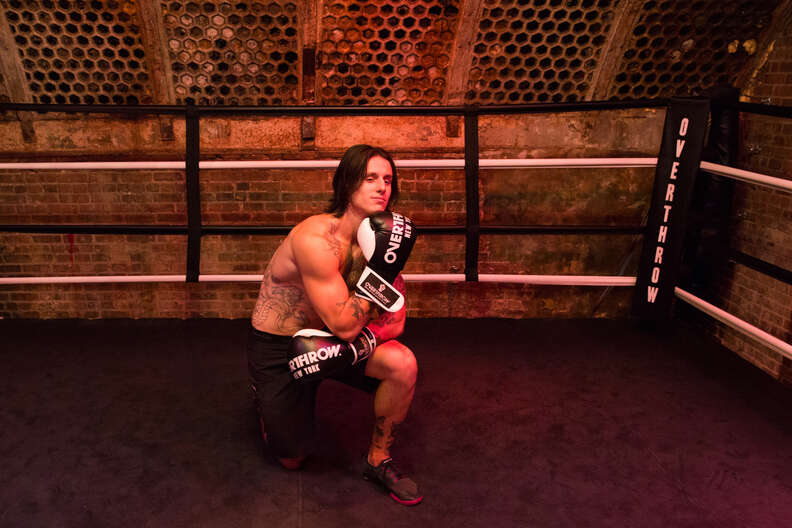 Inside the World of Hipster Boxing
I am in a dark, muggy basement, half-heartedly taking turns throwing punches at another girl in her 20s under the watchful eye of a shirtless male model. Both of us are sweating profusely.
"I don't know what I'm doing," I say.
"Me neither," she says, then goes for my left tit with startling accuracy.
We have been paired up to learn how to block punches. It's 7:30pm and I'm at Overthrow, a boxing gym off the Bowery in Manhattan, trying not to knock into other sweaty people, focusing primarily on the promise of free beer at the end of the workout.
In a city -- a country even -- with an ever-expanding galaxy of boutique-branded luxury fitness options, Overthrow defines itself by what it doesn't have, like luxe, gorgeous showers with free Kiehl's body lotion, or fancy, expensive equipment, or a smoking ban. Its image is anti-image, which as we all know winds up being even more strenuously pro-image. If you get caught Instagramming at Overthrow, there is a foreboding sense that you will get whacked in the knees with a foam bat and ordered to do 20 burpees, which of course makes you want to Instagram it more, which is obviously their intention in the first place.
This can be credited to Joey Goodwin, the gym's affable 30-year-old founder, who cut his marketing teeth on a clothing line and a series of food trucks before he opened Overthrow. A few years back, Goodwin was introduced to Friday Night Throwdown -- underground boxing matches featuring male models turned amateur fighters -- by his friend Charlie Himmelstein, who goes by the nickname "Rockstar Charlie."
"When I found the building, I thought it was a neat concept, these underground boxing parties with models, and could imagine turning it into an edgy, cool, downtown lifestyle brand," explains Goodwin, a former boxer himself until a fractured rib ruined his chances at a Golden Glove.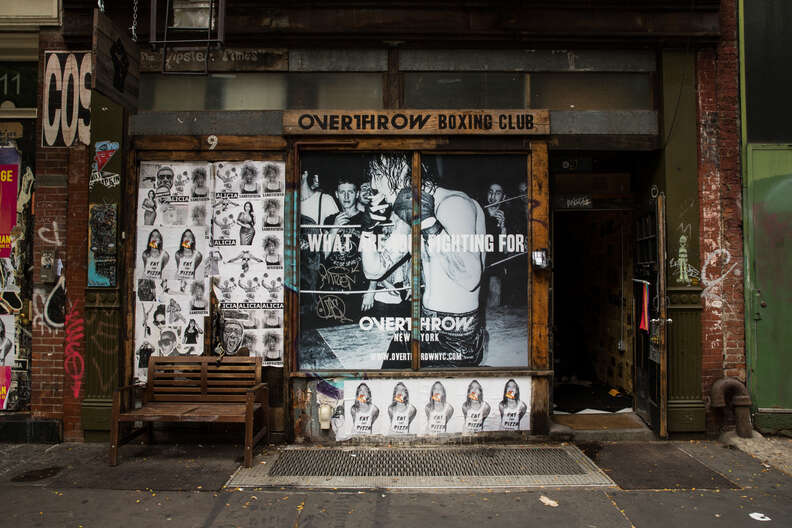 Much has already been made of the fact that the building in question -- 9 Bleecker St -- was the home base of the Yippies, radical downtown activists. In spite of the ugly foreclosure that forced out the original tenants (one irate Yippie warned that the gym would "bring down the quality of the neighborhood"), Goodwin makes them sound like friendly ghosts: "We have a good relationship," he says. "They'll appear and wander through [the gym] sometimes."
The counterculture's influence on Overthrow is obvious -- its motto is "WHAT ARE YOU FIGHTING FOR? -- albeit painstakingly curated. Sid Vicious shots have prestige status on the walls. Steal This Book, by Yippie godhead Abbie Hoffman, is displayed next to a Malin+Goetz candle. The décor, in short, is what my super-lefty divorced dad's apartment might look like if he had unlimited financial resources, some eBay savvy, and maybe a 20-something girlfriend.
A long, tattered manifesto hangs high on the wall closer to the ring, meant to echo the Yippie Manifesto originally penned by Jerry Rubin. Goodwin says it captures "the lifestyle we're trying to create at Overthrow." It reads, in part:
"AMERIKA IS A DEATH MACHINE. IT IS RUN ON AND FOR MONEY WHOSE POWER DETERMINES A SOCIETY BASED ON WAR, RACISM, SEXISM, AND THE DESTRUCTION OF THE PLANET."
Classes a la carte cost $34, roughly the standard New York boutique class rate. A pack of five classes is $165. Memberships are also available, allowing for regular training and helping to cultivate a tree house hangout kind of atmosphere, where clients can train and models can chill. A few clients who have transitioned from classes to a membership are currently training for the next Golden Gloves, says Goodwin: "The classes are the gateway drug and a few people want the harder stuff."
"I love the ambiance," says Ally, 27, an Overthrow regular and digital strategist who lives nearby. "It's super badass and rock and roll. It pays homage to the Old Bowery days -- it's gritty and chic at the same time. I feel cooler being there."
Goodwin calls it "the Studio 54 of boxing," though it's perhaps more reminiscent of Derelicte, the penultimate runway show in Zoolander. He says he can envision opening new locations at some point, but not yet.
"Right now we're more about breaking the rules," he says. "I'm not opposed to [going corporate] someday, but I probably wouldn't be involved myself."
This consumerist, hashtag-brand-savvy attitude could be perceived as sacrilegious to the hallowed sport of boxing, long fetishized for its supposed authenticity -- from the old days of 127-round bare-knuckled bouts, to both the 1996 novel and 1999 film adaptation of Chuck Palahniuk's Fight Club. With every iPhone update and every new social media platform, boxing is worshipped by a certain type as gritty, dirty, and real.
So how do you reconcile that with what we're seeing here? From Sonny Liston and Mike Tyson, to Violence by John Varvatos, in just a few easy steps? Curious, I chatted with one of the guys in my Friday class as we stood in the back before it began, waiting for the nice older dude at the front desk to patiently wind the $10 American flag wraps around our hands. I asked him the standard questions: how he found out about the class (ClassPass), how old he was (26), and what he did (mechanical engineering).
"So what do you do, like, as a mechanical engineer?" I ask.
He looked at me. "How old are you?"
I told him.
"Oh," he said. "Old enough to know what a mechanical engineer does."
We avoided each other the rest of class.
As it turns out, there's not a lot of reconciling that needs to be done anyway. For all of boxing's macho associations, the vast majority of Overthrow's clients are women in my demographic: mid- to late 20s. This might be because it's positioned itself as the refreshingly gritty antidote to squeaky-clean, cult-ish fitness brands that we tend to self-select into, almost like Harry Potter houses: Ballet Beautiful, SoulCycle, Physique 57, AKT. But the less cerebral and perhaps more accurate explanation is that the instructors teaching my class are male models named Charlie and Julian, whose shirts are off, I swear to God, before the warmup is over.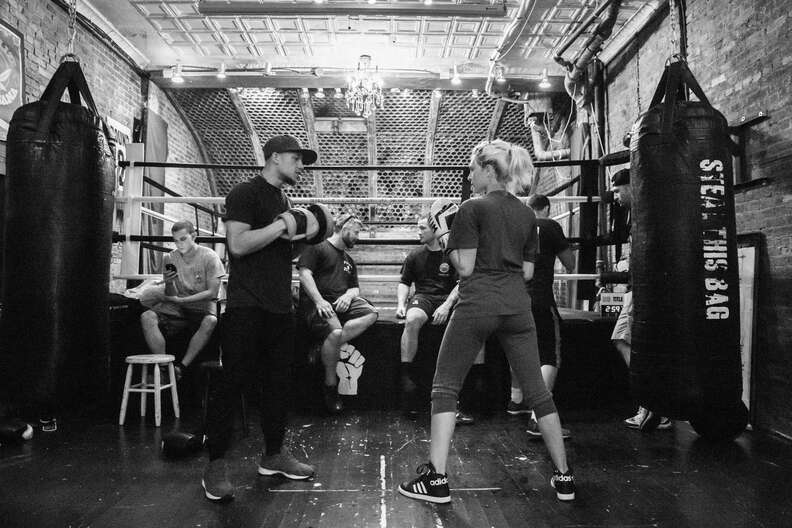 Being bullied by attractive men in a safe, controlled environment is a unique flavor of embarrassment -- one that some of us probably haven't experienced since junior high -- and one that is surprisingly motivating. Because, of course you don't want to seem like a flailing defective.
It's to Overthrow's credit that it isn't just a gimmick. The gym has real pedigree, particularly when you look to its female instructors: Alicia Napoleon, Overthrow's general manager, holds two New York Golden Gloves and one national Golden Glove; before her retirement in 2011, Jill Emery was a three-time national champion and became the IFBA Welterweight World Champion in 2008; Ronica Jeffrey holds four world title belts, including the International Women's Boxing Federation World Super Featherweight championship. During my Friday night class, Jeffrey is winning a match against Celene Roman at the Paramount in Huntington. (Overthrow also offers one-on-one training in the ring that's more intense than its group classes, and hosts regular Fight Nights with instructors and visiting amateur boxers. Naturally, there are DJs.)
None of this is to say that Charlie and Julian aren't good instructors. After I'm unable to find a partner for multiple activities -- speaking of unique flavors of embarrassment! -- Julian pairs up with me for sparring and then for a bit of end-of-class plank work that feels, after having to remember all those combos and footwork, like sweet relief.
After class (and half a beer), I get to know a bit about Julian, a native New Yorker. He's currently training to compete in physique competitions, but demurs to pose for me: "I'm still taking classes."
"You should really talk to Charlie," he says, "He's funnier than me."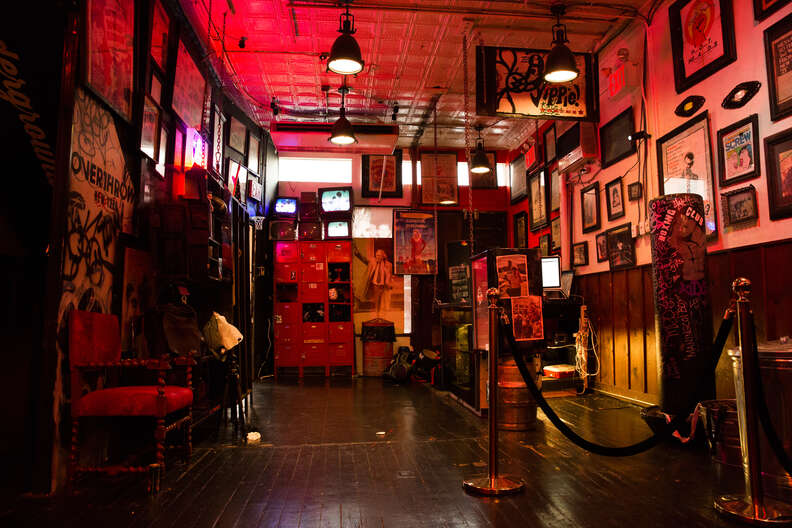 Julian, who went to business school in Toronto, is uncomfortable when I ask him whether he thinks his looks bring in clients. Instead, he mentions a proven gendered preference in exercise to explain the skew towards the classes' 20-something female demo. "Women seem to want a structured environment where they feel comfortable," he explains, "As opposed to men, who feel uncomfortable, like, getting directions."
As soon as it comes out of his mouth, he says he's worried that I'll twist this in some offensive way, and I bend over backwards to tell him I won't.
Charlie sails by, asking: "Is he saying dumb shit?"
"I'm sure they love that we're working models," Julian admits. "But nobody fucking cares, because they're too busy sweating their balls off."
"I've seen people stare at my junk and I just think it's funny," says Charlie.
"See?" says Julian. "He's funnier than me."
"Charlie was one of my main muses [for Overthrow]," says Goodwin. "Many times, I've seen Charlie come outside with an older lady or a younger girl and light up cigarettes right after class, and I'm kind of laughing."
It is subjective whether I am an older lady or a younger girl, but I go outside and have a cigarette with Charlie after class. A flock of models (a gaggle? a colony?), presumably friends of Charlie and Julian, is perched nearby, leaning against the building or sitting on a bench nearby, smoking and illegally drinking. Charlie, who played Bad Cop to Julian's Not Quite As Bad Cop in class, is objectively scary. He's 6ft 3in with blue eyes, and wearing a necklace with spikes on it. The only visibly underdeveloped muscle on his body is the zygomaticus major -- the one that allows you to smile.
Like a decent-sized percentage of Overthrow's instructors, Charlie's a New York native, having grown up comfortably in Park Slope. "I'm spoiled," he says, "but not like some of the other kids out there." His girlfriend is a model, too, he says.
At some point, Charlie pulls up a photo of a foursome he had with her and two other girls a few nights before. His friend had busted in on them and taken some photos, he tells me.
"Would you have a foursome with another guy?" I ask, curious.
"Oh -- no, that's a girl, her hair is just short." He points at the photo.
"Yeah, I know, I mean, I was just wondering."
When I ask Goodwin about the ethos of the instructors -- work out hard, then go chain-smoke and pound beers immediately afterwards -- he laughs. "Yeah. I dunno. It's just more realistic, I guess."
And what about all the countercultural paraphernalia? Does he think Abbie Hoffman or Sid Vicious would hang out at Overthrow if they were still around?
"If any of those guys were in the neighborhood," Goodwin says, "I would like to think we would've crossed paths in some way."
I certainly learned things in my classes -- jab, cross, left hook, right hook, bouncing around -- and indeed sweated my balls off. The question is: do most folks come here for the boxing and stay for the bullshit, or vice versa?
It's worth noting that the "chic boxing" trend got its start in New York, thanks to endorsements from models and Instagram influencers like Gigi Hadid. But over the last decade, metropolitan areas of the country as well as Paris and London have seen a surge in boxing gyms -- interestingly enough, while the spectator sport of pro boxing is on a simultaneous downswing. Which makes sense, considering your standard city-dwelling millennial's concept of authenticity: why go to that shady neighborhood for real Mexican food when you can get "real" Mexican food served by white hipsters just a couple blocks away? We're savvy enough to see the artifice, but too lazy to care that much. (Please note that I include myself in this generalization.)
And as alluring as it may seem to consider boxing the counterpoint to our cerebral, soft-handed, Internet-addicted lives, the longstanding fetishism of the sport as "authentic" shouldn't be taken at face value. Much like Overthrow's brand, depictions of boxing in pop culture have always been predicated on a smartly packaged binary, one that long predated social media. Norman Mailer's white intellectual perspective on the sport in The Fight, his book on Ali and Frazier's Rumble in the Jungle, worked as a microcosm of black culture at the time. Fight Club's unnamed narrator, who evaluates insurance claims for a living, hates the idea of being a slave to products and represses his sense of emasculation until he "meets" Tyler Durden. Brad Pitt was paid $17.5 million to dirty himself up, get jacked, and play Durden in the film. A Fight Club-themed bar in the East Village called Durden is a favorite of NYU students. Only one of its current Yelp reviews is conflicted.
In a way, the true appeal of Overthrow's brand isn't that it's particularly uncompromising, or committed to the destruction of the American Death Machine. It's that it's not. It's "half-in, half-out," perfect for girls like me who don't necessarily relate to that perfect-looking woman in head-to-toe Lululemon, but is also too bougie to do a free hour at some no-frills Planet Fitness, either. It's just gritty enough to satisfy its clients, but not so gritty it could turn people off. It offers violence without violence, and rebellion without rebellion.
Still, I can see how the illusion is appealing, for girls or guys. I'm a "drink a bottle of wine and smoke half a pack of cigarettes one day, go to Barry's Boot Camp the next day, repeat for as long as possible" sort of workout person. In getting sweaty and gross and breaking your only-white-wine rule for a warm can of Tecate -- in a controlled environment, at $34 a class, taught by male models -- you are further demarcating yourself as "not one of those green-juice people" or "crossfit people." You are becoming "a person who goes to boxing," even if you never really become "a person who boxes."
It's what Freud called "the narcissism of small differences." But then small differences can be very big differences, in the hyper-self-aware, hyper-connected present. So if there is an answer to the gym's motto -- "WHAT ARE YOU FIGHTING FOR?" -- maybe it's that. You're fighting to be just different enough.
Sign up here for our daily Thrillist email, and get your fix of the best in food/drink/fun.
Anna Breslaw is a frequent contributor to ELLE.com and Cosmopolitan. She's also written for GQ.com, Complex.com, NewYorker.com, and Paper. Her first novel, Scarlett Epstein Hates It Here, is due out next April. Follow her: @annabreslaw. Read more here.