New York's 5 Best Neighborhood Bars, According to PDT's Jeff Bell
Anthony Humphreys/Thrillist
Anthony Humphreys/Thrillist
When he's not running PDT, bartender Jeff Bell hangs out at bars that don't require navigating bacon-wrapped hot dogs and old-timey telecommunication devices to gain entry -- just opening the front door will do. We caught up with the United States Bartenders Guild and Diageo World Class 2013 U.S. Bartender of the Year on his day off, kitted him out in Coach, and hit his five neighborhood favorites.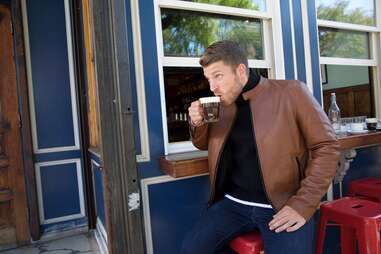 Red Hook is more than an antidote to Manhattan; its seafaring vibe is kind of an antidote to... Brooklyn. The main brunch and booze draw since 2009 is Fort Defiance, which gained hero status during Hurricane Sandy as a legit haven for stranded locals. "I live in Williamsburg, so Red Hook is a destination for me, but it's a cute neighborhood," says Jeff. "I like to come right around sunset, late afternoon."

Jeff's recommendation: Get the Irish coffee, and travel for it if you have to. "It is hands down the best I have ever had. They don't skimp on ingredients and it is perfectly prepared."
Bua has been here for 11 years, which is no small feat, even with a name that's Irish for "victory." It's a real bartenders' bar, so if you think you've met that guy, that girl, that guy, and... that girl before, picture them pulling a pint and see if it rings any bells. A former tiki bar, it was stripped back to an exposed brick lounge area with rattan couches out front.

Jeff's recommendation: Whatever you're in the mood for, it will work out. "The cocktails are great, but they're very particular about their beer here, and I tend to go for the Kölsch."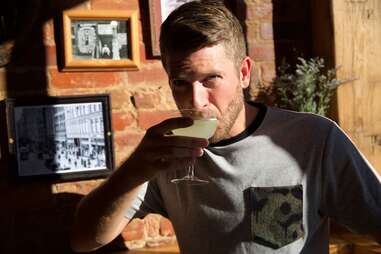 The team behind The Wayland revamped the old Simone Martini Bar space this year with mosaic tile, antique beams, a mahogany bar, and oh, about a million Instagram-able books, knick-knacks, and pictures ("Elvis! In a red sweater!"). You can even brush up on your Shakespeare criticism-- coasters are, in fact, pages torn from not-beach-reading vintage books.

Jeff's recommendation: Chill there during peak sunlight, the afternoon. "The atmosphere is absolutely on point and they did such a good job with the light -- it's just beautiful during the day. It has the comfortable feel of a dive bar but without the grime."
For the cheap thrill of feeling like you're breaking the law while remaining absolutely on the right side of it, head to one of the oldest bars in Manhattan (late 18th-century old), where a grandfathered license allows patrons to move freely between the bar and the sidewalk seating area. "One of my good friends coordinates beach volleyball twice a week for a bunch of us," says Jeff. "We'll walk on over here after the game for beers on the sidewalk."

Jeff's recommendation: Beer! "They always have a really good tap selection."
Hard-to-find gets meta at Beer Street. Surely few patrons get at the rare beers and ciders within this unassuming space without saying first, "Is it in here?" Well it is, and so are ten beers on tap, a vast and ever-changing bottle collection, some wine for that contrarian friend, and a poster of Hemingway advertising Ballantine Ale. But we digress...

Jeff's recommendation: Ask away. "This is a great place to try something new, and talk with some really knowledgeable bartenders."

What he's wearing: The Ringer Pocket Tee, the Leather Racer Jacket, the Roll Neck Sweater, and the Manhattan Backpack.