10 Life Hacks Better Than Any Resolution You Already Broke
Here's the problem with resolutions: We make them feel like punishments. I will make my bed every day. I will floss. I will go on that diet that forces me to search for tubs of ghee at Whole Foods on New Year's Eve. Little wonder why some 80% of us ditch these bummer plans by February.
To make changes that actually stick, we need to reframe the whole resolution concept. We need to reward ourselves (after 2018, you deserve it, right?). Choose long-term goals -- not resolutions -- that, yes, help better our lives, but are also entertaining, enticing, enriching, and -- dare we say -- epic. Create aims like this, and you won't just resolve to hit them in 2019 -- you'll want to keep those resolutions for good. To get the wheels turning, here are our top 10 reso -- no, rewards -- to live your best year.
 
CHANNEL YOUR CHEF SKILLS
Yes, the internet hath wrought atrocities, such as troll-invested extremist sites, the dark web, and Deez Nuts' presidential campaign -- but it also makes available infinite free and pretty terrific recipes to prepare just about any cuisine on Earth. Let this be the year that you try your hand at a new, authentic dish every month. Use our recipe guides as a jumping off point. To level up: Invite friends over for your dinner. Wow everyone. Repeat.
STOP SAYING YES TO EVENTS THAT SUCK
A distant cousin's birthday party, a lame office happy hour. Whatever the thing is that you would really, really like to say no to, say no. Then use that time to do something for yourself. You can finally start the Netflix series you've been meaning to binge, podcast you've wanted to listen to, or get nostalgic and open a book. Repeat as often as you possibly can without turning into an asshole.
SCHOOL YOURSELF
We know there is something you've always wanted to learn -- a new language, how to build your own canoe, improv -- and guarantee there is a local class or online course to teach you... potentially for free. Sign up! And if this skill happens to be something you can turn into a new, lucrative side hustle? Gravy. Here are 30 that you can attain online.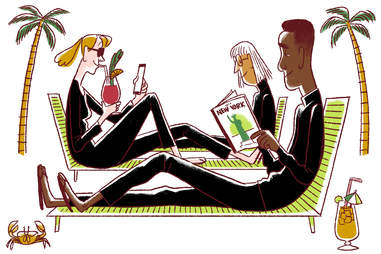 David Saracino/Thrillist
TAKE YOUR DREAM TRIP
If you're like the majority of US workers, odds are you only took half of your paid vacation in 2018. Make this the year that you finally take the big trip you've been saying you'll take for ages. Plenty of places will roll out the welcome mat, too. Despite what you may have heard, there are actually several countries in the world that still love American tourists.
GET FIT FOR FREE
There is one thing you can count on every single January: Gyms will fall over themselves to lure you in. Nationwide health clubs like 24-Hour Fitness, Gold's Gym, Lifetime, and high-end boutiques like Equinox all offer start-of-the-year discounts, but what's more -- what's sometimes better -- they offer free trials and passes. Take full advantage of their gratis personal-training sessions and classes, and see if you actually do love hot yoga, indoor cycling, or "Mega Burn Battle Ropes."
Advertisement
Courtesy of Monster
If you're going to improve your life this year, it's going to take pure force of will -- and probably some caffeine. For that, we recommend Monster Energy Zero Ultra. Less sweet, lighter taste, and zero sugar or calories, all with Monster's proprietary energy blend, which includes Taurine and L-Carnitine to keep your heart healthy and your brain sharp. So whether you're picking your way up an ice wall, or just out for a neighborhood hike, Monster can help you reach the finish line. And then some.
EXPRESS SOME FRIGGIN' GRATITUDE
Before you say this one sounds like a punishment, know this: Writing even a quick "Hey, really appreciated you helping me move last week" note can give you a significant mood boost according to researchers from the University of Chicago. Of course, the person receiving your gratitude will get a rush of feel-good-ness too -- and he or she will instantly rate you as a better friend and person.
BE A TOURIST
Breweries, chocolate factories, ice creameries: All of these places give fun, insider tours, and many for free. Best, they'll load you up with samples. Check out your city or town's tourism site to get a list of potential spots, then make a monthly resolution to pick a place, call your friends, and go indulge.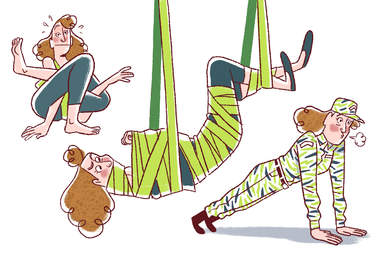 David Saracino/Thrillist
TRY A HOLY SH*T SPORT
Maybe that means skydiving, cave tubing, ice climbing, or just aerial yoga. Whatever gets your adrenaline pumping, puts a nervous grin on your face, and makes you feel more alive, that is the thing you should be Instagramming before 2020 hits. You'll feel invigorated in the moment, but even more important, a Journal of Health Psychology study suggests that managing that bit of fear to try something new can have positive, long-term impacts on your psyche, making you feel more confident and brave.
 
REDISCOVER YOUR CITY
You know those hush-hush city spots that tourists never hear about and make a town special and cool -- the hole-in-the-wall restaurants, incredible overlooks, underground speakeasies? You deserve to hit them all. Crowdsource your in-the-know local friends for their favorite secret gems, and then treat yourself to an outing or 10. And if they come up short, you can always rely on us.
CHECK OUT A NEW BAND
You'll treat yourself while supporting up-and-coming musicians, the tickets won't cost a fortune, and you'll have something culturally relevant to talk about in the office kitchen. Win, win, win. And if you're unsure who's new and worth putting on pants to go see, we've got you covered.