When Will Your State Legalize It? Rolling up Every State's Cannabis Laws.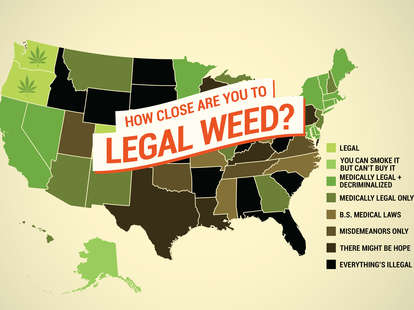 Jennifer Bui/Thrillist
Jennifer Bui/Thrillist
Another sesh in the voting booth has come and gone, and the number of additional states to legalize recreational marijuana on election day was zero, much to the chagrin of 98 Degrees founders everywhere. Some strides were made on the decriminalization and medical front, but the United States of America is not as close to going to pot as it seems.

So, where does each state stand on marijuana legalization? We combed through the 50 Nifty for a look at what's legal, which could shed insight on when you might be able to partake freely. At the very least, it'll reinforce our feelings about Florida.
Fact sources: NORML and the Marijuana Policy Project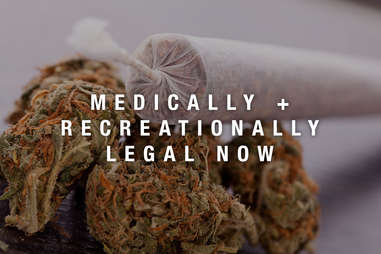 Colorado
With recreational marijuana legalized in 2014 and early on medically in 2000, it's basically ground zero of the green rush. The historic Amendment 64 in 2012 made Colorado the first state in the country to regulate weed like alcohol. It's also paving the way on the edibles front -- setting the precedent with stringent regulations continually evolving. Rocky Mountain high, indeed.

Oregon
After years of debate, on election day in 2014 voters said yes to legalization, but it wasn't until October 1, 2015 that adults could purchase a limited amount from a licensed dispensary and grow their own, though edibles are still limited to medical patients and Panic shows.

Washington
Following in Colorado's footsteps, business is booming for both medical and recreational sales in dispensaries across the state. But don't even think about growing your own. Initiative 502, which legalized the recreational market in Washington State, did not include home growing, so it's still a class C felony.
Alaska
Although it was the second state to legalize medical marijuana in 1998, there's still a lot of work to be done on the dispensary front since officially going recreational in 2015. But just last month, the Marijuana Control Board recommended licensed marijuana cafes for smoking on site and rules for regulating the retail market. It's all under review for next year.

District of Columbia
This one's tricky: Initiative 71 legalized possession and cultivation for adults, but doesn't allow sales. A big part of DC is considered federal land, so it has no effect on federal law either. The Marijuana Legalization and Regulation Act of 2015 is in the works, while the medical program is growing and decriminalization now even extends to those under 21.
California
The Golden State was the first to legalize medical marijuana in 1996, but hasn't made much progress since. The Marijuana Policy Project is planning to put the California Marijuana Legalization Initiative on the ballot in 2016. Yeah, we don't get it either.

Connecticut
In 2012, a medical-marijuana program was enacted, protecting patients from prosecution if they have a valid ID card and allowing for up to 2.5oz monthly from a licensed dispensary, with a number of new outlets slated to open in June 2016. Growing your own is prohibited, and possession punishment is a fine of up to $150.

Delaware
Delaware signed a decriminalization bill into law earlier this year -- the 20th state to do so -- making possession of up to 1oz of marijuana a civil violation punishable by a $100 fine with no possibility of jail. As of December 2nd, the Delaware Department of Health and Social Services is accepting nonprofit proposals to operate medical dispensaries throughout the state slated to open by fall 2016 -- five years after it was originally legalized. #highimindelaware?

Maine
Medical marijuana in Maine passed early on (in 1999), with eight dispensaries statewide to serve patients with qualifying conditions. Decriminalization was enacted in 2009, making possession of up to 2.5oz a civil penalty.

Maryland
Originally passed in 2014, improvements were made this year. The requirement that patients had to enroll as guinea pigs in a medical-marijuana research program for access was removed, along with an application for removal of possession misdemeanors from individuals' records.

Massachusetts
Despite going medical in 2012, the first dispensary opened in 2015. The sluggish system now has approved 15 dispensaries for registered patients, who have only been able to apply since October 2014. The Campaign to Regulate Marijuana Like Alcohol in Massachusetts is gunning for a ballot position in the Bay State for 2016.

Minnesota
The Minnesota Medical Marijuana Law was enacted in May 2014, and on July 1, 2015 the first medical-marijuana dispensary opened. But it's pretty restrictive, including prohibiting patients from using cannabis flowers in their natural form, aka anything smokable.

New York
As the 23rd state to adopt a medical-marijuana program, it leaves out many a condition, and is awaiting certification from the commissioner of health before implementation. Online training is mandatory for recommending physicians, and a bill just passed that allows expedited access to some patients -- although they can't even get any before January at the earliest.

Nevada
The medical and regulated dispensary system is just now starting to see implementation, two years after the state passed the laws. The medical law here also includes out-of-state patients as long as they're qualified in their own state. A recreational legalization move failed this year, but is likely to get on the ballot in 2016. Regardless, people will finally be able to enjoy once-illegal substances in Vegas for the first time in history.

Rhode Island
The Rhode Island Legislature didn't vote on the issue this year, but advocacy groups are pushing for the Marijuana Regulation, Control, and Taxation Act for Providence in 2016. Medical marijuana was legalized in 2006, allowing for 2.5oz and 12 plants for home cultivation. Patients with qualifying conditions have access to three dispensaries across the state.

Vermont
No really, it's still not fully legal in Phish-land. In 2015, Senator David Zuckerman introduced S. 95, which would introduce a regulated system and Rep. Chris Pearson introduced an identical bill in the House, laying groundwork for 2016. The medical program continues to develop with four dispensaries statewide -- delivery included!
Arizona
Despite a strong medical program, Arizona has some of the most severe recreational marijuana laws in the country. The Campaign to Regulate Marijuana Like Alcohol in Arizona, sponsored by the Marijuana Policy Project, has filed a ballot initiative with the secretary of state awaiting signatures to get on the 2016 ballot.

Georgia
Medical marijuana might now be legal in Georgia, but good luck getting it. "Haleigh's Hope Act" allows only a small percentage of patients possession of oils containing CBD (cannabidiol) and small amounts of THC, but there's no legal cannabis production or distribution within the state. Lawmakers are already looking at improvements, though.

Hawaii
Hawaii legalized medical marijuana in 2000, so it's surprising that not much has changed since. The original law permitted patients to grow their own, but not for dispensaries. This year, two medical bills that allow for dispensaries and patient decriminalization were introduced.

Illinois
November 9th, 2015 marked the first day of medical-marijuana sales under the pilot program (which expires in 2017) for 3,300 registered patients at five dispensaries in five cities. Decriminalization continues to struggle though, with convictions resulting in the fifth-highest arrest rate for marijuana possession in the nation.

New Hampshire
A failed decriminalization bill this year still makes possession of up to 1oz punishable by up to a year in jail or a fine of up to $2,000. It's said to be revisited in January. Although passing in 2013, the state's medical program is just now starting to take registrations for patients' ID cards.

New Jersey
The notoriously dysfunctional medical program was legalized in 2010, but there are still only three operational treatment centers available to patients. A few policy changes on decriminalization and recreational use are under consideration but are slow-moving as well.

New Mexico
This year's election killed a bill that would have decriminalized marijuana. But, it is one of 23 states that has removed criminal penalties for medical patients, who are served by nonprofit producers through the program.

Michigan
With marijuana available to patients but not yet through a dispensary system, Michigan has four bills on deck to expand access, allow extraction-infused products (i.e. edibles), implement a "seed to sale" tracking system, and end prohibition in the Mitten.

Montana
Montana's on the map as one of the only states that has tried to reverse its medical-marijuana program, which was first introduced in 2004. The fight is still stuck in court, but if successful, 75% of current patients would have to grow it themselves or find a free hookup due to a lack of regulation. Given that towns are about 1,000 miles apart, that miiiiight be tough.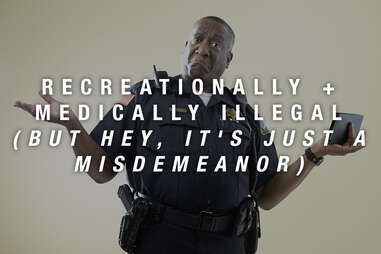 Mississippi
The traditionally conservative state passed a law in 2014 allowing for limited use of high-CBD, low-THC cannabis extracts, but it only protects a small percentage of patients. And who knew: since 1968, Ole Miss has been the sole producer of federally legal marijuana in the United States.

Nebraska
The Nebraska Legislature has adjourned for 2015, and medical-marijuana legislation was left on the table (not, like, literally). However, the state made progress toward legislation up for passage next year, which would allow the seriously ill to use and obtain medical marijuana with the approval of their doctors.

North Carolina
In 2014, a CBD-centered law was enacted but it fails to provide an in-state source for cannabis extracts. This year, a comprehensive medical marijuana bill was put on the ballot for 2016 and would cover most serious conditions along with a system for cultivation, production, and distribution. Some degree of decriminalization treats minor marijuana offenses as traffic violations.

Ohio
On November 3rd, voters said no to the contentious Issue 3, sponsored by Responsible Ohio, which would have legalized marijuana for both medical and recreational use. But a monopoly was at play (sorry, Nick Lachey!). Decriminalization is in effect with possession of up to 3.5oz treated as a minor misdemeanor with no threat of jail time.

Missouri
A number of marijuana-policy reform bills across all issues were introduced this year, and all failed. But it's barely decriminalized. In 2014, lawmakers lessened penalties for those possessing up to 10g of marijuana, but that doesn't begin until 2017.
Iowa
There is a law that allows for the use of cannabis extracts that are high in CBD and low in THC to treat severe, debilitating epileptic conditions. In 2013, some lawmakers tried to loosen it, but it didn't pass. And somebody should help this guy!

Oklahoma
"Katie and Cayman's Law" was signed into law this year, allowing access to high-CBD oil for patients with serious seizure conditions, when recommended by a doctor. It's very limited, leaving behind patients with other illnesses, and the state is without any regulated mechanism for the production of state-compliant cannabis oil for patients to use.

Tennessee
Last year, a bill was signed that legalized medical-cannabis oil for seizure patients, but it has proved ineffective because it's inaccessible and now requires them to travel between states to obtain -- a federal offense. Lawmakers are expected to discuss a broader medical-marijuana bill for 2016.

Utah
In 2014, a limiting bill was signed into law allowing individuals suffering from intractable epileptic disorders to legally possess and use CBD oils if certified to do so by their neurologists. This year, a bill that would have created a comprehensive medical-marijuana program failed by one vote on the Senate floor.

Virginia
Earlier this year an epilepsy-only medical-marijuana measure was signed into law, but a decriminalization bill was put on hold indefinitely. Maybe its more progressive neighbor states can help influence further change?
Louisiana
Things are looking up in Louisiana with the passage of two bills in 2015 that reduce penalties for possession and allow the creation of a medical-marijuana program. Marijuana-related incarceration rates are notoriously high, and the medical bill only permits physicians to prescribe, but it's currently prohibited in the state by federal law.

Kentucky
The Bluegrass State is taking small steps toward going green with its new governor acknowledging that "there is unequivocal medical evidence" that medical marijuana is beneficial. A bill was introduced this year without the legislature taking action, but will reappear in 2016.

Pennsylvania
It's been over a year since the Senate first approved medical-cannabis legislation, and it continues to stall. Majority Leader David Reed is a strong supporter in the House, though, and has helped to advance the bill to the floor along with filing a number of amendments as recently as last month. Philadelphia has a decriminalization ordinance replacing penalties for possession of up to an ounce with a $25 ticket, but if you're caught under state law, you could face 30 days in jail with a fine up to $500. Where's the Brotherly Love?

South Carolina
Sponsored by both Republicans and Democrats, the South Carolina Medical Marijuana Program Act was just chatter this year, and tabled until 2016. The Put Patients First Act was also introduced this year -- a more comprehensive attempt to make medical products available to a limited class of patients.

Texas
According to a poll conducted by the University of Texas and the Texas Tribune this year, 68% of the state supports reducing penalties for low-level marijuana possession -- and no, it wasn't all just people from Austin. Turns out, lawmakers are messing with Texas, introducing nine bills for a medical system and decriminalization this year alone. The Compassionate Use Program was signed into law, but is unable to function without changes.

Wisconsin
Nothing's official yet, but Wisconsin is making moves in Madison with both a legalization and a decriminalization bill under consideration for 2016. Think of the benefit to the cheese industry.

Wyoming
A decriminalization bill will defeated this year, but two progressive bills became law in July: one giving the option not to prosecute first-time offenders under the influence of marijuana and the second allowing full usage of CBD oil to treat seizures. But don't even think about packing heat when crossing the border from Colorado.
Alabama
The Yellowhammer State throws down against dope. In 2015, a modest penalty-reduction bill was signed and last year, the CBD-focused Carly's Law passed. Still, possession of just a joint is punishable by up to a year of incarceration. Roll Tide. But don't roll joints.

Arkansas
The new nickname of the "Natural State" clearly doesn't include the cannabis plant, with harsh laws and an extremely high arrest rate for possession. In 2012, 48.56% of voters said yes to a medical-marijuana measure, so the 2016 Arkansas Medical Cannabis Act sounds promising.

Indiana
Attempts at medical bills this year didn't even receive a public hearing. Nothing to see here, well except for the First Church of Cannabis -- formed under a new religious objections law in the state.

Florida
This state passed a medical CBD law allowing the use of cannabis extracts for qualifying conditions last year, but the Department of Health has faced implementation challenges. The Florida Medical Marijuana Act -- including taxation -- didn't pass earlier this year, but United for Care is working toward a spot on the ballot in 2016.

Idaho
Governor Butch Otter vetoed a limited CBD oil bill without in-state access earlier this year. Yes, that's his real name.

Kansas
Despite a 70% approval rate for medical marijuana, the blue hairs of the state legislature aren't budging, and continue to enforce draconian laws. Two identical bills for a medical-marijuana system failed in 2015.

North Dakota
Marijuana users -- including those using marijuana to treat debilitating pain or the effects of cancer or wood-chipper injuries -- are still branded criminals. The state won't revisit the medical bill that failed this year until 2017.

South Dakota
The Flandreau Santee Sioux Tribe legalized cannabis in June to sell on official lands, making them the first tribe in the nation to do so. But in 2015, no marijuana-policy reform was proposed at all in the South Dakota Legislature.

West Virginia
Bills have been introduced in the West Virginia House every year for the past four years attempting to legalize marijuana for medical use. All failed to advance, and the state won't revisit the issue until 2016.
Sign up here for our daily Thrillist email, and get your fix of the best in food/drink/fun.
Katie Shapiro is a Colorado-based cannabis and style writer. She slings indie film on the side as a producer and publicist. Follow her around the high country and the film festival circuit: @kshapiromedia.