Now that smartphones are approaching the speed and power of actual desktop computers, it's only natural that we should use them the same way -- for porn, in other words. You can stop denying it, you're among friends. Creep.
According to the statisticians over at Pornhub, more than 60% of the site's titillating traffic comes from mobile devices -- Android users make up 32% of the total, while iPhone users are slightly less perv-tastic with 31% of the total.
And since our choice of phone OS is different, does that mean our preferences for one-handed viewing differ as well? Yes, yes it does, as the infographics below will explain in glorious, NSFW detail: 
When the two OS's top categories are compared side-by-side, Android users are far more into the BBW (big beautiful women) and Bukkake (Google it) fetishes than iPhoners, who themselves have a taste for MILF (do you really need this one spelled out?) scenes. iPhone users are also 134% more likely to search for POV porn -- draw your own conclusions there.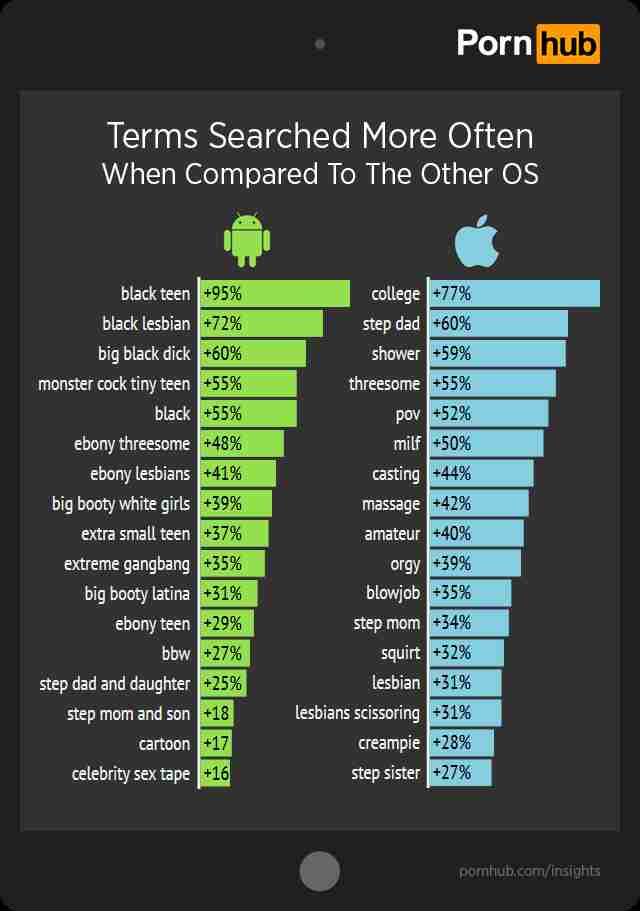 The differences in preferred search terms is just as stark, with iPhone users showing proclivities for "college" (because education's important), "shower" (because cleanliness is important), and "step dad" (because real incest is just horrifying).
Android users, meanwhile, are obsessed with African American genitalia of all shapes, sizes, and orientations. Hooray?
When you look at overall search term popularity, though, it turns out we've actually got some things in common: lesbians, for instance. In fact, the results above are pretty close to Pornhub's overall top searches, which Pornhub attributes to the fact that mobile users account for such a large portion of its traffic.
The similarities abound when it comes to individual pornstar searches, too, as the top three actresses on both Android and iOS are identical -- only the order's changed. Maybe we're not so different after all?
Oh, wait, Android users are big into shemale porn. Maybe not.

Sign up here for our daily Thrillist email, and get your fix of the best in food/drink/fun.
Gianni Jaccoma is a staff writer for Thrillist, and he's an Android user, but not one of THOSE Android users. Follow his gender-bending tweets @gjaccoma, and send your news tips to news@thrillist.com