These Are the Private Clubs We Actually Want to Join
Andrew Zimmer/Thrillist
Andrew Zimmer/Thrillist
Unless your family has college campus buildings named after it, odds are you aren't a member of some exclusive members-only club with a closet full of smoking jackets and a basement full of dark secrets. Those exclusive social societies still exist (haven't you seen The Skulls III?!), but at this point most are overrun with a nepotism that makes them unappealing to everyone except people nostalgic about the term "captains of industry."
The below clubs are different. Although most are still cost prohibitive to us plebs, the amenities are more than just cigars and backrooms suitable for suspect business deals. We're talking private islands, F1 racetracks, and -- perhaps most valuable -- Disneyland FASTPASSES. Here are the 11 clubs we'd actually like to join, if only they'd have us as members.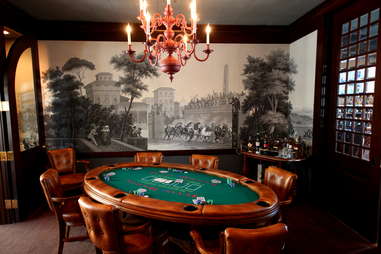 San Francisco, CA
Cost: $3,000 signup; $300 a month, but $1,800 per year becomes store credit
Amenities: Wine cave, private parlor rooms themed around menswear looks, "whiskey corner," golf simulator, craft cocktail bar with incredible view
How to join: Submit an application here
Secret rotating fireplace entrance? Check. Cigar room? Check. Poker table that looks like it should have six very classy dogs sitting at it? Check and check. Wingtip in an offshoot of a menswear shop... kind of like Kingsman, but with an in-house barber and custom tailor instead of a closet full of weapons. If you can score yourself access, the penthouse floors of the building are one of the coolest spots to hang out in all of San Francisco.
Los Angeles, CA
Cost: $1,500 signup fee, plus monthly dues
Amenities: Access to nightly magic shows and special events with unlimited guest invites, plus food and drink discounts
How to join: Submit an application here
A members-only mansion of magicians sounds too good to be true, but LA's Magic Castle is no illusion. It is a real place full of real magicians who've been slighting hands since 1963. You don't need to know magic to join, and in addition to hosting a cast of the finest illusionists in the world, they have a killer brunch.
New York, NY
Cost: $800 signup; $2,000 annual dues
Amenities: Unlimited access to the Victorian-era clubhouse outfitted with three bars and a seasonal American restaurant, invites to private concerts and events, networking opportunities, reciprocal membership at other clubs
How to join: Submit an application here
Most New York City social clubs require you to be filthy rich, or have the last name of someone who is, but Norwood takes a decidedly different approach. Tagged as "a place for the curious," it's still not cheap, but bills itself as more of a creative hub than good ol' boy's club. The five-floor brick brownstone in Chelsea looks straight out of a design catalog, and hosts an array of events ranging from book launches to monthly salon dinners and private concerts. And to keep those creative embers burning, they boast a ridiculous 13 fireplaces.
Palm Springs, CA
Cost: Undisclosed
Amenities: 4.5-mile race track, sports cars for rent, luxury villas, world-class dining
How to join: Email the membership sales team here
For the gear-shifting set, there's no other private club quite like The Thermal. With a track that's capable of handling everything from go karts to F1 cars (not at the same time!), it's basically an anything-goes course. If you don't happen to own your own sports car, they've got a fleet on premises, as well as instructors to help novices grease their experience engines. There are, naturally, villas and world class dining and all the other perks that come with an exclusive club, but the main need of their members is speed.
Philadelphia, PA
Cost: $275 signup; $1,165 per season
Amenities: Access to private swimming pool, jealousy of your friends and neighbors
How to join: There's a long wait list, which you can put your name on right here
This place is so notoriously secretive, even the FAQ section of Lombard's website is password-protected. The most that your average Philadelphian knew about it was that it was impossible to join, until Philly Mag sleuthed itsr way in for an elaborate feature on just what it means to be a member of the city's most exclusive club, which seems mostly about swimming laps alongside the city's elite.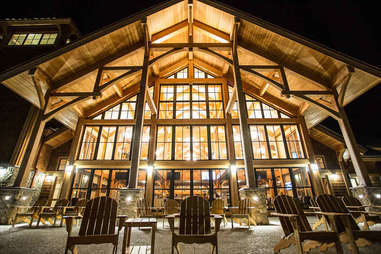 West Dover, VT
Cost: $75,000 signup per family; $6,500 annual dues
Amenities: Private ski slopes, luxury clubhouse, golf course
How to join: Fill out an application here
The Hermitage offers 1,400 acres of snow untouched by the uninvited, a sprawling four-season ski lodge with a five-star hotel, an 18-hole golf course, and an 80,000sqft clubhouse that's one of the largest post-and-beam structures in the country. Bowling, fly-fishing, and concerts by the likes of Hall & Oates round out the offerings, which come with a hefty price tag. But with those amenities, we can go for that.
Philadelphia, PA
Cost: Undisclosed
Amenities: Opportunity to work alongside professional crime-fighters to solve cold cases, training seminars in forensic arts
How to join: It's generally invite only, but you can inquire here
Most know of Sherlock Holmes, but few know that he was inspired by real life French detective Eugene Francois Vidocq. Today, the criminal-turned-crime-fighter is honored by the Vidocq Society, a ragtag group of law enforcement, legal, and forensic specialists who convene once a month at the Union League of Philadelphia to try to bring the culprits behind cold cases to justice. They do offer training seminars to help their members build new specializations, but the club is invite only, so you won't be getting in without a serious crime-fighting resume.
New York, NY
Cost: $420 initiation fee; $420 annual dues
Amenities: Access to insane clubhouse, lecture series, grants
How to join: Submit an application here
For over 100 years, civilized gentlemen of the adventurous variety have proudly called themselves members of the Explorer's Club, a surprisingly not-that-exclusive group founded around the principles of scientific exploration... and a totally swank clubhouse on the Upper East Side filled with animals killed by the likes of Teddy Roosevelt. They sponsor expedition grants, host lectures with famous academics, and throw parties where you can eat candied scorpions. Although the only clubhouse is in New York, there are chapters all over the country making this a club that's definitely worth exploring.
Lake Erie, OH
Cost: Undisclosed
Amenities: A private island
How to join: Contact them here, but membership is extremely limited
Rattlesnake Island in the middle of Lake Erie has a long and storied history, but the most recent incarnation is a club limited to 65 members who have access to their own private island that, contrary to its name, is overrun by friendly game like pheasants and peacocks, fine dining, and other typically non-poisonous resort amenities.
New York, NY
Cost: Undisclosed
Amenities: Access to a garage full of classic cars
How to join: Submit an application here
Car ownership in New York is as much of a burden as a blessing, which makes an institution like the Classic Car Club all the more vital. Should you be the type that simply must rent a Shelby Cobra for the weekend, the CCC has you covered, plus the Broom and Hudson St. showroom/clubhouse is the closest thing to a Bat Cave you'll find in New York City.
Los Angeles, CA
Cost: $25,000 initiation fee; $12,000 annual dues
Amenities: Behind-the-scenes Disneyland access, exclusive entry to private (boozy) restaurant
How to join: The club is notoriously secretive, but details are on this unofficial site.
Deep inside Disneyland there hides a secret greater than Walt's frozen head, which is only unlocked with a yearly dues payment that's higher than most mortgages. Club 33 is a super-exclusive club that grants extraordinary access to the Magic Kingdom, from a private booze-serving restaurant in the New Orleans Square section of the park (address: 33 Royal St) to behind-the-scenes tours of the most popular attractions. The waiting list is apparently longer than the average age of a park-goer: 12 years. If you'd like to learn more about the club, a longtime member let the mouse out of the cage on Reddit.
Sign up here for our daily Thrillist email, and get your fix of the best in food/drink/fun.
Dan Gentile is a staff writer at Thrillist. He one day hopes to become a member of an organization as frighteningly named as the Rattlesnake Island Club. Follow him to lengthy membership applications at @Dannosphere.