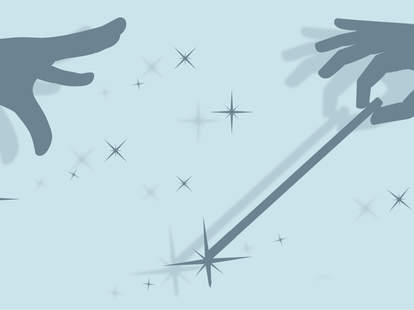 This woman who extreme couponed for charity
"Giving back" doesn't have to mean giving thousands of dollars -- and Lupe Juarez is proof. Never very wealthy, the Oregon mom received help about 16 years ago, when she was a newly single parent. A local church gave her a box of food and wrapped presents for her family. Juarez never forgot.
A couple of years ago, she got into extreme couponing (yes, just like the TLC show you watch while saying, "They're crazy!" but secretly wish you had the skills) and decided to make some use of her newfound passion. For over two months in 2015, Juarez shopped for presents using every coupon she had, and come December 15, she made a special delivery to the Fox 12 Toy Drive in Beaverton, Oregon.
She told Oregon Live, "I want to be able to put that smile on other people's faces, like they put on mine when I received the help." And that she did. Though Juarez didn't know exactly how much she spent, she donated 500 gifts -- some of which she got for three cents. And the value of her entire haul? Well, over $2,000 without the coupons, but if you want to get corny... priceless.
This puppy who was abandoned then nursed back to health on Christmas
Apologies if you've been tear-free since '93 because that's all about to change when you read about this puppy. Let's rip the band-aid off in one swift motion, shall we? In 2013, some monster abandoned three German Shepard-Chow mix puppies on the side of the road on Christmas Eve. Two of the doggy babies were in decent shape, but one, who would later be named Nicolas (of course), suffered from hypothermia and had an infected broken jaw. He was only one pound.
The three were brought to Deanna Jarvis, "the puppy expert" at Noah's Hope Animal Rescue in Sioux City, Iowa, who brought them to a vet. His prescribed treatment: put little Nicolas on a heating pad till he got better. Instead -- and please sit down before you read this -- Jarvis zipped him in her sweatshirt and rocked him in a chair for three days. This human angel wrapped the tiny, sickly puppy tightly to her chest and warmed his tiny puppy body. She then fed him with a syringe for months till his jaw eventually healed. Nicolas and his siblings went on to find forever homes, leaving us forever sobbing.
Goskova Tatiana/Shutterstock/Daniel Restrepo/Thrillist
This anonymous man who doles out $100 bills to strangers
It's like finding a dollar in a coat you haven't touched since last winter -- but better. An anonymous, wealthy businessman from Kansas City has been making strangers cry tears of joy for the past few years. With a dozen local police officers, he hits up a few cities and hands out anywhere between $100,000 and $200,000 each holiday season -- all in the form of $100 bills.
Last year he and local law enforcement gave money to people in Pittsburgh and Ferguson, among other places, in hopes to help the community recover from the 2014 shooting of Michael Brown -- and mend the relationship between its citizens and officers.
"Our mission is to do random acts of kindness," the anonymous businessman told CBS News. "Kindness is the bridge between all people. And right now, Ferguson needs that." You don't know who he is or where he'll show up this year, but keep your eyes peeled and your pockets full of Kleenex.
This college junior who tried to rent a family for the holidays but got so much more
Three years ago while all her classmates were making their lists and checking them twice, Jackie Turner, a junior at William Jessup University near Sacramento, wasn't thinking about presents. She told CBS News that her childhood was abusive, and she never shared in any of the experiences she heard her classmates talk about: "Their cousins, their families, all the things that make up Christmas." But instead of feeling sorry for herself, the straight A-student posted an ad on Craigslist offering $8/hour to rent parents for the holidays. "Maybe for like a couple hours," she said, "just be, like, the light of their life for that moment."
As you could imagine, Turner was met with dozens of responses, but half were from parents wanting to spend time with her (for free, duh), and the others were from people who felt the same way she did. So she held a meetup. And Turner not only found a mentor for herself that holiday season, but matched the needy with the needed. And now we need to excuse ourselves…
radoma/Shutterstock/Greg Henry/Shutterstock/Daniel Restrepo/Thrillist
This coffee shop that helped its community recover from robberies
When one part of a small community is vandalized, the entire town feels it -- as was the case in Lexington, Kentucky, back in December 2013. But instead of sitting idly by after A Cup of Common Wealth and several of its neighboring businesses were burglarized, the coffee shop decided to do something to get everyone back on their feet. Anyone who bought something from one of the targeted businesses earned a free cup of joe from the cafe, which was very true to its name. And they didn't even have to present receipts; everything was based solely on the honor system.
If that's not heartwarming enough, owner Chris Ortiz set up a tree for members of the community to come and pick up or drop off presents. And sure, it might seem a lot for one local business to take on alone, but in an Instagram post, the store wrote, "We all go through life together, and sometimes that means picking up the pieces together when things go wrong." We'll take our java with milk, sugar, and tear-jerking holiday vibes -- if you insist.
This tree-loving Michigan man
Lowell, Michigan resident Chad Rose didn't expect to grant as many holiday wishes as he did in December 2013. When he just happened to have an extra Christmas tree that was used on his business's parade float, he did what any decent person would do: He posted on Craigslist to give it away for free. You see, for some a tree is a necessity, an essential part of the holidays, but for many it's frivolous. Money can be better spent on food, presents, eggnog -- the essentials. Immediately Rose's inbox was filled with stories -- each more touching than the last -- of why various families would appreciate the tree. One email, which Rose showed to MLive.com, read, "Having a real Christmas tree would be such a great blessing this year [because] usually we draw a Christmas tree on a large poster and hang it in the corner."
Realizing that even $25 was too much for some families to spare, Rose went out and bought 40 more trees to give away for free. But he wasn't alone in his good deed. No, no, the feels don't end there. When fellow upstanding citizen Ann Posont saw his Craigslist ad, she contacted him to get in on the action and donated ornaments and trimmings with each and every tree.
OllyLo/Shutterstock/Daniel Restrepo/Thrillist
And finally, this selfless vet who saved a homeless cancer patient's dog at no cost
The following is so tragic it's gonna sound like the plot of a Lifetime movie you want to shut off half way through. But rest assured, everyone survives in the end. When Nadine Edwards, a homeless woman, was battling breast cancer, a doctor gave her a companion dog who she named Taco Baby. (Everyone okay so far?) One December night in 2010, Taco Baby ran into the street in Long Beach, California, was hit by a truck, and crushed.
Edwards, who was preparing for her second breast cancer surgery, scooped him in her arms and brought him to Community Veterinary Hospital where Dr. William Grant II said the 11-month-old pug-terrier mix was lucky to be alive. (He's alive. See, everything's fine.) But then how is a homeless woman battling cancer supposed to pay veterinary bills? Well... she can't.
But Grant didn't care. "We met and hit it off, and I said 'I'm going to fix this one,' " he told Press-Telegram. Even though he knew he'd never be paid the $3,000 he was owed, it didn't matter. Some came in from charities and rescue groups, some came in from a concerned citizen, Kim Lamm, who was there when Edwards who first brought Taco Baby in, but most of it never did. Grant said, "We can't fix everything or save the world, but we can make a difference," and the experience was the true meaning of "the holiday spirit."
Rebecca Strassberg is a staff writer at Thrillist who was totally fine and calm and not at all crying until she found the story about Taco Baby. Follow her on Twitter @strassbooger.