12 Things You Didn't Know About Savannah
Touted to tourists as elegant and gracious, Georgia's first city also has the energy and edge for even the most expert eaters, drinker, and culture lovers. And if you happen to be a person who likes to booze on the go, (i.e. everyone), then Savannah may be your new favorite city. Call her earthy. Call her eccentric. But whatever you do, don't call her old. We made a list of the things you're sure to love about the real Savannah -- and you won't find them on the brochure.

1. If you have a Y chromosome, the odds are in your favor
According to a recent U.S. Census evaluation by the Martin Prosperity Institute, there are at least 5,000 more available women than men living in our small city. The Savannah College of Art and Design attracts roughly 7,000 more single ladies each year. Not bad for a city that's smaller than Greenwich Village. If those odds aren't the least bit enticing, there's also a thriving, open gay community.

2. Plastic cups are practically a requirement
An alfresco alcohol policy enables you to take your drink "to-go" at any bar north of Jones Street. This allows your wine to truly breathe. It also makes for some entertaining, bourbon-infused little chats along the way from tavern to taproom. Don't even think about driving once you're out on the town. And remember to pace yourself, Savannahians are steady, not sloppy.

3. You can go island hopping -- in Georgia!
One hundred miles of undeveloped coastline stretch southward from Savannah, making this the last line of civilization on your way to pristine barrier islands and fantastic fishing. No boat? No problem. Charters and captains abound, and a Freedom Boat Club membership will make you seaworthy in a day.
4. We know how to throw a music festival that's still actually cool
Every March, the four-day Savannah Stopover music marathon brings the best bands to the city's intimate venues on their way to Austin's SXSW. This gives you 80-plus reasons to brag, "Actually, I liked them before they were famous." Fall brings Revival Fest, an easygoing Americana extravaganza. Think of them both as throwbacks to the days when festivals were actually fun.

5. We've got some real paranormal activity
Dubbed America's most paranormal city by every media outlet known to man, Savannah's imagination is fueled by four centuries of twisted history. The city is literally built on the dead -- and if the haunted pub crawls and cemetery tours don't convince you, try an early morning walk of shame through Spanish moss and fog.

6. Like a good war story? We've got plenty
As home to the legendary Mighty Eighth Air Force, the Army's Third Infantry Division, and some pretty bizarre Revolutionary and Civil War lore, this small city has seen its share of scrap. It's got the memorabilia and museums to prove it -- and don't miss Fort Pulaski, birthplace of the rifled cannon and site of Savannah's best hikes and views.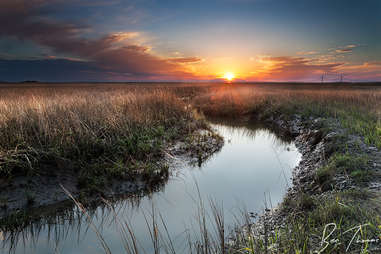 7. We're home to some real marsh madness
You haven't seen Savannah until you've explored its namesake grasslands -- vast stretches of tall spartina bisected by tidal creeks and estuaries -- and they are best navigated with a paddle in hand. Load up the kayak and put in at Butterbean Beach or Skidaway Island State Park. You'll spot dolphins, alligators, right whales and manatees.

8. We know good art, and we help create it too
Ever wonder why so many Savannahians have art collections that exceed their incomes and maturity levels? The city has a symbiotic relationship with the Savannah College of Art and Design, meaning it tells time by a rotating series of art marches, gallery hops, open studios and graduating student shows.

9. We know how to make running fun for everyone
Savannahians run road races year-round, from the exuberant Rock 'N' Roll Marathon to the panoramic Enmark Savannah River Bridge Run. Training for these races is a social activity, so some of the city's most meaningful dialogues are a little breathless. At the end of a long run, women still put on designer heels and hit the town -- a resiliency any heterosexual male can appreciate.
10. Social squares are our thing
Twenty-two lush, park-like greens grid this urban landscape, inspiring a Saturday tradition of shopping and schmoozing. A true Savannahian has two things in hand when making the rounds: a cocktail and a leash. The squares themselves are dog friendly, with elegant poop receptacles and the occasional canine water fountain.

11. We embrace a good oddball
Savannah's got 'em all: sign-carrying doomsayers, makeshift military officers -- even a guy who asks for a pencil, then tells you he's the son of Satan and does a little dance. And those are just the ones who advertise. Eccentricity is a point of pride in this small city, so your own quirks are more likely to win you an approving nod than a wide berth.

12. Ships get real here
If you see what appears to be a city block moving before your eyes, you must be facing the Savannah River. This coastal city is home to the nation's largest container port -- and it's on the inland side of town. That means every brightly laden container vessel has to cut right through the Historic District on its way to and from foreign ports of call. That's their economy in action -- and for every ship that passes, Tubby's Seafood on River Street will pour you a $1 shot.