...and not just in shape. But smartwatches don't have to look dorky, either (ya know, square as a slang term).
While the name itself sound a bit like a shoddy Japanese-to-English translation, the Pebble Time Round is actually pretty slick. It's been called the smartwatch for people who don't like smartwatches and we have to agree; the minimalistic design and round shape are huge achievements for Pebble, who've only dabbled in clunky rectangular designs in the past.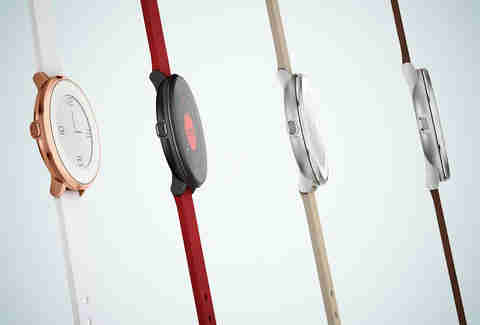 Shape and weight are the biggest factors on why you should go plunk down the $249 to grab these guys. This is Pebble's lightest and thinnest watch so far—just 28 grams and 7.5 millimeters thin, which my girlfriend says is super comfortable. But seriously, folks, you won't even feel this thing on your wrist. That's what she said? Okay, I'm done. 
Pebble Time Round has a built-in microphone for voice commands and a beautiful color display with a backlight which allows you to discreetly glance at your wrist to check calendar events, text messages, and even incoming calls... you know, as opposed to raising the entire damn thing to your face.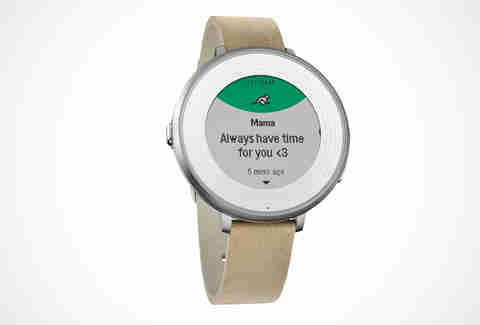 Compared to the 18-hour battery life of Apple Watch, Pebble Time Round boasts a 48-hour battery (yep, that's right), while its predecessor, Pebble Time Steel, can last up to 10 days (what!) on a single charge. Plus, a quick 15-minute charge can get Pebble Time Round juiced up for 24 hours. It's like the Gary Busey on magic powder, except it can also last 48 hours without completely crashing thereafter.
If you're drooling over the customizable aspects of Apple Watch, let the Pebble Time Round's options quell your anxiety; you can change bands with Pebble's Quick-Change bands, download multiple watch face designs, and choose from a full spectrum of colors and styles.
When it comes down to it, Pebble Time Round is the smartwatch for people who like good old-fashioned, regular-ass watches on their wrists. Although good old-fashioned regular-ass watches is really a mouthful to say.
Sign up here for our daily Thrillist email, and get your fix of the best in food/drink/fun.

Jeremy Glass is a writer for Thrillist and still has his first-generation Pebble stowed away somewhere safely.