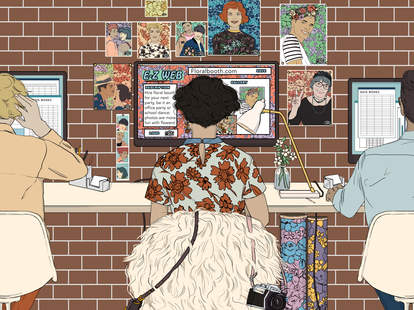 We all think it's great to be the boss, because they get the best offices and have the biggest paychecks, but it's not all dollar signs and personal assistants. There's a lot that bosses need to manage, and that goes double when running your own business or supporting yourself full time in a freelance gig. Because of that, we enlisted career coach Anna Runyan, who also started her own business (Classy Career Girl, an online community for women pursuing their dream occupation) to tell us how she did it -- and what you'll need to keep in mind when it's your signature on everyone else's paycheck.
Make time for some serious contemplation
As your business grows and changes, so do your responsibilities. No one can visualize all the ways that their role will shift but it helps to prepare for the likely major ones. Set aside time on a regular schedule to assess the business and yourself.
"I've changed my business model when I'm not in love with what I'm doing," Runyan explains. For example, she found that when she was doing one-on-one consulting, the "dream job" she had created for herself initially was starting to feel a lot like… work. So, she instead looked into creating a membership platform on her website, which would give people access to her advice and content -- without spending hours on the phone with clients.
Runyan suggests doing one of these deep-dives when you start to feel unhappy in your work, or when your company is stagnant. This assessment should center on a few things: your vision for your future, of course, but also things like your personal strengths and how you can delegate them to your team. "Not everything has to rely on your hours and your time," she says.

Don't be afraid of expanding your team
Business owners can be incredibly protective of their businesses -- and for good reason. Most of the time, a company is something you build personally from the ground up, so it's your baby. Letting anyone else get close can be incredibly nerve-racking, but Runyan says expanding your team is one of the key ways to grow your business.
"You need to change your mindset about your time and how important that is," she says. For example, many employers believe they are saving money by not having employees on their team -- but if doing so will free up hours in the workweek for you, then you'll have more time to actually lead your company forward, rather than handling logistics. Runyan's first hire was actually a virtual assistant, and she suggests looking into a similar route if you're searching for a helping hand, but don't want to be accountable for a full-time employee just yet. Part-time workers and interns can also make great first additions to a small team, too -- just make sure you're following legal guidelines around hiring students if you go that route.
Advertisement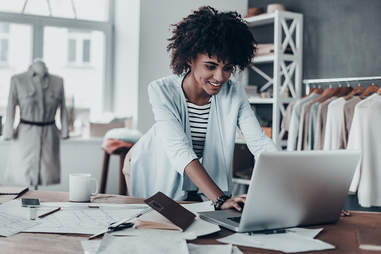 Courtesy of FirstBank
You've already taken charge of your career, now take charge of your future with a FirstBank business loan, and open up a whole new host of possibilities for your company.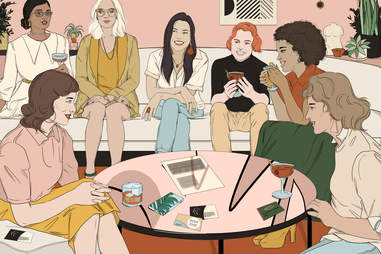 Lindsay Mound/Thrillist
Networking? Yeah, you need to do more of it
Being the boss doesn't reduce the number of lectures and happy hour mixers you attend, but it
does
make them more productive, since your needs and the business's are aligned. You know exactly why you're here, and can get the resources you need to reach the next step...and the next level. Now, not only will you want to network with people who can help guide your business, but you'll also
need
to network with potential clients if you're running a client-facing gig.
To manage it all, Runyan suggests determining whether or not you come off better in person, or online, and look for opportunities in those separate spaces. "You have to figure out where your ideal clients are, and what is your personality as well," she says. For instance, before having her daughter, Runyan said she did most of her networking at lectures and events, face to face. Now, though, she's moved her whole business model online so she's worked on creating virtual communities on social media instead.
Set a mission, not a revenue goal
When you have a million-dollar idea, it can be hard to focus on anything other than the cold, hard cash. Instead of focusing on making it to the 1% by the time you're 30, though, Runyan suggests centering your business's main goal on something a bit more tangible. For her, it was to help 2,000 women launch their dream careers and businesses. She suggests defining a similar mission statement for yourself if you haven't done so already. Doing so will help you focus your path -- and will make it easier to make decisions along the way.
"As entrepreneurs, we have bright shiny object syndrome and want to do a million different things," she says. She recommends you pick one building block and put all your energies toward it. In time you'll have built a foundation for the next level.
Some tips for choosing that mission? Runyan suggests identifying something that solves a problem but that you're also passionate about. You'll find that achieving lots of obtainable goals on the regular will reward your hard work more than a long time spent chasing one goal above your reach.
Lindsay Mound/Thrillist
It's okay to not love every second of it
As you've seen, doing what you love doesn't mean all your days are sunshine and unicorns. That's because you have your hands in every aspect of your business -- be it sales, customer service, or the actual creation of a product. You're probably not very good at ALL those things, and you've definitely second-guessed at least one decision. Take it as a good sign, though. If you never had any doubt, you probably didn't have your eyes open to every challenge...nor its solutions.
"In the beginning, I was trying to do everything and kind of failing at everything," Runyan says. "It was a rut. I feel like a lot of business owners go through that because you're doing some things you don't love, or enjoy." To power through that, she blocked out time every day to read positive books by other entrepreneurs, and kept a journal with her goals and positive affirmations about her strengths and progress. It kept her focused -- and from calling it quits.
Stay smart about your finances
Congrats on having turned your calling into a sustainable career. But while you're drawing a regular paycheck, have you squared away your other finances? First up: paying off your debt, especially credit cards, is key. Eliminating unnecessary monthly expenses (like, finally cutting the cord on your cable bill, maybe?) also helps. She also suggests tracking your finances for a month to see where you are overspending, and cut it out. None of this is any fun, but it will give you peace of mind -- something you need every bit of to focus on continuing to bring your dream to life.
Focus your to-do list
When you were an employee, you were tied to some sort of schedule. That's not the case when you're the boss, and it becomes pretty easy for your business to take up wayyyy more time than a regular day job would. Some of that is expected, but unlike a day job, where tasks and duties are assigned to you, it's up to you to set your work/life balance.
If running your own enterprise has you feeling overwhelmed, Runyan suggests setting time aside at the beginning of the week to identify your three priorities for the week ahead. "I could write a to-do list a mile long and feel overwhelmed," she says. "So I think, if only these three things get done, this week will be good." She suggests employing a similar method, that way your week is focused, and you don't feel run down by the end of it.
Don't fear your mistakes
No matter what stage your business is at, it's normal to be afraid of making costly errors...and make them you will. Additionally, the right decision at some point may cost you later when situations change or mishaps occur. This is just part of business. One advantage of being the boss is nobody's going to fire you for being wrong... so give yourself permission to do so, along with the trust to learn from it. "It's okay to make changes, and it's okay to adjust," Runyan says.
For her, one of her biggest mistakes actually led to her current business model. She was launching an online course, with pricing that didn't work for her customers. It was a complete flop, and they had put a lot of money into Facebook ads trying to generate signups. After working through the issues with her team, though, and seeking out some support from her own network, they adjusted their entire business to its current membership model. Since then, Forbes named Classy Career Girl one of the most influential career sites on the internet, and it's helped over 1,000 women launch their dream jobs.
Moral of the story: it's all about how you roll with the punches, because you're going to take a few along the way.