Selfie-Crazed Sorority Girls Caught on Camera at Baseball Game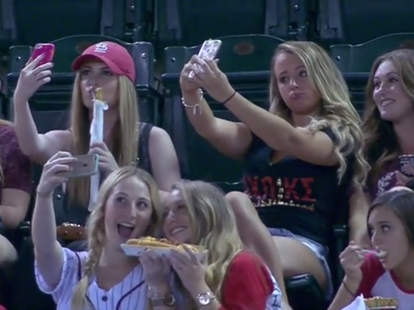 If you want a glimpse into just how selfie-obsessed we are as a culture, look no further: the Arizona Diamondbacks just posted a video to their Facebook page, showing a gaggle of sorority sisters who just can't stop taking selfies with hot dogs, churros, and each other. Duck lips? You betcha:
While some of you might be angered by the girls' lack of attention during that holiest of holies, an MLB game, here's a little-known fact: this is actually the appropriate amount of attention to pay during a Diamondbacks/Rockies face off.
If you've got two minutes to spare, you should absolutely watch the entire two-minute video right here -- it's the most fun you'll have watching baseball for the rest of 2015.

Sign up here for our daily Thrillist email, and get your fix of the best in food/drink/fun.
Gianni Jaccoma is a staff writer for Thrillist, and he applauds these young women for their independence. Follow his duck-faced tweets @gjaccoma, and send your news tips to news@thrillist.com