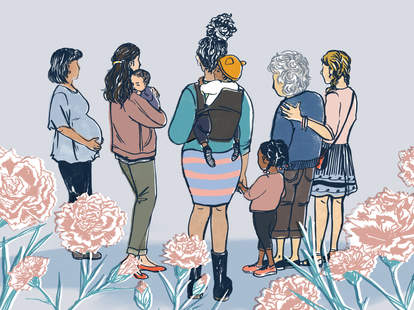 Moms: we all have one -- unless you have two, in which case you are even luckier than the rest of us. To find the best moms, we asked you to submit your story of a woman who played a matronly role in your life. And because she surely deserves it, we're picking a few lucky winners to receive PANDORA jewelry as a sign of how much you love her. Here are just a few of the best.
"My mom spent years fighting for my safety as a kid, then raised me on her own. We're the spitting image of each other, both physically and mentally. As I've grown into a young adult, we've become best pals. She had a very challenging life as a mother when I was young (due to familial and financial circumstances), but never once complained. She fought to still be a loving and nurturing mother to me, providing me with as well-rounded of a childhood as possible, while still refusing to simply spoil me as a result of tough times. Because of how she raised me (on her own!), I've grown into a young adult who has graduated college, moved to the city on my own, and [I] will be starting law school this year pursuing children's legal rights, because I learned from her how important it is to provide kids with healthy and nurturing environments. She also taught me how to take a tequila shot when I was 21 and drags me on the dance floor with her at boring events/weddings!" --Mehgan K.
Jenna Bresnahan/Thrillist
"She's one of the most selfless women I've ever been blessed to know. She is always putting her son (and unborn daughter) as well as everyone around her before herself. She lost her mother unexpectedly last summer and while she deals with the grief, she is constantly reminded of how blessed she was with her own mother, and tries to emulate that with her own children, her niece and nephews, as well as my own son. She's one of those wholehearted good people. And I am blessed to call her friend, and chosen sister." --Leah E.
"My mother deserves to win because she is the most selfless mother I know. She was a single mom for 7 years who worked three jobs to keep me in good schools and a good neighborhood. She is now a grandmother to my son and as [I'm] a divorced parent, she helps me raise him. She thinks of her two boys and two grandsons first every time before considering her own needs." --Brian C.
"She has homeschooled our children for the last 25 years and then she comes up to the family business and works the afternoon [...] goes home in the evening, cooks, cleans, and does laundry -- she is our superwoman!" --Tim K.
"[She] brought me up giving me space to be an individual but provided the guardrails to keep me safe and comforted at the same time. So many life lessons -- encouraging great relationships with my grandparents, guiding me to embrace my creative side, keeping me active -- teaching health and wellness -- so many things." --Nathan R.
"My mom is French, and loves eating bizarre foods. One time, she was preparing some cervelle (aka brains) and left them in the sink to soak... That night, I went to wash my hands, not knowing that the brains were there. Although I have never been more scared in my life, today, my mom and I still laugh for hours while telling the story. I don't know what I would do without my best friend and her unique and occasionally terrifying tastes." --Victoria B.
"My mother is a great cook, and I remember all the great meals and family time together. She is a great protector. When I was in the first grade I remember coming home from school crying because back in that day the teachers thought you were supposed to write with the right hand. That teacher was [trying to] make me write with my right hand and I couldn't... boy, my mom went to the school and it was all bad. That's why I call her the great protector; she was my hero. And still is." --Pamela H.
"The simple things mean the most to me. She taught me to tie my shoes, bake chocolate chip cookies, make the bed, and to be kind to others. She always put our needs before hers. That's love!" --Susan S.
"When I was young, my mother asked me if I ever thought I would get married. I told her I didn't think so. She said to me 'Well, then you will need to know how to do everything' and started teaching me how to cook, how to sew, how to budget -- skills she felt were important to living everyday. Back then, she would have been called a 'women's libber' as she was always proactive for women's rights. What she taught me was an important lesson: that gender had nothing to do with living, that cooking meals was everyone's responsibility, that sewing was cool and just another way to "build something," that all skills are important and valuable. I did eventually get married and had a son. And today, her legacy continues with him. He is blessed with the idea that there are no gender roles in life. He is a leader, and he is teaching his friends the skills he learned from his grandmother. And they are loving it!" --Adam L.
Jenna Bresnahan/Thrillist
"Not only did she raise three wonderful and successful kids (not that I'm biased or anything!) but she did so oftentimes with my father deployed as a Marine or working crazy hours as a police officer. Furthermore she supported us in anything that we did. I remember calling her when I was having a rough time in medical school this past year and joked about leaving and opening a food truck because for both of us food is another passion and pastime we share. Her words were, 'do whatever makes you happy.' You don't often find a parent willing to let a kid drop out of medical school in the pursuit of happiness, though part of it may have been selfish, too, since I would have come home from being 2000mi away. Though I didn't end up coming home -- maybe to her chagrin -- her support of me and my siblings has never wavered and undying love and support is all you can ask for in a mother." --Matthew A.
"Through everything that has gone on with me and my multiple surgeries, and the distance between our two homes, we still remain close. There isn't anything I wouldn't do for her. I cherish the little time that we do get to spend together, because she sees me as more than just a daughter-in-law, but a daughter. Just as I see her as my mother. I love her with all of my heart and this beautiful gift would only show a fraction of my love and appreciation for her being in my life. She has more than earned something this sweet." --Kelly H.
"She is a single mother and has supported me and given me everything she could give throughout my entire life. We were too poor to have jewelry growing up but when I went to interview for college admissions, she gave me her sparkly necklace (which was actually fake) just so I could have something nice to wear to the interviews. I wore that necklace to every single interview and the constant reminder of her love and dedication to her children strengthened my resolve to get into the best college I could get into and succeed in life. That necklace gave me strength and helped me shine through all my interviews (literally and figuratively!) I made it into medical school and finally was able to make her proud! To this day, I still have her necklace and consider it one of my most cherished pieces of jewelry, even though it wasn't even real! I would not have been able to achieve all that I have achieved without her selfless love and support." --Christine C.
"My mom adopted me when I was 3 months old. She raised me as a single mother for several years. She is the hardest worker and the most caring person I know. She taught me the value of hard work while also bringing me up with strong morals and values. I truly owe everything in my life to her. She recently announced that she will be retiring in July. She deserves nothing more than to have the opportunity to spend her time with friends and family, travel and of course receive some new PANDORA jewelry." --Kelsey H.
"My mom is where I learned generosity, kindness, taste, and a deep appreciation for the earth, stars, and the God within it all. She still is a simple, hard-working woman. She has little use for jewelry, and she never buys any for herself. But if she won? Oh my, would her eyes shine bright!" --Rebekah S.
"She deserves to win because she is AMAZING! She is an amazing mother and wife. I don't know that I have ever met someone who is so dedicated to her children and family. She brings a perspective to life that is special. Two years ago she was diagnosed with breast cancer and beat it not once, but twice! Throughout it all she had bad days, but she took each day head-on and her love and devotion never wavered. She is almost a year cancer free, and her passion for her career as a high school math teacher, AMAZING mother and just flat-out special wife has never been greater." --Bill D.
"My mom suffers from a traumatic brain injury from a car accident. It's been hard on her but she doesn't let it slow her down by any means. She volunteers every chance she gets. She's always there to lend a helping hand, even after I was involved in my own accident she helped take care of me. She's an amazing mom and she really deserves the world." --Ruth B.
"I grew up in a multiracial background. My mother is from Taiwan and my father is African-American from the US. My parents met while my father was in the military and split not too long after. She raised me alone and in a new country, by herself with little help and no family here, except one sister that happened to be in the same state. I think in this time of talk about immigrants and closing borders it's important to note the people who migrate to this country and pursue dreams and live lives against all odds, which is what I feel is the foundation of this nation. She taught me to go after what I want, you have to work hard for what you want, and the best person you have to depend on out there is yourself. I can only dream of being as resilient, dedicated, committed and focused as this woman is. She raised two girls, put both of us through college and continues to nurture us through our adult lives. I am truly appreciative of this woman and hope, even if I'm not able to obtain an item for her through this sweepstake, her story can be inspiring to other mothers, children, women, immigrants and citizens." --Malenna S.
"She raised me on her own, ran with me through The Blitz in her arms to the hospital when I was a baby, as there was no ambulances available at the time. She has always put others first before herself, I remember later on when I would come home from school she put my meal on the table, I asked her if she was joining me. She answered, 'I ate earlier.' I later found out it was a lie as there was not enough to go around. We had a woman come around the flats where we lived, begging in the winter, my mum gave her one of her coats to keep warm. [She] would also drop coins in the hats of a few homeless around the city when we would go shopping. Things are no different now. She does a lot of volunteer work with various groups. [...] My mum is the young age of 91, a member of the Legion where she also does volunteer work, plus she is always out there with her stroller and her poppies on poppy day. All around a great person. Always thinks the best of everyone, never a bad word." --Frank K.
"As an immigrant to this country, she gave up everything in her country to start here where she had never known cold or prejudice. She quietly suffered and never tried to get back at people. She gave up working on her degree to raise a family and never looked back. She is now 88 years old and tells me of what I have accomplished. Yet, she never told me what she endured to teach me the values that got me to this point." --Eduardo M. 
"Her hustle got me into good schools and big stages. She worked, cooked, and cleaned all by herself. She honestly handled the whole house on her own and still would manage to find time to make me and my sister special. Hardest worker and nicest person I have ever seen." --Mahip S.
Jenna Bresnahan/Thrillist
"She raised me to volunteer when I was still in preschool, which instilled a lot of the values I carried into adulthood. The fact that she worked her way out of poverty and felt it was still important to give back to her community makes her one of the most important people in my life." --Jake M.
"My sister is not only a mother to her own daughter but being older than me, she has always been a motherlike figure to me as well. Growing up, she made sure I had all the things I needed and wanted when it wasn't her responsibility. She still is helping me financially and emotionally as I try to chase my dream going back to school as a nurse. She is the oldest sibling of 5 and does everything and anything for all her siblings, her daughter, and her niece. She runs her own business, working excruciating hours where she can barely see her family but she does it FOR her family. Her life motto is really FOE: family over everything. " --Christina H.
"My mother came from a less-than-privileged background. I am proud to say that she is not well educated but street savvy. She earns every cent with sweat and blood to provide for us children. We have what we have because of her; she sacrifices her own needs […] The most unforgettable memory was when I was in fifth grade, first day of school. [...]  My mother stayed up late to wash and iron my brand new school uniform. God knows how much work she did to buy my uniform. She said I couldn't be shameful in front of my classmates. We were walking toward the bus stop but there was a deep water puddle in front of us. It was raining cats and dogs. My mom piggy backed me along with my heavy school books to walk (swim is more like it) through the puddle. The water was knee deep. I could see the sweat pouring out of her forehead. Several times, she almost lost balance and fell. Yet she forged on, making sure not to drop me. She didn't want my uniform to get wet or dirty. We made it. She was all muddy. I was thinking about school the whole day. I hope I have persuaded you not only to give this woman the prize but feel the motherly love she gives. To feel and empathize as another human fellow. She is 76 years now and doesn't have much time left. Pampering, happiness, living well, selfish enjoyment, and luxury don't exist in her dictionary and probably never will in her lifetime. By granting her the prize even though it is shortlived (just 1 day), I hope it changes her view and have positive outlook and experience in life." --Edmund L.