Lifestyle
Sponsored By
Spread Cheer with These 8 Hacks for a Stress-Free Holiday
Sponsored By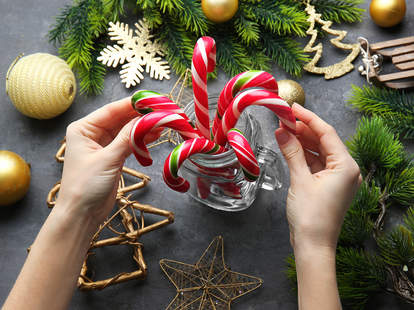 Sure, it's the most wonderful time of the year. But between organizing travel and figuring out who's bringing what to the big family meal, the holidays can get a little stressful. Fortunately, there are some super simple things you can do to make this time of year a little easier, all while spreading more cheer to the world -- and to yourself.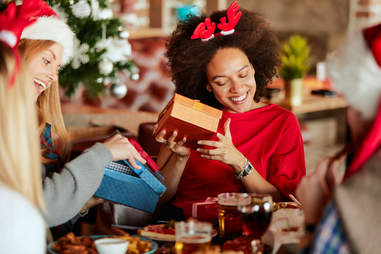 Shutterstock
Host a gift exchange
Throw a gift exchange for your friends and/or family, but make it a potluck so you're not stuck preparing all of the snacks (or paying for everything). Have everyone wear an ugly sweater. Go caroling after you've finished the punch. The important thing is to not stress and have fun. If you're not sure what kind of gift exchange to host, a Secret Santa is always a popular option, or go with a White Elephant, where instead of secretly buying for an assigned person, guests take turns opening unaddressed gifts and can steal from one another (extra points for weird gifts here). To make sure everyone leaves with something they like, host a cookie swap, where guests bake their favorite treats; people can enjoy the cookies during the party and then go home with some from each batch. 
Shutterstock
Clean out your closets and go shopping for a good cause
One of the easiest ways to spread cheer is to donate to people in need. While finding socks and underwear under the tree may have been a letdown when you were a kid, those are actually two things your local shelter can always use. Same goes for winter clothing like coats, gloves, hats, and scarves, as well as twin sheets and toiletries. If you don't have anything to give away or can't afford to shop for these items, you can always give the gift of your time and volunteer at a shelter or soup kitchen. Giving a weekend afternoon can make a huge difference in someone else's holiday.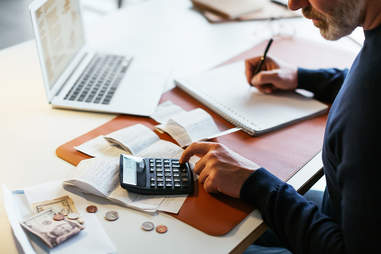 Stocksy
Create a holiday budget
It's a lot easier to be cheerful when you aren't stressed about money, and that goes double around the holidays. We're not complaining, but "tidings of comfort and joy" sure do get expensive.
The best way to alleviate that financial stress is to create a budget you can stick to. Make a list of expenses, including gifts, holiday cards, wrapping supplies, a tree & ornaments, food & beverages for entertaining, travel, charitable donations, etc., and allocate an amount for each category. When you keep an eye on your budget, you can spend less on the basics and more on the cheerful flourishes to touch up your holiday party.
Advertisement
Courtesy of McDonald's
The season will be here before you know it, so warm up to the holidays with something sweet from McCafé. Treat yourself to an all-new chocolate dipping sauce for your cinnamon-sugar Donut Sticks, and kick off your morning with a cinnamon cookie latte, made with milk, cinnamon-sugar syrup, and freshly brewed espresso. The holidays might creep up faster every year -- but this year, you'll be ready.
Decorate your home without spending a ton of time or money
You can do a lot with a little creativity when it comes to adding festive decor to your space. Drape a few garlands of evergreen over doorways, across the mantle, or as a dining table centerpiece; put colored ornament balls in glass vases; tie silver bells to your front door; place jars of candy canes on tabletops; hang twinkle lights around your windows; wrap presents early and set them out on display. Use what you have and when in doubt, skip all of the above and just play Christmas music.
Unsplash
Volunteer to be the holiday activity ringleader
Most people love to partake in holiday activities, but it's not always easy to find someone to take on the responsibility of coordinating the merrymaking. Tell your friends or family that you're going to be in charge of making their spirits bright by handling all of the plans for a fun outing. Go ice skating or sledding, attend a Dickens fair, watch a tree-lighting ceremony, or volunteer at a soup kitchen or children's hospital. Go the extra mile by coming prepared with a Thermos of hot chocolate and other holiday treats.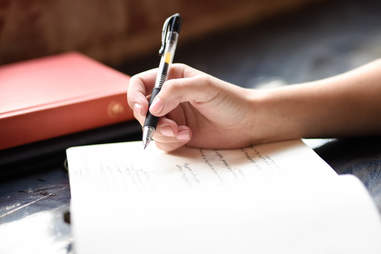 Unsplash
Send a handwritten letter
There's someone out there who would really appreciate a thoughtful, handwritten letter. Take 15 minutes to let them know how you're doing and why you appreciate having them in your life. If you're not sure who to write to, consider an elderly person who might be spending the holidays alone. Find an organization that distributes holiday cards and letters to seniors in long-term care homes -- it's an easy way to put a smile on someone's face.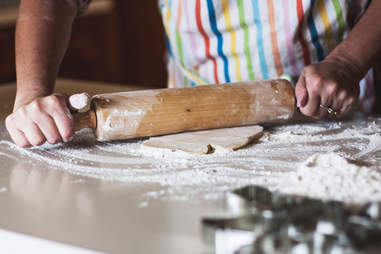 Unsplash
Do what you can as early as you can
We can't prove this, but there's an old saying that the cheeriest people during the holidays are the ones who plan ahead. And sure, there are some holiday preparations that you simply have to do at the last minute, like cooking a turkey or grocery shopping for perishable items, but there are a lot of things you can do early, so that you can actually enjoy the holidays without an encroaching "to-do" list. This includes giving your home a deep clean, creating your budget, shopping for presents, making cookies (you can freeze dough for up to three months), and planning travel arrangements.
The more you plan ahead, the sooner you'll be able to get back to what's important: Mariah Carey's Christmas album blasting at full volume, and spreading cheer to your friends and family. After all, isn't that what the holidays are really about?
Daisy Barringer is an SF-based writer who has dedicated a ficus tree in lieu of a Christmas tree on more than one occasion. Tell her your holiday tricks on Twitter @daisy.