11 Stunning Ways Nature Is Integrated Into Major Cities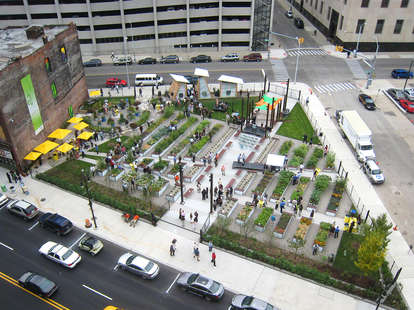 When you're trying to survive day-to-day city life -- whether that means sharpening your elbows to fight your way onto a subway car or teaching your fellow man how to properly merge onto an entrance ramp every morning -- it's hard to imagine a relaxing nature escape existing anywhere remotely close by. It's not down in the subway; it's not in your overpriced, undersized studio apartment; and it's certainly not in your 40-floor office building. But thanks to dedicated nature-lovers and environmentalists, green space has started to become an integral part of the biggest and busiest urban areas in the US. So skip the frantic morning commute tomorrow and enjoy one of these urban parks, gardens and nature spots instead.
Andy Goldsworthy's Garden of Stones
New York City
You might not believe it, given NYC's always-bustling, never-sleeping reputation, but there are serene pieces of nature tucked away everywhere -- a park along the West Side Highway, a garden atop a roof at 30 Rockefeller Plaza, and even all the way down in Battery Park. Here you'll find sculptor-photographer-environmentalist Andy Goldsworthy's Garden of Stones, a permanent feature of the Museum of Jewish Heritage. Opened in 2003, the memorial garden consists of trees sprouting from stones, which will break apart as the trees grow. Planted by Holocaust survivors and their families, the garden symbolizes the effect of time on humans and nature and is meant to be visited over and over again.
The Getty Villa Gardens
Los Angeles, California
Just east of Malibu, this Pacific Palisades beauty nests in a bluff bordering Tuna Canyon Park and surveys the city below it. Though it's actually an educational center/museum dedicated to the art of ancient Greece, Rome, and Etruria, The Getty Villa looks more like the estate of a royal family. The Villa's gardens, four distinct tranquil oases inspired by Roman architecture, combine over 300 plant species -- like sycamore and laurel trees -- with permanent fixtures including bronze sculptures, a mosaic-and-shell fountain, and a massive 220-feet-long reflecting pool.
The 606
Chicago, Illinois
About two decades ago, when traffic began slowing down on The Bloomingdale Line, a century-old passenger and freight railroad, city residents gathered to discuss how the 2.7-mile stretch could be used as much-needed green space for Chicago. The answer was The 606, a paved trail for bikers, runners, and walkers. Meant to combine nature, science, and culture, The 606 features four parks along the trail. That includes permanent facilities for the arts and education -- like the Environmental Sentinel, a three-mile long art installation of temperature-sensitive trees and flowers that illustrate climate change based on its flourishing and struggling -- and temporary artworks that are expertly curated. The 606 runs on the northwest side of Chicago between Ashland and Ridgeway and is free for all visitors.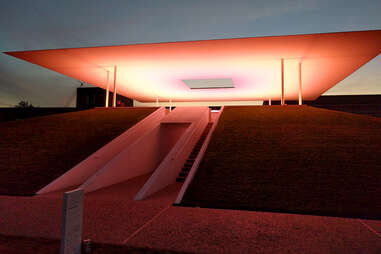 James Turrell's "Twilight Epiphany" Skyspace
Houston, Texas
In 2012, Rice University welcomed a truly special piece of artwork: The Turrell Skyspace, a giant, dynamic piece that accommodates 120 people at a time. Constructed of grass, concrete, stone, and composite steel, it was designed with a precisely calculated LED light sequence, bringing a new experience to sunrise and sunset, the two most magical times of day. It's during these hours that lights -- programmed to either rise or fall with the sun -- are projected throughout the space and juxtaposed with what's happening in the world above. Look up through the skylight and see the natural colors around you, the moon rising, the pinks and purples of a truly remarkable summer day turning to night….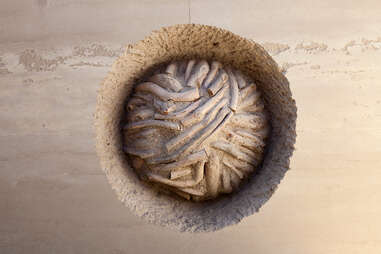 Andy Goldsworthy's Earth Wall
San Francisco, California
Andy Goldsworthy has more than one piece of his famed land art at The Presidio of San Francisco, but "Earth Wall" stands out. The six-foot-wide sphere was shaped using curved on-site eucalyptus branches, and buried with clay taken from the courtyard during the renovation of the park's oldest building, The Presidio Officers' Club. The sculpture shows the artist's inventiveness (he was creating art at a construction site), and begs viewers to consider the difference between the natural world and the built environment. Goldsworthy then partially excavated the sphere as a nod to the archeology research that takes place at The Presidio.
Leonhardt Lagoon at Fair Park Lagoon
Dallas, Texas
Preserving the educational and recreational complex Fair Park has always been important to the city of Dallas. That's why when the Leonhardt Lagoon was facing an eroded shoreline, murky water, and rapid algae growth in 1981, a massive restoration project was put in place -- but not just any restoration. Patricia Johnson, known for her functional and environmental art, elevated the lagoon using large sculptural forms made from terra cotta-colored gunite. The structures not only break up wave action, but serve as pathways for visitors and perches for birds and turtles. Additionally, she chose indigenous plants to restore life and balance to the body of water. And thanks to Johnson, the Leonhardt Lagoon is still a functioning ecosystem today.
Lorna Jordan's Waterworks Gardens
Seattle, Washington
From simply looking at it -- with its colorful mosaic, stone, and concrete structures -- you might not be able to tell that Waterworks Gardens is more than just art, but it actually serves an important purpose to its city's environment. Completed in 1996, this eight-acre public space in Renton is also a water treatment and habitat restoration facility. Here's how it works: dirty stormwater/wastewater is collected at the top of the hill, where it's then led through 11 ponds that clean out contaminants and sediments. That's when it's fresh enough to be pumped into the wetlands below where it helps sustain plants and wildlife.
Solar Rotary
Tampa, Florida
Nancy Holt's "Solar Rotary" is a striking piece of artwork on The University of South Florida campus -- but its story is even more impressive. Surrounded by grass and benches for prime viewing, the structure -- twisted aluminum poles -- resembles the monkey bars you used to fall off as a kid. And though it's nice to look at every day, the excitement happens each year at solar noon on the summer solstice. This is when the aluminum bars create a perfect ring around the center structure which, by the way, is a 4.5-billion-year-old meteorite segment. It's the perfect way to ring in the season.
Lafayette Greens
Detroit, Michigan
In the busy downtown Detroit area amidst courthouses and highrises is a half-acre urban garden that's way more than just a serene escape. Lafayette Gardens, built in the space left empty after the historic Lafayette Building was demolished in 2010, is an organic fruit and vegetable garden that offers the community much-needed education in healthy living. With ample seating throughout, the space makes an ideal outdoor classroom for subjects like yoga, gardening, and most importantly, urban farming. Surrounded by the food you're putting into your body, you'll learn why you should continue growing it yourself and the impact it has on the city around you.
Ellen S. Clark Hope Plaza
St. Louis, Missouri
Outside of the Washington University School of Medicine seems like a regular city square -- one that might require thousands of dollars to maintain -- but the Ellen S. Clark Hope Plaza is close to financially independent. It actually re-creates the self-sustaining natural habitat of a Missouri woodland in multiple ways. Instead of selecting greenery that needs constant trimming, mulching, and replanting, plants that self-cultivate every year and naturally rid themselves of weeds were chosen. In addition, many are drought-resistant, saving tons of water and allowing just rainwater to suffice. The calming infinity fountain in the center needs a little maintenance, and some minimal work is done depending on the season -- but The Missouri Botanical Garden provides guidance on which flowers will prosper best. Designed to deliver peace and comfort to visitors who might be facing difficult medical situations, the tranquil plaza is more than just a beautiful garden.
Race Street Pier
Philadelphia, Pennsylvania
Philadelphia's Race Street Pier opened in 2011 and is the first park of its kind in the Pennsylvania city. Developed by the team behind NYC's High Line on what was then a vacant shipping pier, the floating area is now used for free yoga classes, picnics along the Delaware River, and even weddings (as long as you get a permit). During the day, the 37 swamp white oak trees (cultivated for four years in New Jersey before they were deemed ready for the pier) provide tons of shade, while at night the Ben Franklin Bridge makes for a distinct and romantic setting. That's why 200 LED lights were embedded into the paving. Truly, there's no bad time of day to visit.