So, you want to go for a hike. You've got your pack, the right shoes, some delicious trail mix that's severely lacking in M&M's, and water. Nice work, you're about halfway there. 
Now you're going to need the right tech. Whether you're a beginner just out for the day or a more experienced hiker, this handy guide will ensure your jaunt on the trail is as enjoyable as possible.
1. A portable stove/French press
We suggest: MSR Windburner Stove/French press, $129.95
Rise and shine. You've got some walking to do, and you'll be damned if you have to do it uncaffeinated. This 2-in-1 system boils your water and then turns into a French Press that makes about 3-4 cups of coffee. What's up trail? How's ya mother? Let's do this.
2. An industrial-strength vape
We suggest: Summit by Vapium, $149.99
You're jacked up on caffeine and haven't dominated a trail this hard since you forded the river with a wagon full of healthy, dysentery-free pioneers. Take a minute to relax, draw a couple puffs from your vape, and appreciate nature as our ancestors did... high out of your mind.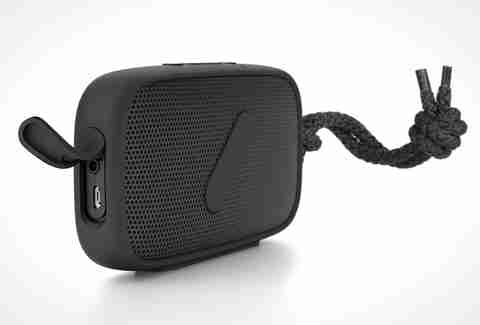 3. A portable, yet durable Bluetooth speaker
We suggest: The Super-M, $99
The vibes are strong, the sun is shining, and all you need to make this moment even more perfect is some ICP echoing softly off the mountains. The Super-M is a great Bluetooth speaker that's both waterproof and shock-proof for when your friends throw it into a rock for playing ICP.
4. A portable, yet durable camera
We suggest: A GoPro, $129.99-$499.99
Your iPhone can take some pretty decent photos, but have you seen the pics a GoPro can capture? They're absolutely stunning. Not to mention their cameras are drop-proof, waterproof, life-proof, and can attach to a number of great accessories.
5. A really comfortable hammock
We suggest: An ENO hammock, $59.95+
You've reached the summit. The views are tremendous, but the lactic acid in your legs has built up to the point that your knees are shaking. Throw up this easy ENO setup in seconds, and get just as relaxed as this stock photo couple look.
6. A discreet flask
We suggest: The Secret Binocular Flask, $16.95
By this point in your hike, you finally understand those shirts that say "Life is Good." Go ahead and cheers to that with these booze-filled binoculars that make birdwatching actually enjoyable.
 
7. A solar-powered backup charger
We suggest: Goal Zero Guide 10, $119.95
This nifty, lightweight number straps right onto your backpack, so it'll charge up as you hike and is compatible with all your iDevices, as well as mini-USB. If you don't take a picture of the valley at dusk because your GoPro died, did that sunset even happen?
8. A good multi-tool
We suggest: Leatherman Wave, $88.27
Look at this thing. It looks like some sort of crazed insect that would likely live in Australia and kill thousands of people a year, for sport. It's actually a very useful, portable, and requisite tool for hiking and camping that features a slew of capabilities, like multiple knives, files, a screwdriver, and a can opener.
9. A lantern that can charge up via hand crank
We suggest: Lighthouse 250 Lantern, $79.99
So it's getting about time to head back from the summit, but everyone is so impressed with your multitool that you all end up sitting around carving "ICP 4-eva" into a dead log and filing your nails. Good thing you can light up the area with this handy lantern. And if your phone needs a quick charge, it'll do that too.
10. A GPS
We suggest: Garmin eTrex 30x, $299.99
If you get a little hazy from all that "birdwatching" and take a wrong turn somewhere, don't fret. This GPS from Garmin is insanely simple to use, totally waterproof, and will keep a battery life for much longer than you'll probably ever need (25 hours). 
11. A headlamp
We suggest: ReVolt Headlamp, $59.95
Whew, you found the trail. But you're tired of crankin' on that lantern and want to use your arms for other things, like high-fiving and playing rock-paper-scissors. Good thing you have this 130 lumens headlamp to guide you back to safety and out of the cold, dark hands of mother nature. 
Sign up here for our daily Thrillist email, and get your fix of the best in food/drink/fun.
Alex Robinson is an editor at Thrillist Media Group. Tell him to go take a hike on Twitter.