America's Greatest Nude Resorts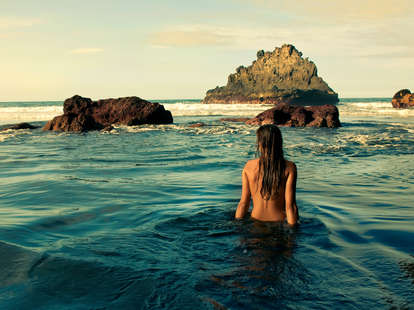 Shutterstock
Shutterstock
Although many folks associate nude resorts with exotic islands and foreign tropical locales, there are actually quite a few places to get naked amongst strangers that are accessible without that passport. So head to any one of America's best clothing-optional resorts, and save travel time, airfare, and totally avoid those pesky tan lines. Soak in the hot springs of Colorado, partner swap in Tennessee, or hike in California! Disrobing stateside has never been easier.
Kissimmee, Florida
Before first timers are allowed to be in the buff, they're taken on a tour of the landscaped grounds and beach, and then given nudist etiquette training based on the AANR's (American Association for Nude Recreation) guidelines, which is a very real association. And although couples (and families, oddly) are welcome, single men are not, unless a nudist friend vouches for him or he has prior nudist experience. How will the family-run resort know? He'll tell them! Nudist environments are quite trusting.

Ridgway, Colorado
It does have six rooms in the main building for overnight guests (plus places to camp), but it's not a typical resort. Chlorine-riddled pools are renounced in favor of the two geothermal springs that naturally fill seven different 24-hour soaking areas: four outdoor hot springs -- including Lobster Pot, the hottest of them all at 114 degrees F -- and three indoor pools/private tubs. After a good soak in the lithium-rich waters you'll feel like a kid again, just don't make nice with ones you don't know around the grounds because that's weird.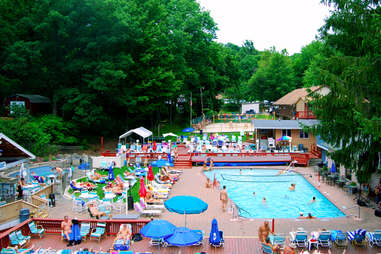 Palmerton, Pennsylvania
Though the name evokes a retirement home of sedentary geriatrics, the folks who run this family friendly resort actually encourage guests to get moving on the volleyball/tennis courts, in the fully equipped fitness center, or on the two scenic/naked hiking and biking trails. However, if physical exertion doesn't appeal to you, just work up a sweat sitting in the sauna.

Palm Springs, California
Originally a celebrity hideaway known as Monkey Tree (that was frequented by the Rat Pack!), this retro throwback plays to a quiet and peaceful vibe rather than the impersonal party scene often found at expensive chain hotels. Expect honeymooning couples and a stunning view of the San Jacinto mountains.
Crossville, Tennessee
Secluded in 20ac of Tennessee woods, this swinger-friendly resort comes complete with 12 themed fantasy suites such as "The Space Odyssey," "Sensual Safari," and the "FantaSea" that are all decorated seemingly from a Michaels craft store. There's a BYOB poolside bar, a "clean room guarantee," and a playhouse, which is definitely just an assembly hall for adults and has nothing to do with group sex.

Dawsonville, Georgia
While many nude resorts close their doors in September or October, this campground is open year round, plus offers members annual housing rentals and opportunities to buy property on its 106 acres. Every month is packed with themed parties like "Naughty School Girl" and the even more titillating "Chili Cook-off." Be aware: if you're spotted snapping any pics at all, you'll be banished.
Land O' Lakes, Florida
If you want access to the 8,400sqft lagoon pool complete with grotto waterfall -- where everyone definitely looks like a Playboy bunny -- you have two options: 1) pay for a daily pass, or 2) commit to a hefty annual membership fee and then visit frequently to be sure you get your money's worth.

Desert Hot Springs, California
The climate is practically perfect year-round, and myriad activities -- horseback riding, art galleries, hiking -- are just a quick drive away (use your best judgement for when and where to make clothing optional). Back on site, the lavish pools are open 24 hours a day and evenings are often marked by sex-charged DJ dancing. When you're ready to back to wherever it is you came from, have the concierge order you a casual limo or a private jet.
Sign up here for our daily Thrillist email, and get your fix of the best in food/drink/fun.
Ashley Branch is an assistant editor at Thrillist and wants a taco-themed fantasy room. Follow her on Twitter: @AshleyBranch_14.