Sponsored By
How to Easily Earn Airline Miles with Your Everyday Shopping
Sponsored By
There's no better feeling than that sweet moment when you actually have enough frequent flyer miles saved up to redeem for a flight. Especially when all of your takeout Thai and grocery delivery orders helped you get there. Alaska Airlines knows this, which is why they came up with two distinct ways to help travelers accrue miles: the Mileage Plan Shopping and Mileage Plan Dining programs. These perks reward you for daily purchases you're probably already making -- especially when it comes to eating out and grocery shopping -- so you can rack up miles faster.
Here's how it works: For both the Shopping and Dining programs, you'll first need to sign up online for a free Alaska Mileage Plan account. Then, browse the 850 participating online retailers through their Shopping site, buy products online as you normally would, and watch the miles add up in your Mileage Plan account. It's easy to dine out and earn miles at over 10,000 different venues, too. You'll just need to link your existing credit or debit cards to your account to make sure you get miles for each dumpling you scarf down.
Since the full list of venues, restaurants, and shops you can earn miles at is massive, we highlighted some of our favorite ways you could be eating your way closer to award travel through both programs. So come hungry, and start making a travel bucket list, because those miles are going to add up quick.
Stepping up your home cooking
Alaska Mileage Plan Shopping
If you've listened to a podcast in the past few years, you've probably heard of
Blue Apron
. The meal kit service sends boxes to your house each week packed with fresh ingredients and recipes -- like pork chops & corn cakes or Korean-style "fire chicken" -- allowing you to home-cook up a storm. And if you sign up through the Mileage Plan Shopping site, you'll get $60 off your first three boxes, plus score 900 miles as a bonus.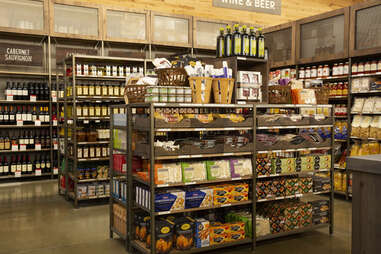 World Market
Hunting down that international specialty
Alaska Mileage Plan Shopping
World Market
is a unique store. Sure, it imports all sorts of delicious treats from around the globe, like
Vegemite
and
kimchi
. But that's not all -- you can also shop here for internationally-crafted furniture, home decor, and gifts (like a
rug from India
). Shopping online via Mileage Plan can earn you three miles per dollar spent, plus some extra deals: 10% on all online purchases and free shipping on orders of $75 or more. It's the perfect place to get something for yourself
and
anyone on your holiday shopping list who would appreciate real European marzipan in their stocking.
Indulging your sweet tooth
Alaska Mileage Plan Shopping
Dylan's Candy Bar
is a brightly-colored cornucopia of sweet treats, with
Candyland
-esque retail locations all across the country. But if you shop online through Alaska Airlines, you can take advantage of coupon codes that'll get you deals like 30% off and free shipping on orders over $25. Plus, Dylan's is one of the best values for racking up rewards, as you can earn five miles for every dollar spent online.
Earning miles as you grocery shop
Alaska Mileage Plan Shopping
Chores like grocery shopping might be a bit more fun if you know you're building miles for being so responsible. You may already be picking up household goods and other bulk buys at
Sam's Club
, and through the Mileage Plan, you'll earn two miles per dollar spent online. That means you don't have to lug massive loads of paper towels and pantry staples back to your place, and you earn rewards in the process.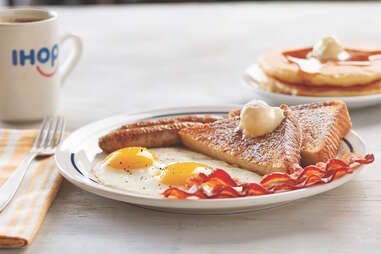 IHOP
When you need a double stack
Alaska Mileage Plan Dining
Some days you just need to eat a ton of bacon or stuffed French toast at
IHOP
(and get rewarded for it). Going out for a huge breakfast at select participating IHOP restaurants is truly a win-win with the Alaska Mileage Plan Dining program. Some restaurants only award miles for dining on certain days, so be sure to double-check using the site's
search
. Beyond that, your only concern will be how many pancakes you can eat.
When you need a caffeine fix
Alaska Mileage Plan Shopping
Let's face it: Your French press has been gathering dust ever since that
Keurig
machine moved into your place. The instant coffee makers are just so convenient, so it can be easy to run through box after box of coffee pods. Since you're stocking up already, you may as well pick up some extra airline miles -- specifically, two miles per dollar spent. Whether you keep the coffee for yourself or gift it to someone in your fam is your call.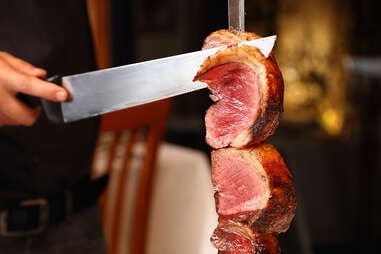 Shutterstock
Going out to eat at a decadent steakhouse
Alaska Mileage Plan Dining
If you've never been to a Brazilian steakhouse, you're missing out on one of the most delicious experiences in dining. In a
churrascaria
, skewered meat is brought directly to your table and carved straight onto your plate. If that weren't enough, select locations of one of the biggest Brazilian steakhouses,
Fogo de Chao
, are a part of Mileage Plan Dining. So if you're visiting cities like Chicago or LA, that means every plate of sizzling beef you order from Fogo de Chao scores you three points per dollar. And if this is the first meal out that you're using the Mileage Plan for, you'll earn 1,000 bonus miles by spending $30 -- which definitely isn't hard to do at a steakhouse.
Stocking up on dinner-party gifts
Alaska Mileage Plan Shopping
Good manners demand that you show up to any holiday dinner party with wine in hand.
Wine.com
sells thousands of wines from around the world at various price points so you can always be prepared to be a polite guest -- or to buy bottles as a gift for someone this year. You can earn four miles per dollar spent online, plus plenty of seasonal bonuses. It's an easy way to make sure your wine cellar (or closet) is always stocked, all while getting some extra Mileage Plan miles along the way.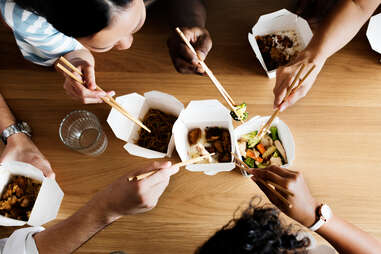 Shutterstock
When you're too lazy to cook
Alaska Mileage Plan Shopping
Local food delivery got a big upgrade when
Caviar
came on the scene in 2012. The app features all the best restaurants in your area, from fancy eats to local comfort food. (In NYC, for example, you can get both Osakana sushi and Blue Ribbon fried chicken delivered with Caviar.) Plus, earning a mile per dollar spent makes it even easier to be lazy and not leave your house. Of course, if you live in more of an
Uber Eats
neighborhood, you can get 350 miles for ordering takeout Thai or Greek with them as a first-time customer, too. Honestly, at this point, you might as well never leave your couch -- that is, until it's time for you to cash in all these miles you've been racking up and head somewhere much more exciting than your living room. Thailand or Greece, anyone?

All miles/dollar amounts and merchant offers are accurate as of the time of publishing but are subject to change. Please see the Mileage Plan Shopping or Mileage Plan Dining rates for the most current earn rates and offers for each merchant.