With changing tax laws and increased filing confusion, tax season can intimidate even the most enthusiastic number crunchers. But doing your taxes is easier now than ever and, for many, a surprisingly stress-free route to enjoying your refund. H&R Block has a couple ways to make the whole process a piece of cake.
If you've always preferred doing taxes face to face, H&R Block's thousands of offices make it easier than ever to find a tax pro, and with a little research, finding a tax pro who specializes in the nuances of your own occasionally daunting tax situation (looking at you, freelancers, newlyweds, and new homeowners). Plus, you can take comfort in knowing they offer you a Maximum Refund Guarantee if you have one coming.
If you just want to file as easily as possible, there's H&R Block's Tax Pro Go. From preparing your return to submitting it to the IRS after you've approved it, a Block tax pro will handle your taxes for you. You don't even have to get up off the couch, because it all happens online. The best part? H&R Block offers transparent, upfront pricing so you know your price before you begin.
So now that you have the experts working hard for you, it's time to start thinking about how you can get back to doing what you love. We have a handful -- ok, a lot -- of suggestions.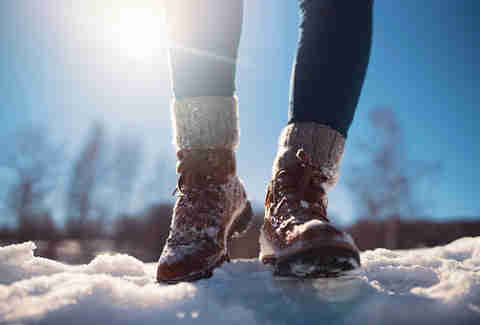 THE OUTDOOR LOVER
Spring is the perfect time to assess your gear situation and get your head in the game for summer adventure. A new pair of hiking boots, like these from Salomon or these from Merrell, are a perfect place to start. Once you're booted, a getaway to a cabin in the woods, preferably one by a lake and plenty of hiking trails, is a perfect way to test your new gear. If you're looking for something more serious, hit a tour of the US National Parks. Passes are only about $80, which is great, because with 58 National Parks (25 that we love), you'll need the rest of your cash for gas, comfortable places to sleep, and a couple great dinners along the way. If hiking in the continental US isn't enough, then we have the perfect level-up: Hiking in Hawaii. In Maui, visit some of the most breathtaking hiking trails on the planet without stamping your passport, or you can check out active volcanoes on the big island.
THE FOODIE
Few things are as satisfying as kicking back with a tasty cocktail -- especially if you can do it in your own home. A new bar cart to stash your, well, stash, in a way that's organized and aesthetically pleasing is the perfect excuse for a post-tax cocktail. After all, you're already relaxed. Keep that energy going. If you'd rather celebrate outside your home, there are plenty of sought-after Michelin-starred spots that will be happy to help -- just make sure you make your reservation well in advance, and don't skip the wine pairings. When the weather warms up, be prepared: Check out this pro smoker, perfect for having friends over for smoking, grilling, or baking outdoors. Then finally, if you're looking for the maximum foodie experience, it's time to head to Italy. For the second year, Osteria Francescana in Modena has been named the best restaurant in the world. We can't think of a better way to celebrate the end of tax season than with a trip to this foodie city. Experience Chef Massimo Bottura's modern, artful takes on Italian food. With a plane ticket (in the $600 range), his tasting menu (about $280 a person, before wine pairings), and lodging, its exactly the way you should welcome summer.
THE ENTERTAINMENT JUNKIE
Anyone looking for an excuse to buy a new toy, Airpods are the obvious choice. But if you'd rather watch the music being made, step it up: Festival tickets to Bonnaroo run just under $500. Don't forget a water bottle, sunscreen, and bug spray. For the old of soul (and old of knees), you can skip the lines and rock out at home with a new wireless sound system like this one from Sonos, which lets you stream music to different speakers all around the house. Of course, if you really want to go big, there's a natural choice: Fleetwood Mac (plus a few additions) have been touring for much of 2019. Make plans to see Stevie Nicks herself in London this summer (fresh off her Rock and Roll Hall of Fame induction, too) and shell out for some of the best seats at Wembley Stadium ($390). Make a true vacation out of living out the ultimate fan dream.
THE JETSETTER
Every good traveler deserves good luggage. Away's carry-on bag has a removable battery that's up to TSA standards, so you won't have to fight for outlet access when you're waiting at the gate. On top of that, there's a built-in laundry bag and combination lock, which will keep you organized and secure while you're away. Of course, if you travel more for work than pleasure, you need to take relaxation seriously. That's why luxuriating with a spa day package (complete with a massage, facial, and more) will feel like a vacation in its own right, even though you'll only be away for a day. Sometimes the best vacations are spent just outside your comfort zone, so take a long weekend in a domestic city you've been meaning to cross off your bucket list. Whether you want to hit up Pittsburgh, Portland, ME, or any of these small cities, $1,000 will cover lodging for a three-day weekend, plus an activity or two (both of those activities, by the way, should be lobster rolls). And finally, if you take your jetsetting seriously, there's only one logical way to show it: Take a two-week tour through some of the most popular countries in South Asia. You could spend a few days sipping Indonesian coffee, partying like a high-roller in Singapore, and exploring the Temple of Literature in Vietnam. Because the cost of day-to-day activities is relatively low, most of your expenses will go towards airfare. Frankly, while we're doing this already, spring for the upgrade. Because nothing is more relaxing than starting your trip in first-class style… besides knowing that you're on this trip thanks in part to the good advice of your H&R Block tax pro.