igor.stevanovic/Shutterstock
The Last Minute Holiday Gift Guide
It's never been better to put off shopping 'til the last minute. Here's why: we've put together a bulletproof, no-bummer list of gifts that ship super fast (or e-mail instantly). Why waste hours wandering depleted aisles or sitting in traffic when the greatest gifts are a simple click away? We saved you some time -- now go deck the halls like a boss.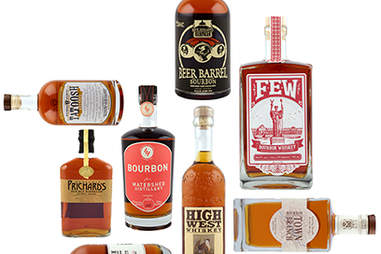 Courtesy of Mouth
From $74 (3 months)
Mouth's Bourbon Every Month program, which delivers one standard-size (750ml) bottle to any doorstep every month (starting next month, so you're covered). Your intended target not a whiskey lover? They'll surely turn into a bourbon believer, thanks to the expert, small-batch picks from Mouth, which often source buzz-worthy bottles from beyond Kentucky's borders.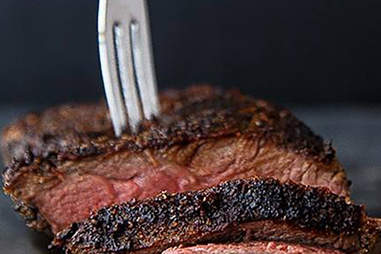 <a href="https://www.facebook.com/omahasteaks/photos/a.222178036413.166869.65888296413/10153774592941414/" rel="nofollow" target="_blank">Omaha Steaks/Facebook</a>
$144
Imagine a cornucopia, but instead of overflowing with a bounty of useless gourds, it's a cardboard box filled with an abundance of glorious red meat. Omaha Steaks' Excellence Expedited pack includes four each of fliet mignons, burgers, and jumbo franks. Also included: four stuffed baked potatoes and a jar of steak seasoning. 
Courtesy of Ray-Ban
$150
Wayfarers have been cool since 1952, so don't expect them to go out of style anytime soon. Their enduring appeal -- plus the fact that they look great on almost all faces -- make them a great pick for gifting. Even better: buy them through Ray-Ban and you get free overnight shipping.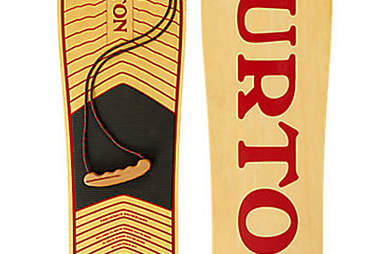 Courtesy of Burton
$130
Snowboarding's roots are outside the resort. In the beginning, no pricey lift tickets were required (nor were space-age boots and bindings). In that spirit, Burton is reissuing one of their first-ever boards, designed for standing up and ripping runs in your backyard or on a nearby sledding hill. Keep it in your trunk and you'll be primed for a quick shred session whenever a dump hits. Overnight shipping is available for $30 extra.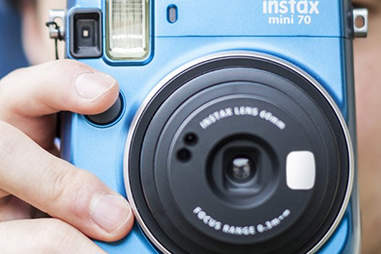 Courtesy of Fujifilm
$125
The Fujifilm's Instax Mini 70, which has an improved exposure system that helps avoid washed-out or too-dark scenes. A hi-key mode creates fashion shoot-style bright skin tones. A 'selfie' mode dims the flash and fixes the focal length for better shots of you doing you -- better yet, you can get it next-day delivered from Amazon.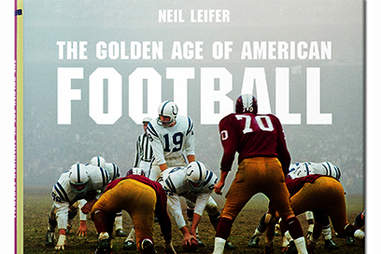 Courtesy of TASCHEN
$37
Before pictures of Tom Brady rocking Uggs were considered sports photography, photojournalist Neil Leifer stalked the sidelines of the 1960s NFL and snapped over 10,000 rolls of film, collecting indelible images of some of the greatest football games ever played. The best are featured in this 280-page book, which will smarten up the living room of any pigskin fan.
Courtesy of W&P
$20
A tin that holds aromatic bitters, a muddler, cane sugar, and a recipe. For something that you can get to your house in less than 48 hours, it's an impressively thoughtful gift for someone you probably totally forgot about.
Courtesy of Ultimate Ears
$90
This Bluetooth speaker is tiny enough that it's worth valuable space in your carry-on, yet has an expansive sound that can set off an impromptu party anywhere. Even better: it's omnidirectional and has a Bluetooth range of over 65ft, so you'll be able to gather noise complaints from even the most expansive hotel suite.
<a href="https://www.facebook.com/115860655123816/photos/pb.115860655123816.-2207520000.1450102858./837196626323545/" rel="nofollow" target="_blank">BKLYN LARDER/Facebook</a>
From $189
Give friends and loved ones a reason to go on in 2016 with the monthly meat parade that is the Bklyn Larder Salumi Club. Each month your recipient will get three cured classics like Italian sopressata, French Sausisson Sec, and Spanish Chorizo. Subscriptions are available in three-month segments, up to a whole year.