Some people like to say, "celebrities are just like us." Those people, sadly, are mistaken. Celebrities are better-looking and more successful, rendering them essentially extreme versions of us average Joes -- and that extreme often extends to the teams they support. Especially when it comes to college sports.
College sports tend to attract a fervent fan base to begin with -- people who will don flashy team colors in the offseason, yell school chants into TV cameras, and even designate a pair of "lucky underwear." Here are 10 celebrities who have done all that and more, all in the name of rooting for their school.
Ashley Judd, Kentucky Wildcats
We're calling it -- Ashley Judd may be the most dedicated college sports fan out there. How do we know? Well, she's such a regular at University of Kentucky basketball games that the local newspapers report when she will miss them, rather than when she'll be at them. (If you're wondering why she didn't make it, she had a nasty flu, and IT WAS ONE TIME, OK.) Her Wildcat pride stems from her being a Kentucky alum, and like other celebrities on this list, she goes far beyond just showing up for games. Judd has boasted of her love of the team in the local press and Sports Illustrated, saying that she reads The Cat's Pause (which covers UK sports) weekly, listens to the coach's call-in radio show religiously, and syncs her TiVo recording of the game with Tom Leach's (aka "the Voice of the Wildcats") calls on his radio broadcasts. She's invited the entire hoops team over for a home-cooked dinner, too.
Julia Louis-Dreyfus, Northwestern Wildcats
Fun fact: Northwestern's men's basketball team made the NCAA tournament for the first time in 79 years this past season, which is enough to make any alumnus pretty excited. The Veep star and her husband, Brad Hall, are both Northwestern grads, but they have another equally exciting reason to show up to a lot of games: their son, Charlie Hall, is on the team. (And the walk-on apparently inherited some of JLD's comedy skills, too.) Like any proud momma, she's quickly become the team's biggest cheerleader, and a superstitious one at that -- she made Jimmy Kimmel knock on wood when he predicted the team could have another shot at the tournament this year.
Melissa Joan Hart, Alabama Crimson Tide
The Sabrina, the Teenage Witch star is from New York, sure, but her husband is from Alabama, and we all know the foundation of a good marriage is making sure you root for the same sports teams. Hart didn't just don a crimson jersey and call it a season, however. She spends fall Saturdays watching the games with her family and attends national title games. She's appeared on sports radio shows to share her expertise on the team. She even follows their new recruits on Twitter. And to ensure that ROLL TIDE stays in the family, two of her sons attended the Crimson Tide youth football camp this year. Oh, and she claims she has a pair of "lucky panties" she wears to support the team, too.
Lebron James, Ohio State Buckeyes
The Cavaliers star is a native of Akron, Ohio, and while he didn't attend The Ohio State University, he's always had an allegiance to the school -- one so dedicated that he refuses to say the word "Michigan." (Apparently, that's a thing a lot of serious OSU fans do -- which makes for some awkward interviews.) He's even danced with teammates when the Buckeyes win games.  And the love between James and Ohio State is mutual: The school gave him not one, but TWO lockers on the campus -- one in the basketball team locker room, the other in the football one, even though James hasn't played football in years. The Buckeyes football team has even worn Lebron-inspired cleats, and he has his own personalized OSU football jersey.
Ashton Kutcher, Iowa Hawkeyes
Kutcher is a born and bred native of the Hawkeye State, and has always been a huge fan of his hometown team; he even attended the school for a year, but left to become a model in New York. That hasn't stopped the actor's enthusiasm though, which came to a fever pitch last year when he admitted he tried to name his second child Hawkeye after his favorite team. (His wife, Mila Kunis, promptly vetoed that pick.) Another superfan move? Kutcher announced earlier this year that he's returning to the University of Iowa to finish his degree -- we're thinking he's only doing it for the chance to score student tickets for the season.
Katy Perry, Ole Miss
So, we're not really sure if Perry loves Ole Miss, or just college football in general. Some will argue that because the pop star celebrated a University of Mississippi victory by having a few beers with fans (and by celebrated, we mean she jumped off the bar when "Don't Stop Believin' " came on) that she's a tried-and-true fan. We're dubious, because really, who hasn't done that before? So it's actually Perry's appearance on ESPN's College GameDay BEFORE that viral Vine video that earns her a spot on this list. She donned a fuzzy pink jersey-like sweater, threw corn dogs at the screen to rile up LSU fans, hit on Trevor Knight of Oklahoma, and jumped on top of the Ole Miss mascot after the team won the game. It was enough for Deadspin to call it "the greatest moment in College GameDay history."
 
Vince Vaughn, Notre Dame Fighting Irish
Notre Dame is one of the most recognizable college sports teams in existence, so it's no surprise that it draws fans who have little to no personal connection to the school. Vaughn is one of them, and is known as a member of the "Subway Alumni" -- the term for Notre Dame fans who never went to the college. The Wedding Crashers star hails from Chicago, but has been a Notre Dame fan for his whole life (the South Bend, Indiana, campus is only about an hour and a half from the Windy City.) He's frequently spotted wearing Fighting Irish swag, is a regular at games, has led the Player's Walk, been on the sidelines, and even played a Notre Dame running back on the big screen in Rudy.
Matthew McConaughey, Texas Longhorns
Prepare to be shocked, but -- Matthew McConaughey is from Texas. Between his twangy speech, love of cowboy hats, and the fact that he, you know, lives in Austin rather than Los Angeles, the Magic Mike star loves to remind the world that he's a Lone Star State native. So it should come as no surprise that McConaughey is also a huge Longhorns fan, and a University of Texas alum. The actor can usually be spotted on the sidelines or in the crowd at Longhorns football games -- especially at big matchups. He sported his UT gear to the 2016 Olympics in Rio de Janeiro. Last year, McConaughey -- excuse us, Professor McConaughey -- even showed up at a practice and delivered a long motivational speech in the spirit of his Wolf of Wall Street character, chest-beating and all.
Will Ferrell, USC Trojans
Long before he was in Old School, Ferrell had plenty of first-hand fraternity experience. The actor was a member of the Delta Tau Delta frat as a student at the University of Southern California, which is why he's been a fixture on the sidelines (and even on the field) at Trojans games. Ferrell has literally led the team out of the tunnel before games and coordinated motivational stunts with former head coach Pete Carroll (including one where a stunt man fell from a platform and Ferrell, dressed as "Captain Compete," saved him). He's donned head-to-toe Trojan outfits, been asked to be a commencement speaker, and even received an honorary doctorate from the school thanks to his active alumni status. We're going to assume it was a PhD in fandom.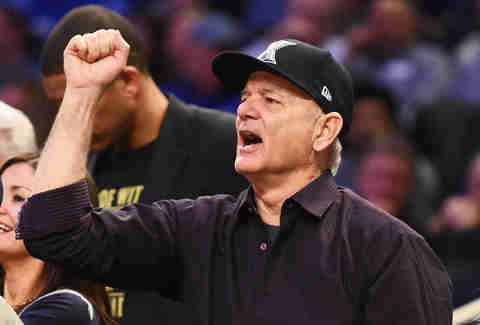 Bill Murray, Xavier Musketeers
Where hasn't Bill Murray shown up? Everyone's favorite bachelor party crasher/minor-league baseball ticket collector/drop-in guest bartender has been spotted at various college games over the years, from Quinnipiac to Rhode Island -- and it's not just another quirky antic. His son, Luke, is a college basketball coach, and Murray, being the supportive dad that he is, has cheered on his various teams. Currently, Luke coaches for Xavier University, and the elder Murray often shows up at games, especially when the Musketeers played the Big East tournament in New York earlier this year. Not content to just sit in the stands, the Ghostbusters star is known for mingling with the crowd, shaking hands and taking selfies with fans on both sides of the court. Because hey, being a good fan also means being a good sport -- even when you're famous.