Paid Content For
Perry Ellis
These Are The Most Stylish Streets in America
Paid Content For
Perry Ellis
Style is really all about energy. So when people talk about a city's "energy," they're not referring to how the power lines are aligned. The layout of it's streets, the local businesses and restaurants, and above all else, the people -- that mix is what gives a city its unique vibe and attitude. (And, of course, it doesn't hurt to have some very photogenic buildings.) In the US, what classifies as a "stylish" street doesn't just mean it's where the models hang out after a shoot (although, yeah, there's a few of those on this list.) It's those legendary blocks that are key to a city's entire ethos, whether they're lined with century-old cobblestone or mid-century neon signage.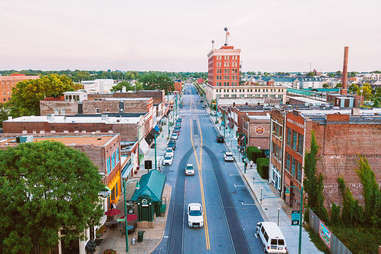 South Main Street, Memphis
South Main Street feels like an entirely different city from Memphis -- and that's because it was. Originally, South Main Street was a suburb of the city, but it was incorporated into Memphis in the early 1900's and has since become a neighborhood of its own. In addition to having fewer tourists and party goers than Beale Street and downtown Memphis, South Main Street has its own aesthetic. A visit evokes a main street straight out of '50s America, complete with plenty of neon signage (see the sign for the Orpheum theater). Despite the mid-century vintage feel, the area hosts the city's largest farmer's market and several art galleries, plus some of the city's hipper clothing stores like Stock&Belle. South Main really comes alive on the last Friday of every month, when the street hosts Trolley Nights with free streetcar rides, late-night gallery showings, and live music events.
Where to Instagram: The massive mural in front of the old Russell Hardware (314 S Main) that celebrates Memphis' history as a railroad hub.
Where to eat:Bedrock Eats specialize in Paleo cooking (so no gluten or dairy here) but still offer specialities you'd expect in Memphis, like chicken & waffles.
Crosby Street, NYC
SoHo is an obvious candidate for the most stylish neighborhood in New York, thanks to its well-preserved former warehouses hosting some of the best boutiques in the city and the chance to see off-duty models walking the block. Even within SoHo, though, Crosby stands out as particularly cool. Since it's not as packed with tourists as the main SoHo shopping streets, it has a low-key energy -- old-school cobblestones preserve the feel of SoHo when it was an industrial center, and most of Crosby is actually part of the neighborhood historic district, so you can see the preserved cast-iron architecture from a New York City long gone. The shopping options run a pretty wide gamut -- if you're going for elegant minimalism, check out Totokaelo, or haunt Rick Owens for a darker, more industrial look. If you're into cheery, bright designs, try the MoMa design store further north.
Where to Instagram: In front of the graffiti'd walls between Prince and Spring.
Where to eat: Balthazar is an NYC classic, go for the Sex and the City cred and steak frites.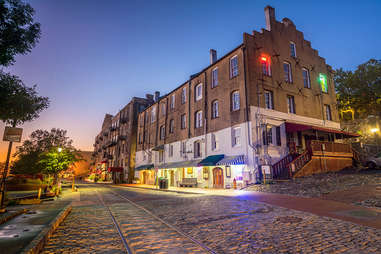 River Street, Savannah
Most people wouldn't associate ghost stories with style, but those people have never been to Savannah. The city's revitalized River Street (which goes, exactly as you'd expect, along the Savannah River) is the perfect place to see both, with ghost tours offered along the old cotton warehouses of the waterfront. Luckily, that's the old River Street -- the new River Street features some of the best restaurants and hotels in the city, like The Cotton Exchange or Vic's-on-the-River. Heading east along the river will take you past antique shops and galleries, all housed within centuries-old buildings. If the far end becomes too tourist-y for you, try the rooftop bars like at The Cotton Sail Hotel or catch a ride on a river boat.
Where to Instagram: In front of a brightly-painted riverboat.
Where to eat:Huey's on the River is prime, classic Southern Cajun cooking -- just what you're looking for in Dixie.
Fairfax Ave, LA
Cali style comes in different forms, and they all seem to converge on Fairfax. LA's history of skateboarding catches your eye first, whether it's the parade of skaters flying by or streetwear stores like Huf and Supreme (true to LA's aesthetic, the Supreme store has a neon sign out front). As a central north-south strip, Fairfax also provides a prime location to take in the SoCal sun, while palm trees and classic cars give it an authentic LA vibe. LA's Orthodox Jewish community surrounds the street, adding their own flair to Fairfax with old school Kosher delis. There's plenty of well-known restaurants along the strip, too, if you're looking for something without a lunch counter.
Where to Instagram: Get a shot of the lines in front of the Supreme store on release day.
Where to eat: Fairfax's Animal is a carnivore's dream: they use the parts of the animal most restaurants would trash and turn it into foodie gold.
North Third Street, Philadelphia
Philly's Old City is regularly named the city's most stylish neighborhood, thanks to some of the most historic architecture in the country converging with a new tech crowd bringing energy and businesses to the area. Those two vibes meld perfectly on North Third, which runs from Market street all the way up to Olde Kensington. It's a shaded, narrow block, but embedded with plenty of shopping options. On North Third between Market and Race, you'll find a collection of boutiques like Lost + Found or the wonderfully descriptive Art in the Age of Mechanical Reproduction. As an added bonus, these stylin' stores are embedded in some of the oldest buildings in Philadelphia -- and by extension, the whole country. (For one of the best historical buildings, cross Market to South 3rd to see the First Bank building, built in 1791.) Be sure to snap a pic of the street signs that say "N3RD St." while you're here.
Where to Instagram: The Filbert Street alley when the lighting is good is sure to get you plenty of hearts.
Where to eat:Wister is a BYOB bistro that centers on local ingredients, and all the entrees are under $30.
Grant Ave, SF
SF is no stranger to unique streets -- just watch the intro to Full House for proof. But before the modern California look took over the city, the special vibe of the neighborhoods came from the diverse groups that built them. That's why our pick for most stylish street is Grant Ave, one of the main arteries of Chinatown. The street has long been considered the entrance to Chinatown, having grown from a small immigrant enclave into the largest community of Chinese in America. The architecture is unlike anywhere else in the city -- even the local Bank of America is designed with entwined dragons on a tiered roof. Grant has stayed true to its roots as a home to Chinese immigrants, but you'll also find plenty of hipsters looking for dumplings, too. Shopping options range from small flea markets to Paparazzi and Scotch & Soda, ensuring you can get decked out at any price.
Where to Instagram: Be sure to stop by the Dragon Gate at Bush street, which is built in the style of traditional gateways known as paifang.
Where to eat: The straightforward-named Hong Kong Clay Pot Restaurant has classic Chinese dishes cooked and steamed in clay pots.
Royal Street, New Orleans
The French Quarter of New Orleans is clearly the best example of the city's jazz energy, a combination of French, Creole, and Southern cultures -- but Bourbon street is pretty much totally overrun with tourists by now. Removing yourself by just one block takes you over to Royal street, which features the same iron lace balconies and courtyards, but without quite as much raucousness. Royal has plenty of options for art, with a collection of art galleries and antique dealers. M.S. Rau Antiques is perhaps the best known, having been open since 1912 and featuring an extensive collection of fine art. But if you really want to immerse yourself in the New Orleans flavor, stop by Erzulies's Voodoo Store and pick up a love potion or psychic reading.
Where to Instagram: Inside the luxe Hotel Monteleone.
Where to eat: You don't leave NOLA without trying bananas foster at Brennan's. You just don't.
East Sixth Street, Austin
If you're picturing the endless party on the stretch of 6th Street that cuts through Austin's downtown, think again. Sure, that will always be there. But head east past I-35 and you'll find an entirely different 6th Street. The growing creative class in Austin has settled over on the east side and transformed it into a developing arts center. Galleries like Link & Pin and CAMBIAart have popped up, along with murals dotting the street. Classic, old-school Mexican options you would expect to find in Austin sit alongside hip, new bars like the Zilker Brewing Co. The locals are adamant about keeping the neighborhood authentic and maintaining that balance -- so much so, in fact, that a minor scandal erupted earlier this year when Chili's signage popped up on an abandoned building on the block. Luckily, it was just the work of a fast-casual fan prankster.
Where to Instagram: In front of the Green Party's trippy office.
Where to eat: Chef Paul Qui's food truck, East Side King, is parked behind The Liberty. It's a local favorite with Asian fusion eats.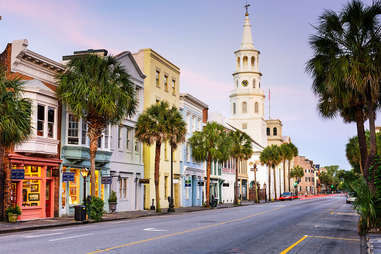 Broad Street, Charleston
Broad Street is one of the best-preserved historical streets in America, and not by accident. The Preservation Society of Charleston, a historic preservation group founded in 1920, has been protecting the local buildings since before most people were concerned with architectural history. The western end of Broad is a sleepy residential neighborhood, with palm trees lining the sidewalk. However, if you head east, you'll see the "Four Corners of Law" intersection (federal courthouse, county courthouse, city hall, and St. Michael's church), which gives you a feel for what the city was like in the 1800's. Unbelievably, all are still in use. Further down the road sit a variety of restaurants, including some gems of Charleston's much-touted food scene, like Gaulart & Maliclet or Normandy Farm Bakery. Old Exchange, a Revolutionary War dungeon, caps off the eastern end of Broad, retaining that historic feel despite the newer businesses along the block. The street's balance between historic buildings and modern restaurants makes it the perfect way to experience Charleston as a whole.
Where to Instagram: On the checkered sidewalk in front of John Rutledge House, an ornately designed b&b built in 1763.
Where to eat: On the patio at Brown Dog Deli, where they are working to "reinvent the traditional deli." Their Fried Green Tomato & Pimento Cheese BLT features their take on the South's official cheese spread.
Delmar Loop, St. Louis
If your personal brand is at all influenced by rock n' roll, this is basically where it all started (check the statue of Chuck Berry). The Loop serves as a somehow-still-there convergence point for hippies, bikers, music nerds, and just regular St. Louisians, displaying plenty of history alongside modern buildings. Despite recent construction, Delmar maintains its cred with plenty of low-key bars, shopping options, and legendary venues like Blue Hill and The Pageant. The copious tattoo and piercing shops stand next to more upscale places like the Moonrise's rooftop bar, ensuring an interesting blend of subcultures up and down the block. Plus, there's the St. Louis walk of fame, where you can pay tribute to the greats who made the city what it is -- Chuck Berry included.
Where to Instagram: Get a boomerang of the Peacock Diner sign lighting up.
Where to eat: Pistachio cannoli's at Piccione fuel late nights on the Loop. They specialize in Italian pastries, so bring your sweet tooth.
St. George Street, St. Augustine
In general, the best way to get a feel for a street (or show off your own look) is on foot. That's why St. George Street is ideal for the fashionable traveler -- no cars (or even bikes) allowed. St. George has long been a central road to St. Augustine, the oldest city within the continental US, and it retains some of the landmarks of early colonists. The colonial-style buildings now house dozens of restaurants and shops, and the no-cars rule creates a lively atmosphere that draws in crowds on foot. Plus, it's a local favorite, too, if you know where to look -- check out Red Pineapple or Earthbound Trading to see where the St. Augustinians shop.
Where to Instagram: Between the Old City Gates that mark the original fortifications of St. Augustine.
Where to eat: Soak up the local history in the best way possible: by eating cinnamon cookies at The Spanish Bakery, made with a recipe as old as the city itself.
Alberta Main Street, Portland
The center of gravity for Portland's hipness, Alberta Main Street is the central street to the Alberta arts district. True to Portland's style, you can find small-scale boutiques that feature local artists, like Frock. Check out the street's murals while you bar hop among hipster joints like Bye and Bye and Radio Room, or swing by Bollywood Theater to grab Indian food while watching a classic Bollywood film. True to the city's reputation, the street is best enjoyed on a bike, offering plenty of places to lock up. While you're riding, keep an eye out for the "Space Taxi", a bizzaro community-decorated art car that spreads cheerful weirdness and sums up the surrealism of the street (and Portland as a whole) nicely.
Where to Instagram: In front of any of the murals along the street (one of the best adorns the Black United Fund of Oregon building).
Where to eat:Pine State Biscuits brings one of the South's best exports to Portland, whether you want 'em sweet or savory.