Lifestyle
Sponsored by
The Nine Places That Keep Austin Locals Cool All Summer Long
Sponsored by
Alizada Studios / Shutterstock
Austinites know that when temps in the city start creeping into the upper 90s, it's time to spend your weekend keeping as cool as possible -- and that means hitting up a local swimming hole. Lucky for us, the options are plentiful. From Instagrammable waterfalls to dog-friendly locations, we gathered up our favorites below, complete with insider tips on when to visit and what to pack (and where you'll need a reservation in order to get in). So grab your swimsuit and stay cool, ATX.
401 Deep Eddy Ave, Austin, TX 78703
The oldest swimming pool in the state of Texas, Deep Eddy Pool sits on the edge of Austin's historic Clarksville neighborhood at a consistently cool 66-75 degrees year-round. Smaller and quieter than its more famous local haunt Barton Springs Pool, Deep Eddy attracts serious swimmers and families alike thanks to its lap swimming facilities and smaller wading pool. It's also conveniently just up the hill from the Ann and Roy Butler Hike-And-Bike Trail, the city's central path -- if you feel like getting a walk in, too. After you work on your breast stroke, you can even grab a beer from Deep Eddy Cabaret or cool down with a Tiki cocktail and burger at Pool Burger.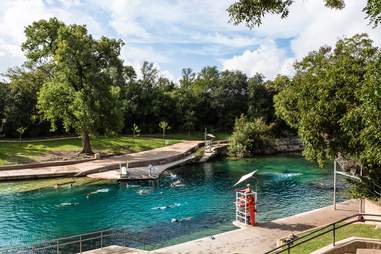 Visit Austin
2131 William Barton Dr, Austin, TX 78746
Both visitors and locals alike have heard of Austin's most famous watering hole, Barton Springs Pool, the three-acre swimming pool near Zilker Park. But it's popular for good reason: This massive spot is fed from underground natural springs that boast a year-round temperature of 68 to 70 degrees, making it the perfect place to cool off in the summer and warm up in the winter. Pro tip: You can avoid the peak crowds and the entrance fee by visiting early (5am-8am) or after hours (8pm-10pm in the spring, 9pm-10pm in the summer). Food, coolers, and alcohol are not permitted inside; however, the rules are more lax next door at "Barking Springs," aka, the unofficial dog-friendly spot on the Ann and Roy Butler Hike-and-Bike Trail. Here, you can wade in the famously cool spring water free of charge while petting local dogs, a definite win-win.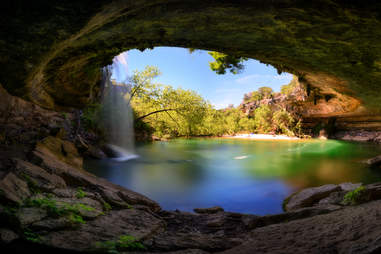 Wisanu Boonrawd / Shutterstock
24300 Hamilton Pool Road, Dripping Springs, TX 78620
50-foot waterfalls and gorgeous blue grottos are not just the stuff of exotic tropical vacations. Dripping Springs is just 30 miles outside of downtown Austin and home to one of Central Texas' most Instagram-worthy swimming holes -- Hamilton Pool. You'll have to work to get there, though, so definitely bring sturdy shoes and plenty of water as there's a 30-minute hike from the parking lot to the pool. Reservations are also required for entrance, but you can make them online or sign up for a guided tour of the preserve on early weekend mornings. Besides snapping pics at this natural pool, you can also take the short hike to the top of the bluff or explore along the Pedernales River -- just remember to charge your phone before you get there (and maybe bring a waterproof case!).
Wells / Getty
1699 Mt. Sharp Rd. Wimberley, TX, 78676
Jacob's Well Natural Area isn't your typical watering hole -- it's actually a system of underwater caves that sits in an artesian spring, which just so happens to release thousands of gallons of water each day. So swimming is the popular activity here, of course, but specialized cave divers also explore this complex system (which extends nearly 4,500 feet long). For us regular folk, though, just remember to pack a cooler and book a reservation in advance (this spot can get popular in the summer), which is located about 40 miles outside of downtown Austin.
Philip Arno Photography / Shutterstock
7000 Comanche Trail, Austin, TX 78732
Austin wouldn't be Austin without a few quirks, and that's true of its swimming holes, too. Hippie Hollow is the only clothing-optional public park in the entire state of Texas, and it's actually city-approved. There are some strict rules though; for one, entry is restricted to those 18 and over, "lewdness" could have you sporting a pair of handcuffs, and alcohol can't be publicly consumed. While it's not required that you lose your bathing suit to enjoy Hippie Hollow, the locals say that this is a place to really let it all hang loose.
Fotoluminate LLC / Shutterstock
424 County Road 404, Spicewood, TX 78669
If you're looking for a swimming hole with plenty of options, Krause Springs is the place. This privately owned 115-acre property boasts 32 springs, as well as a man-made pool and natural pool that visitors can camp around. The area has been in the Krause family for more than 50 years, earning a spot on the National Registry of Historic Sites. Here, trees provide natural shade over the main pool area, which typically hovers around a temperature of 68 degrees and features a waterfall and a rope swing that keeps kids (and adults!) entertained for hours. Pack some burgers and hot dogs too, as barbeque pits are available for visitor use.
2011 Pace Bend Rd N, Spicewood, TX 78669
Pace Bend may be about an hour and a half outside downtown Austin, but it's well worth the trek, as the park overlooks Lake Travis, one of the most beloved spots for water activities in the area. Thrill seekers can safely jump from the cliffs into the lake, fish from the shoreline, or launch a boat from one of the park's two boat ramps. There are more than 15 miles of hiking and biking trails to explore and visitors can stay overnight at one of the reservable campsites -- so if you want to turn the day trip into a weekend of roughin' it, this is the spot.
Fotoluminate LLC / Shutterstock
5808 McKinney Falls Pkwy, Austin, TX 78744
If downtown Austin had a backyard, it would be McKinney Falls State Park. This hidden gem is located about 13 miles outside of the city's downtown and boasts 641 acres on two creeks: Onion and Williamson, with McKinney Falls (an actual waterfall) on Onion Creek. Take a dip and a few Instagram pics, and maybe pack an overnight bag, as there are 80 campsites on the park if you're interested in staying cool a little longer.
100 Blue Hole Lane, Wimberley, TX 78676
Taking a day trip to the depths of Texas Hill Country to visit the Blue Hole is a must-do for Austinites during the hot summer months, thanks to its picturesque location surrounded by shady cypress trees. To top it off, there are two rope swings at Blue Hole, if you are looking to do a bit more than work on your tan. Once you towel off, you can explore all the other attractions in this 126-acre regional park, from hiking trails to basketball and volleyball courts as well as fire pits for picnicking. The park is open year-round, but the stunning Blue Hole itself is only available for swimming from May through September and requires an online reservation, so plan accordingly.