College: where you spend all day in pajamas, all night in the library, and the rest of your free time figuring out how to drop a piano off the roof. (What, you didn't go to MIT?) While every campus has its own rituals, these 11 go way past silly fight songs and wacky frat pledges. Keep reading for the history behind the most unique college campus traditions in the country. (Just be on the lookout for flying pianos as you read.)
Dragon Day (Cornell University)
Long before nerds became the coolest kids on campus, a few at Cornell decided to parade their architecture skills through campus -- in the form of a dragon. Since that day in 1901, the Friday before Spring Break has been known as Cornell's Dragon Day, where first-year architecture students build an elaborate dragon the size of a Macy's Thanksgiving Day Parade float and walk it through campus. In 1968, the dragon was painted all black to protest the Vietnam War, and these days, there's a Nerd Walk that accompanies the event and students sell T-shirts to fund the dragon construction. Not to be outdone, Cornell's engineering students (who have a longstanding rivalry with the architecture school) founded the "Phoenix Society," which builds a huge phoenix on this same day to battle the dragon. Picture a super-sized Dungeons & Dragons game come to life.
Bed Racing (Lehigh University)
One of the key events of Spirit Week, which leads up to Lehigh's annual rivalry game with Lafayette College, has nothing to do with football: bed races. The tradition started in the '80 as part of Greek Week, when members would race makeshift carts around Dead Man's Curve -- a stretch of roadway near the Taylor Dormitory with particularly frightening hills. In the name of safety, the races were moved, and regulated, by campus officials in 2007. The carts were first exchanged for extra-long twin beds, which were also eventually ruled unsafe, so, Lehigh commissioned the on-campus design lab to create a bed-cart hybrid that wouldn't totally kill the vibe of spirit week (or any participants). Hundreds of spectators turn out annually for the event, and they even give away hot dogs and french fries. (Because free food will get college kids anywhere.)
Baker House Piano Drop (Massachusetts Institute of Technology)
You might think a prestigious university like MIT would frown upon a prank as seemingly sophomoric as dropping a piano off a building, but since the first stunt in 1972, it's become a celebrated tradition on the Cambridge campus. Starting in the 1980s, students have coordinated the piano drop to fall on (pun intended) "drop day" (the deadline for dropping courses) and pushed a non-functioning piano off the roof of the Baker House dormitory. The first drop happened after a student at the dorm purchased two broken pianos and created a working one out of parts from both, then hurled the leftover, defective pieces off the roof. It's happened nearly every year since, sometimes with twists added (like in 2015, when they filled the piano with confetti).
Silent Night (Taylor University)
Sports fans are naturally a superstitious bunch, participating in the strangest of rituals in exchange for a win. At Taylor University, that superstition takes the form of Silent Night, where during the last basketball home game before finals, the entire stadium stays dead quiet until the Taylor Trojans score their 10th point -- at which point fans (dressed in costumes) storm the court, temporarily stopping the game. The tradition originally began as a campus-wide pajama party hosted in the gym the night of the game, but evolved into its current form 20 years ago. This flash-mob of a group meditation seems to work, too, because Taylor is 20-0 on Silent Night.  
Toast Throw (University of Pennsylvania)
According to accepted UPenn legend, students at the Philly college responded to their field's alcohol ban in the 1970s by starting a semi-messy tradition: the "Toast Throw." Now, when the pep band plays the school anthem "Drink a Highball" during the third quarter of a football game, instead of taking a drink at the lyrics "give a toast," the students interpret it literally by tossing "toast" (bread, pastries) onto the field. It's estimated that 20,000-30,000 baked goods are thrown on a "good" day (we're using the word "good" loosely, because that's a lot of wasted carbs.) To clean up after the "toast" and finish the game, UPenn even had to invest in a "toast zamboni" to get the field ready for the final quarter.
Seventh Annual Nitrogen Day (Reed College)
Looking at campuses in Portland, Oregon, for a list of weird college traditions is kind of like shooting fish in barrel, but Reed's admiration for nitrogen seems worth a mention. Their outsized love for the chemical element goes back to 1992, when a group of students, troubled by "Nitrogen's tendency to be overshadowed by flashy elements such as oxygen," hosted the first Nitrogen Day on April 23. There was a speech titled "In Nitrogen We Trust," hot dogs (nitrates, get it?) were grilled, and the band "Just Say N to O" played. The event remains a yearly tradition, though it's always called the "Seventh Annual Nitrogen Day" because nitrogen is the seventh element. Today, students freeze things (like socks and other inanimate objects) with liquid nitrogen, hang in a beer garden with kegs "on nitro," and even compose haikus about the element.
Hoop-Rolling (Wellesley College)
The game of hoop-rolling (where kids roll a hoop with a stick) dates back to ancient Greece, but for a fraction of its existence (about 122 years), the graduating seniors at Wellesley College have participated in an annual hoop-rolling race. Every spring, hundreds of students decorate hoops, stake out the best spots (some even camp out for them), then race down Tuledo Lane. Wellesley lore originally declared the winner would be the first from her graduating class to get married. (It's a private women's college, and it was 1897.) In the '80s, it was updated to predict that the winner would be the first to become a CEO. Now, the college says, "the winner will be the first to achieve happiness and success, whatever that means to her." (Ugh, millennials). One constant: the winner always gets dunked in Lake Waban.
The Healy Howl (Georgetown University)
William Peter Blatty, the dude who wrote The Exorcist, is a Georgetown alum, and the Washington, DC, campus was used to film some of the horror movie's scenes. As if that wasn't creepy enough, every year on Halloween, Georgetown screens The Exorcist, and times it to end just before midnight. Afterward, the students make their way to the campus cemetery (which is in the shadow of Healy Hall, where the tradition's name comes from) and let out a collective, blood-curdling howl at the moon for a full minute so they can "banish the ghosts and ghouls that haunt the campus."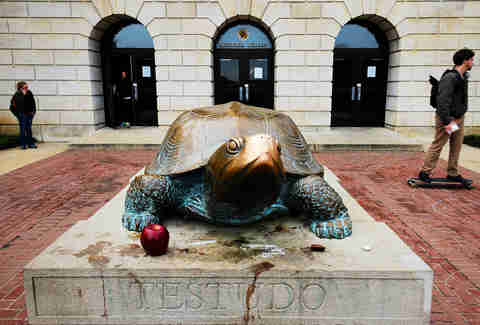 Tetsudo Offerings (University of Maryland, College Park)
There's a lot weighing on finals in college, so it's no surprise that some kids are willing to take drastic measures to get a good grade -- like sacrifice their couch to a bronze statue of a turtle. Tetsudo, University of Maryland's terrapin, has been on the campus since 1933, and because it kept getting stolen or vandalized by nearby Johns Hopkins students, the school eventually filled it with 700 pounds of cement. Now that it's completely immobile, the students use Tetsudo as a good-luck charm during finals week, leaving him "offerings" in hopes of good test scores. Anything from empty coffee cups to frisbees to stolen stop signs to flat-screen TVs have been given to the statue. Some just rub its nose. In a dark turn of events, someone attempted to set Tetsudo on fire a few years back (we're assuming they failed miserably).
Dooley Week (Emory University)
It's not unusual for older colleges to boast ghost stories, but none really have the effect that Dooley (aka, the "spirit" of Emory) has on its Atlanta campus. Dooley first appeared in 1899, as the author of a letter to the Emory Phoenix, the college newspaper. He reappeared in the paper a decade later to claim he had developed a taste for alcohol and died at a state rehab facility, then was brought to Emory as a science-lab skeleton. The school ran with it, and since then, Dooley takes on the first name and middle initial of the sitting university president (Claire E., currently) and "comes to life" for a week in the spring with the power to cancel classes, host concerts, and cause other mischief. The students who portray Dooley are sworn to secrecy, and can never admit they personified the school's "unofficial" mascot.
$2 Bills (Clemson University)
Apparently there are two types of people in the US who collect $2 bills: grandpas and Clemson fans. Hoarding and spending the odd legal tender is a tradition that goes back 40 years at the South Carolina college, and is still in practice today. When Georgia Tech wanted to stop playing Clemson in football in 1977, the school made a protest statement by spending $2 bills, stamped with an orange Clemson paw print, at Atlanta businesses to represent the money the local economy would miss out on if they canceled. Today, Clemson fans still buy up all the $2 bills they can before away games, stamp them, and spend them in the various towns they play -- some banks in the hosting cities will even make $2 bills available for fans who forgot them.