The Ultimate Guide to River Tubing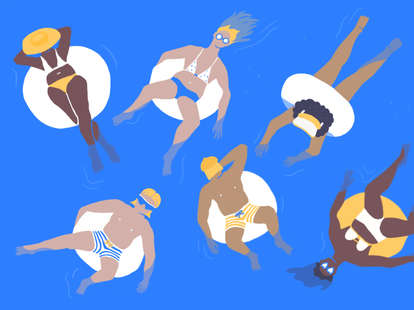 Emily Carpenter/ Thrillist
Tubing is one of the greatest American summer pastimes, right up there with backyard cookouts, pool parties, and leaving work early on Fridays. It combines relaxing on the water and kicking back with a cold beverage. During the warm-weather months, rivers all across America open up to tubers, meaning there's probably a place to float not too far from your home. But this isn't a lazy river à la the waterparks of your youth. You're going to need a game plan. To make sure you're equipped for a summer tubing adventure, we broke down everything to know, from how to check water conditions, to what to bring (and what to leave behind), to the floats that will make you the envy of other tubers. All that's left to do is recruit some friends.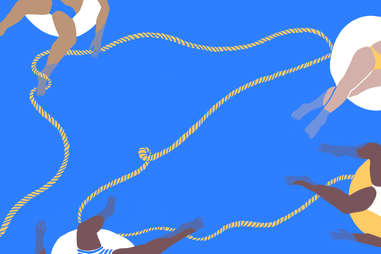 LOGISTICS: BEFORE YOU GO
Pick your river. The most important thing that determines a river's tube-ability is water level and flow rate. Too high, and the current will be moving too fast for tubing to be safe. If the flow rate is too low, you may end up walking instead of drifting (and stepping on exposed rocks -- ouch). Flow rate guidelines vary depending on the specific river, so do an online search of your destination beforehand (see our more detailed tip below). You'll also need river access, whether via a tour company or public access point to launch your tube if going on your own.
Check the conditions. And we're not just talking clouds versus sun. Water conditions are key. Rivers that are great for tubing one day can be too dangerous the next. Even if it's a gorgeous sunny day, a recent heavy rainfall could mean the river is too deep to tube in (or a drought could mean it's too shallow) -- and this is not information you want to find out after your crew arrives at the launch spot. Most tubing outfitters' websites update river conditions daily -- often with a color-coded key that tells you whether tubing that day is open to everyone, strong swimmers only, or closed entirely. Or, you can always call an outfitter to confirm conditions (you can do this even if you're not planning to rent from that particular company).
Full-service or do-it-yourself? Going with a tubing outfitter means everything is taken care of for you, including the tube rental and shuttle to the launch point. Sometimes they even offer extra rentals like coolers and sunglasses. Of course, this convenience comes with a cost: Expect to pay about $25 per person, plus more if you need a cooler or an extra tube. Going the BYOT (bring your own tube) route means you can choose your own adventure; you're not limited to the sections of the river where tour companies operate (again, just make sure it's safe to do so). Also, if you plan on making tubing an annual or semi-annual summer tradition (and really, why wouldn't you?) investing in the gear upfront -- you can buy a solid tube for about $20 -- to use again and again could be a more cost-effective option in the long run.
Know the rules. Are life jackets required on the river? (Sometimes this answer can depend on river conditions.) Is drinking allowed? (Often, glass and styrofoam are prohibited.) Look up the rules before embarking on your trip so you're in the know. Nothing derails a fun afternoon of tubing faster than a run-in with local law enforcement.
Eat a full meal. This is not the time to listen to that old wives' tale about not eating before jumping in the water. A multi-hour float trip requires lots of fuel. If you'll be on the water for more than three hours, consider packing some snacks in a dry bag or cooler, or pick a tubing spot with a concession stand. This is doubly important if you plan on consuming adult beverages on your float. Open water means you need to keep your wits about you -- and hanger at bay.
Have an exit plan. If you're renting from a tubing outfitter, the price usually includes a shuttle upriver to the launch point and you'll drift back down to where you parked your car. If you're going the DIY route, you'll need to figure out how to get from the point you exit the river back to your car. One option is driving to the end point first, leaving one car there, then piling into the other car(s) to get to the starting point. When you exit, the drivers take that car back to pick up the other cars and then come back for the passengers. If it's easier to park all the cars at the starting point, calling an Uber or Lyft can help get drivers back from the exit point as well. Of course, those consuming adult beverages should opt for the latter option, or assign a designated driver.
GEAR: WHAT TO BRING
The tube. If you're not renting a tube through an outfitter, you'll obviously need to bring your own. The most practical type of tube for the river is something with a mesh bottom (unlike those donut-like pool floats), which makes them more comfortable to lay in for hours, keeps you cool from the water underneath, and provides a catch-all for things you might have with you (like a water bottle or dry bag). Look for a tube with handles or other hardware for tying ropes onto, as well as tubes outfitted with a headrest for peak relaxation during lazy floats.
Water shoes. Riverbeds can be rocky, so sturdy footwear will help you avoid cutting up your feet when entering and exiting the water. Word of caution: Flip flops don't work here because they won't stay on your feet in the river.
Sun protection. It should go without saying that you need to apply sunscreen before entering the river and keep reapplying throughout your tubing trip to avoid sunburn. To protect your face even further though, you're going to want a hat and sunglasses -- but consider leaving your $200 Ray-Bans and irreplaceable lucky hat at home. Be prepared for the fact that anything you bring with you could potentially end up at the bottom of the river. Instead of a wide-brimmed straw hat -- which is more likely to be carried away by the wind -- go for something snug-fitting, like a baseball cap. And if you're worried about dropping your shades, a sunglass strap will keep them more secure.
Leave your phone behind. It's just not worth the risk to bring your cell phone. If you need one for emergencies or to coordinate your transportation back, designate one person in your group to seal theirs in a waterproof bag (this goes for other valuables like car keys, too). Now, we're not suggesting you don't document your epic tubing adventure for social media. If someone in your group owns a waterproof camera, bring that, or throw it back with a couple of disposable waterproof cameras -- then upload the pics to a group folder after your trip so everyone can share.
Rope. Nylon rope resists rot, and can be used to tie multiple tubes to one another -- cause a crew that's tied together, sticks together (literally, because they have no choice). Don't forget scissors to cut it, and a handful of carabiners can also come in handy for attaching things to your tube -- water bottles, hats, dry bags, etc.
Portable air pump. For the BYOT route, this is a must-buy. Get a model that plugs into a car to speed up the process of inflating your tubes without anyone in your crew passing out from blowing them up manually.
Clothes (optional). You're going in a river so a bathing suit is appropriate. But you'll want to pack towels and a change of dry clothes for when you finish the trip -- especially if you plan on popping into town for a bite afterwards. If your skin burns easily, you may also want to consider wearing a sun-protective shirt on the river. When you're being kept cool by the water, it's easier to forget to reapply sunscreen.
Insulated water bottle. Hydration is important when you're talking about floating in the sun for hours -- but there's nothing refreshing about water that's been boiling in a plastic bottle. A stainless steel bottle will keep water cold for hours, and often comes with a handle that makes it easy to attach to your tube with a carabiner.
AMPLIFY: TIME SPENT ON THE WATER
Upgrade your floats. One argument for going the BYOT route is that you'll get to customize your floatation vehicle instead of whatever standard-issue tube the rental company uses. And know this: A giant, six-person unicorn float or an inflatable riding bullwill earn you the admiration of everyone else on the river. Also, tubes with built-in cup holders for your beverages are always a good idea.
Make a flotilla. Time to break out those rope-tying skills you learned way back at summer camp. Using the nylon rope, simply tie all your tubes together to ensure your crew doesn't get separated on the hours-long trip -- and that everyone has continued access to the cooler. Just remember that tying up means you're stuck together for the duration of the float -- i.e., if one person wants to stop to take a jump off that rope swing, you're all stopping.
A waterproof speaker. Keep the river party vibes going with a water-resistant speaker (this one even floats) to provide the soundtrack to your trip. Make sure the designated person bringing their phone has a preloaded playlist, and double-check that the speaker is fully charged.
Water-friendly toys. Foam footballs and flying discs to toss around will provide entertainment on the leisurely float. You can also opt for squirt guns to add some playful competition -- and to cool you off when the sun really starts to bake.
Now that you have all the necessary tubing tips, it's time to pick a weekend and gather the crew. Catch you on the river.