The Ultimate Guide to Tailgating Like a Champion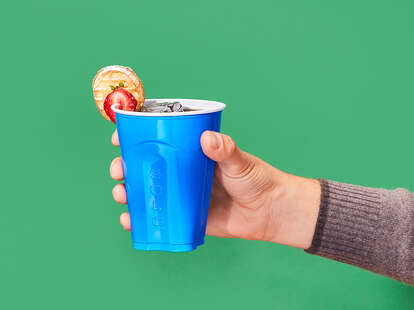 Jenna Gang/Olivia Mack McCool
It's the most wonderful time of the year: the start of football season. Time to fire up the fantasy draft, dust off your lucky jersey, and buy game tickets early. It's also the season of tailgating, that magical gathering that answers the question, "What if Sunday Funday were competitive?" The perfect tailgate is a complex dance of logistics, party planning, and good old-fashioned team pride. And whether you're a veteran of parking-lot dining or just getting started with your game-day tradition, there are plenty of ways to up your hosting game. From what to pack along with your SOLO plates and cups, to how to switch up the menu from burgers and dogs, these tricks and tips will make you the tailgate MVP.
Know before you go
For starters, fully research stadium rules, parking lot opening times, sanctioned tailgating areas, etc., before game day. If you're planning on staking out a large area, the last thing you want is being told you're in a no-tailgating section. Make sure your extra battery chargers are maxed out, grills are gassed (or have charcoal, duh), and you've got chairs for your squad. Remember to pack plenty of SOLO plates and cups (and not just for serving, but for prep as well). And please, bring sunscreen. No team's color is painfully-scorched pink.
Deck out your car
Since the car is the most important tailgate accessory, you'll want yours to be ready. A hatchback works better than a sedan here, because you can fold down seats for transporting game day supplies, and the trunk can double as seating during the tailgate. If your gear exceeds your trunk space, consider a trailer hitch to attach a cargo carrier, and bring aux speakers (preferably ones that won't kill your battery). A power inverter can come in handy for phone charging, and make sure you've got a setup to pack your grill and tools neatly. (Recommendation: Get a big plastic tub you can dump messy grilling tools into before you head into the game.)
Embrace an early kickoff menu
If the game starts at noon or 1pm, that could mean tailgating as early as 9am. But don't shy away from the early hour; just set up a brunch-themed bash instead. Slabs of bacon and sausage links are amazing straight off the grill, or switch it up with skewers of grilled pineapple, ham, and peppers -- a sure-fire crowd pleaser that's the right balance of "good morning" and "let's party." Grilled breakfast sandwiches or shakshuka in a cast iron pan are two of many other options to try and serve on SOLO plates.
Show your team spirit
Make sure your allegiances are known. Basically everything in your tailgate zone can be made into a team-spirited item -- that means spray-painting your water jugs, grilling logos into the burgers, or even coordinating your beverages with the team colors. Extra points to anyone who'll draw the team mascot onto their SOLO cup.
Serve brunch drinks
For those early games, you'll need drinks that will keep everyone energized for kickoff. An iced coffee bar is a quick perk, since all you'll need is jugs of your favorite cold brew, various milks (and alt milks) in the cooler, and a stack of SOLO cups for serving. Channel your inner barista by bringing along flavored syrups (caramel-mocha cold brew, anyone?). Different kinds of fruit juices and freshly-made lemonade are another easy option, and they'll keep your friends hydrated before you head into the stadium.
Competition starts before the game
Channel everyone's competitive spirit by getting guests to compete in a grill-off, a game of cornhole, Frisbee, card games, etc. If space is limited, bringing an extra table is a good way to play smaller games without a full-sized cornhole match. And if friends are asking what they can bring, this is also a great place to crowdsource supplies.
Reward superfans
Bring special treats for people who can prove their team loyalty. If you're going brunch-themed, mock mimosas in clear SOLO cups for those who can answer trivia questions (ginger ale or seltzer can mimic the bubbles of champagne). Second meat skewers for anyone with a team tattoo. If you're making tailgating a season-long tradition, you can create running games, like the fantasy football winner each week picks the tailgate soundtrack for next week.
Prep a snack face-off
The football game doesn't have to be the only matchup -- set up dueling factions of sweet vs. salty snacks and serve in different colored SOLO cups to keep them separate. Think party mix, cured meats, and mini pretzel bites on one side; puppy chow, fruit kabobs, and chocolate-covered pretzels on the other.
Don't be afraid of fancy
If your game's got a later kickoff time, fancy foods can pack just as well for afternoon tailgates. Try brie on your burgers, grilled whole fish, and sparkling apple cider to drink. Just because you're eating in a parking lot doesn't mean you can't splurge on the menu.
Prep for cleanup
Make sure you bring containers to store any used grilling tools, used coals, and leftover food. SOLO cups and plates are your friend here, since they make for an easy cleanup. And trust us, don't try to save any uncooked meat -- your cooler won't last the game.