Behold, the Wise Quotes of College Basketball's Most Colorful Coaches
College basketball coaches fall into a few broad categories. There are the wizened tacticians who drill defensive schemes and offensive options into their players' heads day in and day out. (Think Jim Boeheim or Fred Hoidberg.) There are the paternal figures -- guys like Tom Izzo, Big John Thompson, and Rick Majerus -- who believed in the transformative strength of a healthy locker room bond and dedicated careers to nurture those feelings. There are even philosopher kings like John Wooden and Mike Krzyzewski, who don't draw up plays so much as try to convince players to buy into a perspective and lifestyle. And then there's Bobby Knight, who is a warlord.
The point is, you can glean knowledge from every type of hoops coach. For proof, here are some of those coaches on life and basketball:
"You don't play against opponents, you play against the game of basketball." -- Bobby Knight
Knight is the kind of guy that demands attention -- because he'll probably throw a chair or try to strangle you if he's denied it. The longtime Hoosiers coach treated basketball less as a game than as an existential crisis. Knight scared just about everyone who ever interacted with him, perhaps because he was fighting a never-ending war with the thing he loved. That said, this way-too-serious-even-for-a-coach approach to basketball won him a ton of victories.
On the opposite end of the spectrum from Knight is legendary Tar Heels head coach Dean Smith, a guy who never lost sight of college basketball as a game played by error-prone young men and women. Smith was interested in developing his players into upstanding young men and understood that the majority of his players would never sniff an NBA paycheck, a big reason he ensured 96.6% of players he oversaw left UNC with a bachelor's degree. That equanimity -- and wry humor -- was on full display when Smith said:
"If you make every game a life and death proposition, you're going to have problems. For one thing, you'll be dead a lot." --Dean Smith
Dean Smith

| Grant Halverson/Getty Images
Smith's interest in the personal progress of his players was probably only surpassed by John Wooden, a coach who was so obsessed with preparation that he famously taught his first-year varsity players how to tie their shoes correctly so they wouldn't get blisters or have a shoe fly off during a game. Wooden spoke in koans much of the time: lighthearted riddles that took on real density when players invariably repeated them over and over again to themselves, trying to figure out what the little wizard meant by that. For example:
"If you don't have time to do it right, when will you have time to do it over?" --John Wooden
John Wooden

| Rich Clarkson/Getty Images
It makes sense until you think about it. Then you come out the other side and it's sensible again. Wooden's musing speaks to responsibility, balance, and composure simultaneously. Plus, it sounds a lot cooler when Bill Walton is yelling it at Dave Pasch heading into a commercial break.
Sometimes coaches just have to throw up their hands during a season and crack a joke to keep the dread at bay. Hall of Famer George Raveling knows something about struggle; he was on the podium with Martin Luther King Jr. when the civil rights leader gave his "I Have a Dream" speech. Dr. King handed his manuscript for it to the young Raveling. Compared to that, an especially harrowing run for his Washington State Cougars must have seemed entirely manageable, when he dropped this chestnut:
"Fans never fall asleep at our games because they're afraid they might get hit with a pass." --George Raveling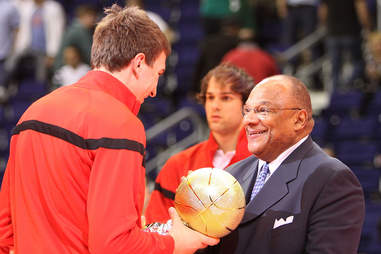 George Raveling

| Regina Hoffmann/Getty Images
Abe Lemons joked whether or not his team was having a good season, and his ironic, pun-filled quips made him something like the Yogi Berra of the NCAA. Frustrated by the increasing complexity of offensive schemes that were leaving his Oklahoma City University squads in the dust, Lemons said:
"There are really only two plays: Romeo and Juliet, and put the darn ball in the basket." --Abe Lemons
That's fair, though these days there are three plays since Hamilton sunk a three effortlessly.
Other times, head coaches just lose their cool. Thankfully, those fugue states can create some exceptional sound bytes, including this one from longtime West Virginia coach Bob Huggins, after getting dominated on the glass one game:
"I told [the team] if they got a rebound, they might like it, and want to get another one!" --Bob Huggins
But the king of exasperation will always be the late, great Rick Majerus who, upon being asked if he was a candidate to become head coach at San Diego State, spurted:
"I can be a candidate for anything I want. I'd like to be a candidate to date Cindy Crawford. Do you see that woman right there? She and I are candidates to be married. You're a candidate to get a haircut tomorrow." --Rick Majerus
Uncomfortable, but it could get a B+ in Semantics 101.
Some guys just don't have a lot of time for anything other than cold, calculated dominance on the court. Adolph Rupp sounded more like a supervillain than a shaper of young men when he opined:
"I know I have plenty of enemies, but I'd rather be the most hated winning coach in the country than the most popular losing one." --Adolph Rupp
Rupp's .822 winning percentage over 600 games might not be the only reason he had enemies, but it was enough to inform a solid quote.
And finally, let's bask in the true wisdom of Wisconsin's Bo Ryan, who distilled the game to its frustrating, beautiful essence:
"I'm still waiting for perfection. In the meantime, I'll settle for persistence." --Bo Ryan