How to Get the Most Out of Amazon Prime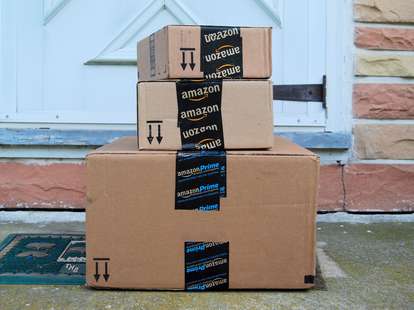 Maybe you've only been a member since Friday, or maybe you've been basking in that sweet, sweet, free two-day shipping for years. Either way, there's a good chance you've barely scratched the surface of all that your Amazon Prime subscription has to offer. To make sure you're getting the most out of that $99 a year, here's a rundown of the great perks you're entitled to. Spoiler: No-Rush Shipping may be your new best friend.
Skip trips to the grocery store
Pantry is Amazon's answer to services like Peapod and Fresh Direct, and it's available exclusively for Prime members. The e-shelves are lined with everything from dish soap to Doritos, and you can get up to 45 pounds worth of loot for a flat $5.99 shipping fee. The only catch is they don't sell anything fresh or frozen (yet), but since when is eating healthy any fun?

Stream millions of songs for free
You may already be hooked on Spotify or Apple Music, but a Prime subscription also gets you access to Prime Music, which boasts over one million tracks and curated playlists that you can listen to offline via the Amazon Music app. Plus, in many cases, music you've previously purchased on the site (even if it was a physical CD) will be automatically added to your library.
Receive discounts when you opt for No-Rush Shipping
Sometimes you need that 55-gallon drum of lube ASAP, but when you can afford to wait a few extra days, Amazon will hook you up with credits toward future purchases. At checkout, select the No-Rush Shipping option, and a promotional credit -- good for a specific category of goods or media -- will be automatically applied to your account.

Get a free month if your package is late
If your delivery doesn't show up when Amazon promised it would, you're eligible for a one-month extension to Prime. You're entitled to up to 12 extensions per year, so if they end up missing the mark repeatedly you could potentially end up with an entire year of the service for free.
Watch TV and movies, even when you're offline
You've probably heard that Amazon's turning out some really, really top-notch programming like Transparent and Catastrophe. But Prime Video also gives you access to a fine selection of regularly updated movies and TV shows from HBO, PBS, FX, and elsewhere. Plus, they're the first streaming service to feature offline playback, so you can catch up on your favorite show anywhere, anytime.

And see behind-the-scenes trivia from IMDb while you watch
Amazon teamed up with IMDb to create a service known as X-Ray, which lets you watch TV and movies on your Kindle (or Wii U) that are seamlessly integrated with behind-the-scenes info, so you can learn more about what you're watching and saturate your brain with trivia night-worthy intel.
Score free books every month
Kindle and Kindle Fire users with Prime are entitled to "borrow" one book from the Kindle Owners' Lending Library every month. You have your pick of hundreds of thousands of titles, and there are no due dates, so you can take your sweet time finishing Marley & Me without racking up any late fees.

Get access to sales before non-Prime users
As a Prime subscriber you get access to daily Lightning Deals and big sales on Amazon's new high-end fashion and home goods site MyHabit a half hour before anyone else.
Store photos for free
One of the newer benefits of Prime is the ability to stash all of your photos in the Amazon Cloud Drive, freeing up precious hard drive space otherwise burdened by those embarrassing pictures of you at Senor Frogs on Spring Break.

Share your free shipping perks with your housemates
Looking to score some cred with your roommates? Up to four other people can take advantage of your Prime free 2-day shipping privilege, as long as you all live in the same household. To let others on board, hit the Manage Prime Membership page and register them, then bribe your way out of cleaning the bathroom for a year.
Sign up here for our daily Thrillist email, and get your fix of the best in food/drink/fun.
Joe McGauley is a senior editor for Thrillist Media Group and only slightly unsettled about how much Amazon knows about him.