Every city has its share of secrets, but Chicago has enough of them to fill a library. So stop snapping photos in front of The Bean and discover the wealth of secrets hiding in plain sight -- from sex dungeons to fly boards to late-night dodgeball leagues.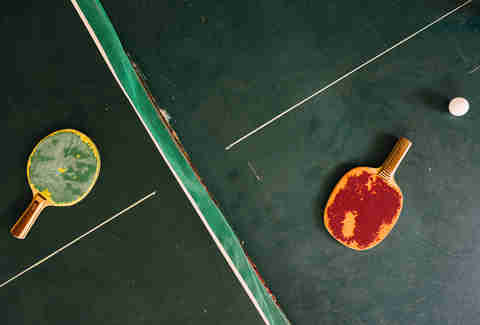 Play ping pong in the back of a flower shop
While East Village dive Happy Village is well known for its back room ping pong, you can also hone your table tennis chops in the back of a West Town flower shop if that's your thing (which it totally should be). Contact the folks at Chi-Slam Table Tennis Club, walk past the weird front store selling flowers and other oddball items, and behold a gleaming ping pong Shangri-La in back. If you get really good, you might even be invited to join the uber-secret Chinese Table Tennis Club, which you can access 24/7 though a Chinatown back alley. Best bring your own paddle for that one.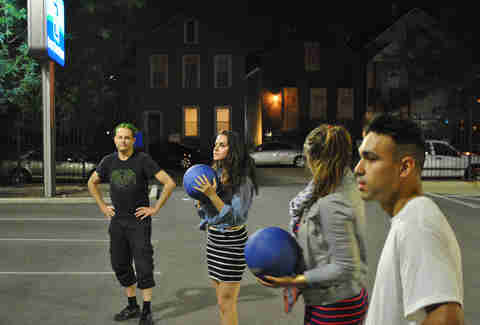 Join a secret late-night dodgeball league
Do you love dodgeball? Wish you could play it at 11 pm in bank parking lots with members of a secret society? Well, thanks to the fine folks at the Wicker Park High Tea and Dodgeball Association, now you can. The matches go down every Thursday night at 11 pm in various undisclosed locations and, according to the group, the secret society dates back to its 1873 founding by former Alderman Charles Wicker (who has his own statue in Wicker Park.) We presume by now the tea has been swapped with beer, but who the hell really knows for sure?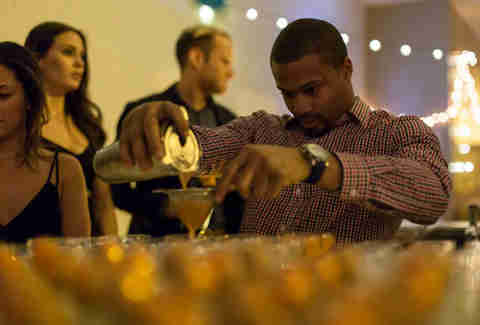 Drink fancy cocktails with members of an underground drinking society
Liquor Lab is a "social mixology experiment" that holds private pop-up cocktail tastings in various secret locations across the city. Helmed by a crop of A-listers in the local nightlife scene, you can expect out-there edible drinks, cocktails served out of smoking carafes, and something described as a smoked wood-chip Manhattan. Sign up for a membership and, if you're cool enough, maybe they'll let you in. If that doesn't work, you can always try your luck at Soho House.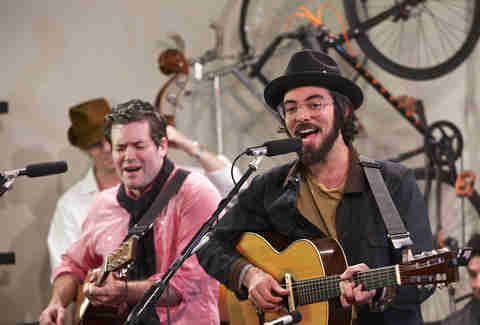 Check out secret concerts in living rooms across the city
If you love live music but hate high ticket prices and rowdy crowds of preteens, sign up for Sofar Sounds, where you can apply for a pay-what-you-want ticket to exclusive sets taking place in cool underground locations like living rooms, lofts, and wherever the hell else the bands feel like playing. The location is revealed the day before the show and the events are BYOB.
 
Attend a 6 am yoga session/dance party
Usually when you're listening to cutting-edge DJs at dawn, it means your buddy's bachelor party lasted way longer than it should have. But with Daybreaker, you can start your morning with sunrise yoga and free breakfast before ending it with raucous DJ sets and manic dancing…just in time for your morning commute. Sign up online for access to regular events, held at rotating venues across the city.
Sip drinks from the 1920s in a secret speakeasy
While speakeasies with secret entrances are nothing new in big cities like Chicago, it's not every day you have to speak an ever-changing password to a guy behind a small window with bars over the door to be allowed entrance to a bar. Such is the case at Room 13, one of the city's most secret and authentic speakeasies, located in the alley to the left of the Old Chicago Inn. You can get the password by applying for membership at the hotel and, once inside, you are treated to a swanky scene where 1920s-style drinks are served only using only alcohol that was available during the Prohibition era. So yeah, no Zima.
Rent a flyboard and hover over Lake Michigan
Sure, your buddy-who-made-it's boat is a good time and everything. But if you're looking for real excitement at sea, rent a flyboard at Chicago Water Sports from their Bronzeville harbor and get ready for an experience that puts your days tubing Lake Geneva as a kid to shame. First you strap into a wetsuit, then you buckle into a snowboard-esque hoverboard hooked up to a jetski. When the jetski is revved up by a staff member, it sends a burst of power to your hoverboard and…you're airborne. Welcome to the future, space dude.
 
You probably also didn't know that Starbucks is now offering wine, beer, and small plates at night. Learn more here.
Race turtles at a local dive bar
If you're looking for more excitement than hanging with grizzled old timers at the dog track or betting on the ponies on Father's Day at Arlington, Lincoln Square dive bar Big Joe's hosts turtle racing every Friday night as your antidote to the ordinary. Get a raffle ticket to be assigned a turtle, who will then "race" other shell-bearing reptiles across an 8-foot wide track that resembles a cross between a curling rink and ice hockey table. It might take five minutes or longer for your turtle to cross the finish line, which leaves plenty of time for, well, normal bar hanging.
Join an underground supper club
Founded in 2005 as a once-a-month dinner between friends, Sunday Dinner Club has grown into a full-fledged community supper club with 10-15 events per month (and not just on Sundays.) Whether in the space above Honey Butter Fried Chicken (which was founded by club members) or rotating to various locations around the midwest from Champaign to Madison, SDC can be counted on to keep things fresh, with menus that change monthly and revolve around specific themes like ramen, beer, and Jewish food. Usually you need to be referred by a current club member, but send them a finely crafted email and they might be willing to let you in.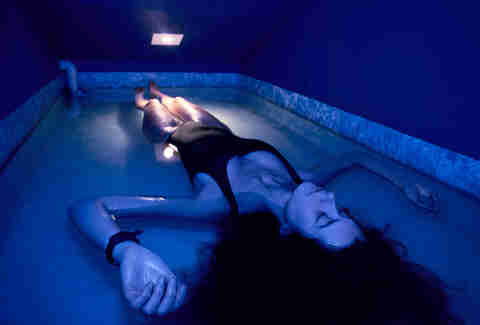 Immerse yourself in a flotation tank
Ever wonder what it would be like to float atop 10 inches of water inside a massive tank with 800 pounds of Epsom salts dissolved inside? At Chicago's "premier flotation and relaxation center," you'll reportedly feel so relaxed after spending an hour of isolation in the tanks that it'll feel like the equivalent of four hours of sleep. After 34 years in Lincoln Park, the longest-running flotation tank center in North America is currently moving to a bigger space six blocks north so more people can "get their float on." (Okay, we admit we made that last phrase up.)
Stand where the Cubs last won the World Series (without needing a ticket)
Is this the year the Cubbies finally go all the way? According to Vegas, the Cubs (yes, the Cubs) are 4-1 favorites to win the World Series in 2016. But even if for some crazy reason that doesn't happen (what could possibly go wrong?), you can still relive the Cubbies 1908 glory, which took place at West Side Park -- remember, the Friendly Confines of Wrigley had yet to be built -- and is now the site of the UIC Medical Center at Taylor and Wood. The best part? No bleacher bums will be around to spill their beer on you. Probably.
Jay Gentile is a Thrillist contributor who refuses to play ping pong anywhere except in the back of flower shops. Follow @innerviewmag