To embrace Savannah is to enter a parallel universe where time slows down and people don't always say strictly what they mean. A wink, a nod, and an arched eyebrow add inflection to mere English. Everyone's grandma flirts harmlessly with everyone, and the shortest distance between two points is not an actual thing anyone cares about. For the literal-minded first-timer, this can create confusion that may result in binge drinking, road rage, or a phony Southern drawl. Don't let this happen to you.
Keep the following wise words of sober advice in your back pocket and dispense as needed.
1. Slow and steady is our motto and our way of life
Turn signals often appear to be optional on Savannah roads, and "Sunday" drivers rule the road, so be vigilant, but patient. Traffic flows counter-clockwise around all 22 of the city's historic squares -- and many more one-way streets lurk where you least expect them. Don't fret; as with many things in this small city, the journey is just as fascinating as the destination. Running unforgivably late? Drayton Street is the fastest way north in the Historic District; Whitaker is the fastest route south.
 
2. The many accents
Savannah has several rich Southern speech patterns, from the swift musicality of the Gullah-Geechee to the chewy drawl of the blue-blooded socialite. In general, locals think it best not to comment on each other's accents. If you can't understand what someone is saying, apologize for your foolishness and ask them to speak more slowly.
 
3. Your manners are very important
"Yes, Ma'am." You can't go wrong with these two magic words. They are a Southern sign of respect for women -- and convincing proof that you were not raised by wolves. These words will get you much further than a harsh-sounding "yeah" and, if the "ma'am" in question is too young for such deference -- well, you've just started a conversation.
4. The "traveler" is our best friend
This is Savannah's little nickname for the to-go cup, which allows people to walk around downtown with up to 18 ounces of open alcohol. If a bartender offers you a traveler, the answer is "Yes, ma'am/sir" (especially if you're nursing the absinthe-laced perfection of a Flying Bridges at The Grey Diner Bar).
 
5. They play things cool
Aw, shucks: OK, this one is not an actual phrase used; it's a self-effacing attitude that pervades Savannah culture. Locals would rather undersell themselves and amaze you than blow smoke and disappoint. So, if someone invites you to out to "the cottage," don't be surprised if you end up at a magnificent waterfront mansion. 
 
6. It's polite to pry in Savannah
Oyster roasts are the ultimate in unfussy entertaining -- making them a great place to meet future "sweethearts" as they say in the south. If you're invited to a roast, bring a six-pack, a sweater, and your own shucking knife. Inside tip: to open an oyster, work the knife like a crowbar, gradually prying the shell open at the seam. Less stabbing, more prying.
7. We live for our boils
Lowcountry Boil may sound like a reason to visit the dermatologist, but it's actually Savannah's gift to the "meat and potatoes" man. This one-pot wonder combines juicy sausage and spuds with local shrimp and corn on the cob. The secret is in the seasoning -- each host has a proprietary blend -- and it always tastes best when simmered in a giant pot over an open flame in the backyard. A "boil" is the perfect excuse to have a few friends over, and it's right up there with shrimp 'n' grits on the must-try list.
 
8. We'll want you to have "a blessed day" (church not necessarily included)
This is the best possible thing a Savannahian can wish you, so be sure to receive said blessing with warmth and gratitude. It is not intended to infringe on your personal beliefs, so don't take offense. Simply respond, "Thank you. You too," and go about your atheo-agnostic way in peace.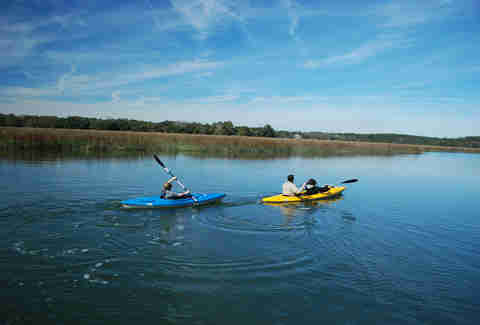 9. We take our water wildlife seriously
Savannah's marshes and estuaries are the ocean's nursery, so locals have learned to live with more large marine creatures than you can shake a paddle at. Nesting season for the loggerhead sea turtle lasts from May through October, and the beach gets a blackout each night to help these vulnerable giants and their tiny hatchlings stay on course. Leave turtle nests where they lie, never feed dolphins or manatees, and give alligators a wide berth -- the bite-y bastards can sprint faster than you can.
 
10. And we take St. Patrick's Day even more seriously
Savannah's spectacular spring and the luck of our many Irish ancestors combine to create the largest per-capita St. Patrick's Day celebration in the U.S. The city literally quintuples in size for the festivities, and a truly beautiful parade through azalea-strewn squares often ends in regrettable River Street debauchery. Make Broughton Street your boundary for a happier, more authentic wearin' of the green. Any further north, and you might be wearin' someone else's beer.