If you've never heard of Uniqlo, you will soon. And that's not just because it's coming to a ton of new markets in the US this very fall -- it also stands a very good chance of becoming the biggest apparel company in the world. Now that Uniqlo is going to take over, beginning with your closet, we thought it was time to get familiar with a few basic (more on that) facts.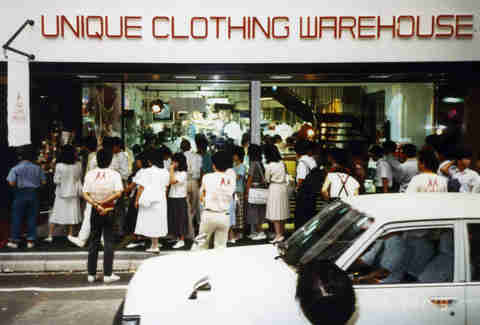 The name was a happy accident
As any Scrabbler worth their salt will tell you, a "q" without a "u" is at best an inconvenience, and at worst, one's undoing.  The company was originally named "Uniclo" -- a portmanteau of the words "unique" and "clothing" from its full title, Unique Clothing Warehouse. Makes sense. But, as with other etymological errors that stuck, like "scissors" and "island" (it's true: we spell those words weirdly because someone messed up), a clerical slip secured the company's registration as "Uniqlo."
It's not so basic
Talk to any Uniqlo regular and they'll probably say that they shop there for "the basics." Think tees, sweaters, and shirts, in every possible color. Add in Ultra Light Down jackets and vests, and you've got a full spread of must-haves for any discerning dresser's, well, dresser. But it's got quality on lock too, with 100% cashmere sweaters, and 100% Supima cotton t-shirts. That particular cotton accounts for only 3% of cotton in the US, so that's one fancy t-shirt.
 
Collaborations that count
This fall, Uniqlo will partner up with Lemaire (consisting of designer duo Christophe Lemaire, previously of Hermès, and Sarah-Linh Tran) and Carine Roitfeld for the latest in a long line of high-profile collaborations. Their most successful collab to date, Jil Sander's +J Collection, launched in 2009; in 2008, they became the first retailer to hook up with Alexander Wang, and of course they joined forces with the arbiter of cool, and tall hats, Pharrell Williams for a line of UT t-shirts in 2014.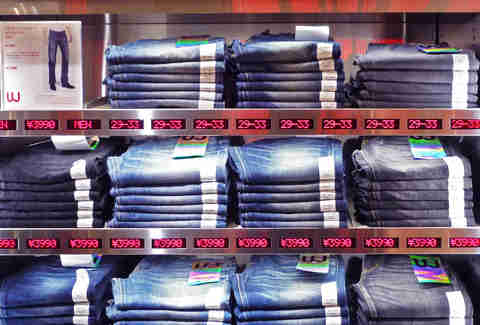 Their clothes take research
Uniqlo launched the HEATTECH line -- clothes that are designed to keep you warm in the winter -- in partnership with Toray in 2003. A team of 30 designers went through 100+ prototypes and 10,000 samples before arriving at the current design, which is the perfect wardrobe complement to the summer equivalent, the also-Toray-assisted AIRism line. Do not mix these up.
 
Its jeans are futuristic
Uniqlo changed the jean technology game in two big ways recently. Firstly, Smart Shape jeans are specially lined with "power netting" that shapes your midriff, giving you a trimmer, slimmer waistline. Secondly, they collaborated with legendary Japanese denim maker Kaihara for a selvedge jean that's stretchier than the average. Add that in with the everyday form-fitting stretchiness of Miracle Air jeans, and it's quite the denim arsenal.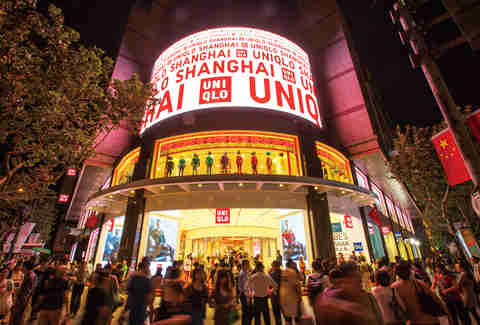 Uniqlo is global with a capital "G"
Uniqlo's parent company is one of the largest apparel companies in the world today, and there are over 1,600 Uniqlo stores worldwide (850 in Japan alone!). This October, Belgium will become the latest country to say "hallo" to its first store.
 
They give back
As if giving the world like 50 colors of socks wasn't enough (yeah, they have 50 sock colors), Uniqlo stacks up charitable initiatives almost as high as they do clothing varieties. Since 2001 they've collected over 23 million used clothing items for reuse as part of their All-Product Recycling Initiative, almost half of which they donate to refugees in need worldwide. In 2014, Uniqlo enlisted 150 volunteers from their US stores to support and restore areas of their local communities in need. Plus, they just launched a new campaign to collect 10 million pieces of clothing around the world to support the refugee crisis. Class act, Uniqlo.
 
Some of their execs started at the store level
According to Uniqlo, three months is how quickly their average employee can be considered for promotion. Don't believe it? Take these guys for example, who all started off on the sales floor and are now directors, regional managers of multiple stores, and even executives.
Their clothes are literally works of art
As part of an ongoing partnership with the Museum of Modern Art, Uniqlo developed special edition threads that feature designs from super-famous artists. The clothes are available for purchase at the legendary museum in Manhattan and stores across the US.
 
America, you're next
Uniqlo has already achieved the number one retailer spot in Asia, and has its eye on the US, with a slew of stores opening across the country this year. Boston, Chicago, and Seattle? You're up next this fall. Score.