On June 18th, 2016, the longest Saturday of the year, we took over a neighborhood in Brooklyn. From bars to hot sauce emporiums to ice cream sandwich shops -- 12 locations in BK's Williamsburg became the single most awesome crawl possible. Every year we do it somewhere different, but we always call it: the Best Day of Your Life. Hundreds of people came, grabbed maps, and tried to hit every possible stop in four hours (and that's just before the after party). But if you couldn't join the fun (or even if you did!) here's your chance to (re)live vicariously through photos, interviews, giant cookie sandwich videos, and way more.
Would it really be the best day of your life without mountains of food and rivers of drink? Um, no. And this year we brought stuffed-to-the-doughy-seams empanadas, meatballs swimming in a sea of polenta, and a cookie station where you could build dangerously large towers of baked goods. Feast your eyes on just a few of the treats:
Classic Italian Meatballs
Pitstops were placed strategically along the route so one could grab and nosh while getting to the karaoke/skateboarding/goldfish racing shenanigans totally reenergized. Much-loved food stop The Meatball Shop kept it tradish with beef meatballs over polenta, served with a tried and true tomato sauce. Scores of people at a time eating plates of meatballs while walking around Williamsburg? That's Best Day for ya.
Dogs & Tots
Chili tater tots? Custom Hot dogs? Yup -- and you can thank Crif Dogs for that. This stop was a hit, filled with guests getting their Best Day on. Crif was giving off 3am vibes at 4pm, featuring hotdogs loaded with the essentials -- mustard, ketchup, sauerkraut, relish and some fiery tots to pair them with.
White Fish Ceviche
If you ever made it past the sandbox where the models were sitting in their beach chairs, classic agave nectar margaritas were waiting for you, alongside White Fish Ceviche with citrus dressing, jalapeño, and butternut squash at Rosarito Fish Shack.
We made a giant cookie tower. Watch it go all the way up (and down, and back up again).
A thick, goopy layer of icing will help you defy gravity for as long as possible when you're building a cookie tower at Schmackary's. (Don't forget the sprinkles!)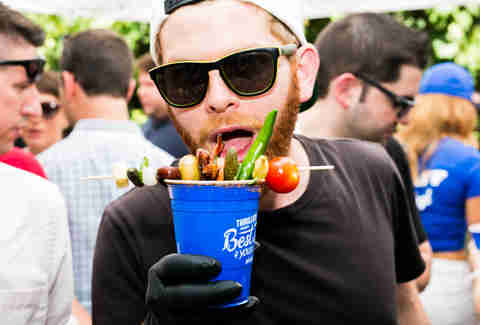 We constructed a crazy spicy Bloody Mary with a hot sauce sommelier
When Paddy the jacked bouncer opened the doors to Heatonist (a store entirely dedicated to all things hot sauce) to reveal a tricked-out make-your-own Bloody Mary station, the logical next step was to kidnap founder Noah Chaimberg and convince him to craft the spiciest bloody he could manage.
Garnishing with jalapeños, pepperjack cheese, and chili powder (among other things) certainly makes a difference on the heat index , but Chaimberg revealed the secret to getting the fieriest cocktail. 
"It's all about the hot sauce," he said. "Garnishes are pretty but the heat is in the sauce. And don't bother throwing different kinds of hot sauce in there -- go with one sauce, because there's a lot going on already."
And We Captured Some Notable Hot Sauce Faces:
"Size is nothing when it comes to hot sauce... my mouth is on fire"
"Oooh! Spicy, but good! I want it on an empanada!" 
We scored handy tips for your at-home pig roast
Along with pouring up the sweetest of sweet teas (spiked with bourbon of course), the crowning glory at The Gibson (your classic neighborhood corner bar) was the whole hog roasting in their garden, because no best day goes pork-free.
Keep the heat low and slow
The whole roast should take 8 to 10 hours, so if the pig starts taking on a darker color in the first hour, turn down the heat -- the crackling skin should only happen in the last 30 minutes.
Plan for a pound per person
Not sure what size hog to buy? Make sure you get a head count and then account for one pound per guest. 
Skip the sugary glazes
Don't use sweet glazes on the outside of the hog, unless you want it to burn quickly.
Get a meat thermometer
Put the fork down and get a meat thermometer -- the various thicknesses of different parts of the hog make it necessary to control which parts of the pig get the most or least heat to cook evenly.
But Best Day isn't just about the food. It's about the lifestyle. You know, the lifestyle where you hit roughly a dozen bars to see crazy ice skaters, cheer on gold fish races, and belt out a totally not-that-bad rendition of "I Wanna Dance With Somebody" while a live band backs you. That's exactly the sort of insanity we throw into BDOYL, and if you want to see all the shenanigans through our eyes, read on.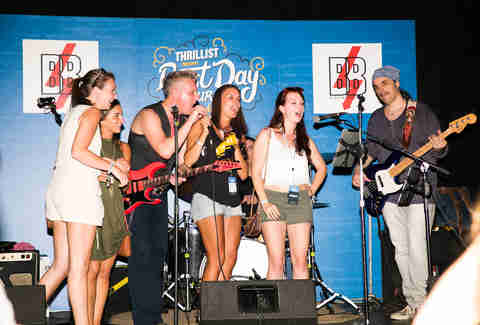 We hosted rock-star karaoke, and there were definitely rules
This isn't back-room karaoke at your little sister's Sweet Sixteen. This is ROCK STAR Karaoke, meaning you've got Black Bear's live band backing you up, and when you have a live band shredding along to rendition of Shania Twain's Feel Like a Woman, you'd better bring it. Here are the rules to follow:
take advantage of the dude with the guitar shredding on your behalf
if you're not sweating, you're not doing it right
the worse your faces are, the better your performance
forgetting the lyrics is okay (real rock stars are notorious for this)
stage-dive at your own risk (so don't)
Here were some of the best mid-song karaoke faces:  
We asked a professional clown how to get away with pelting New Yorkers with water balloons
Because this isn't just any bar crawl, we brought special guests into the neighborhood and into nearly every location. From ice skaters in mini ice skating rinks, skateboarders shredding half pipes inside of a bar,  to terrifying water-weaponized circus people -- we ensured this Best Day was one to remember. But after watching this clown on the corner pelt cars, passersby, and members of the FDNY (without being extraordinarily extradited!) with ice-water filled balloons, we just had to ask -- how the heck did he so confidently continue chucking balloons at randos?
"You just do it; the clown makeup explains it all, especially when I hit that Harley, and when I got the Fire Department. You think I wouldn't get the crap beat out of me otherwise?" 
Let that be a lesson: when it comes to water balloons in public, any hesitation will sink you. Also, dress like a child's nightmare.
We hosted goldfish racing
It's certainly barely even a good day if you haven't spent some amount of time gambling on animals moving very fast. How did we encourage people to gamble on the world's most boring household pet? Goldfish Racing involves squirting a stream of water behind your fish, and it's strangely addicting. Presiding over the races at Falcon Laundry was MC Mikey-Fish, who welcomed all into the wild world of goldfish races. Naturally, we had a few questions on the finer points:
What's the hardest thing about Goldfish racing? 
It's harder than it looks -- you have to feel the goldfish, you have to be one with the goldfish, you gotta feel the pain, the love, the agony. 
Racehorses have jockeys. What do race-goldfish have?
Goldfish have the fish-filleters, now known by their more politically correct name -- goldfish wranglers. They're a unique people, their own breed. 
What's the worst race-goldfish name you've ever heard?
Pat.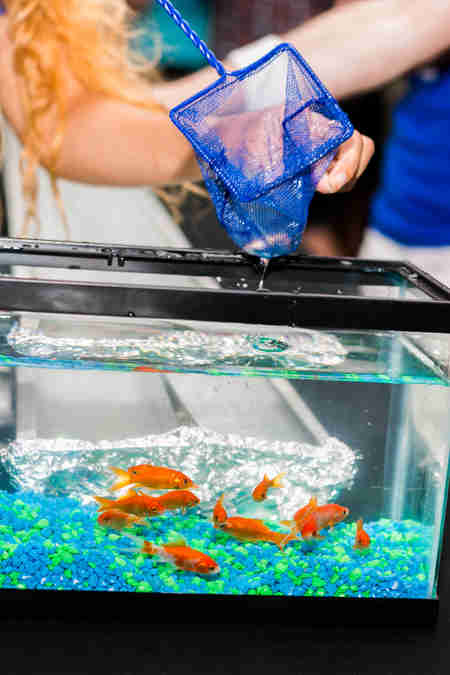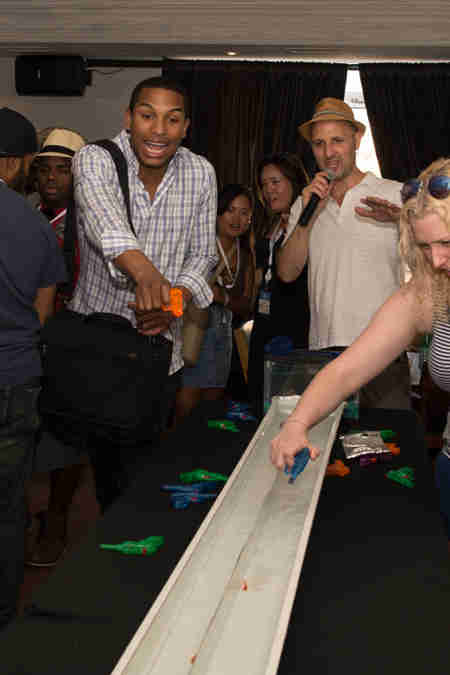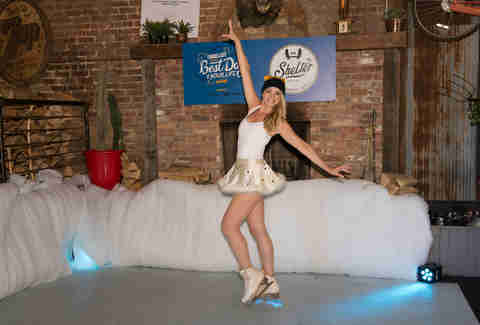 Ice skating? In June? You bet. We spare no expense for Best Day, and in this case, that expense was at a miniature skating rink inside Shelter.
To go with our ice skater, we had a professional non-ice skater named Shane McGrane tear up the half-pipe (and sometimes the wall), showcasing his moves at Black Bear Bar -- a bar, meets pool hall, meets art gallery.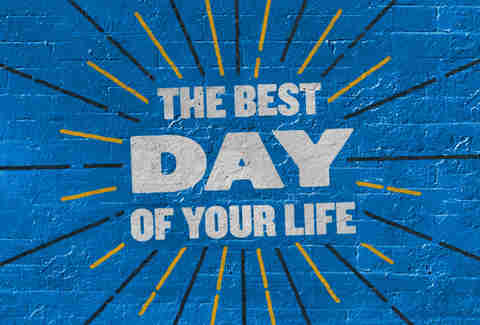 Now that you've got the skinny on the food (wishful thinking with that phrasing) and the weird clowns and such, we thought we'd take the time to show you the sheer scale of this Brooklyn bash. Read on for the head-spinning numbers and a top-level snapshot of what went down. 
We hit some serious numbers for this thing:
We brought in some familiar faces at #BDOYL
Helping us build a giant cookie sky-scraper was none other than Vine-r QPark. Known for his willingness to parkour across a crowded Starbucks and crawl through the streets of New York to visually depict what Mondays actually feel like, Q is a big proponent of the do-it-for-the-vine mentality.
 
Helping run our Snapchat for the day was Frankie Greek, the Snap whizkid and former host of Shorty Awards' "WWW." show. As part of her Best Day Ever, she got a quick skateboarding lesson with our pro skater Shane McGrane, tagged a wall, and took selfies with a massive stack of cookies. Follow her on Snapchat: wtfrankie
Matt Bellasai, Internet-famous "Whine About It" video column dude, spent the day celebrating in Williamsburg during one of his last days in NYC before embarking on his "Drunk and Alone" tour. What did he do? Well, drink wine, obviously… but he also got the crowd going with his covers of empowering pop breakup songs from the mid-2000s during live-band karaoke.
We learned how to pace ourselves
Hitting up 12 venues worth of (literal) food mountains and delicious cocktails in one afternoon is hard work. Because pacing yourself during an all-day bar crawl is pretty important, the San Pellegrino truck was driving around making sure all BDOYL-ers were sufficiently hydrated, and their refresh station at Output rooftop was an oasis of fresh-cut fruit, flavored, bubbly water, and on-hand masseuses.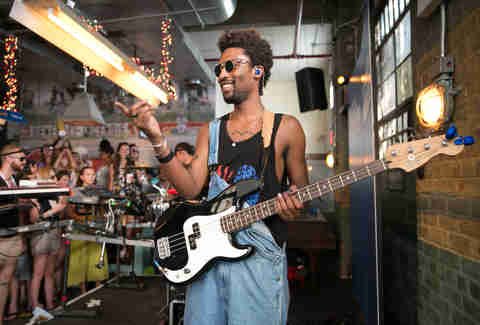 We brought in The Knocks to keep the party going strong
This Brooklyn-based electronic duo showed up at the after party to keep the BDOYL-ers moving long after the make-your-own ice cream sundae station made it feel impossible. 
And we did a bunch more stuff that can best be described by photos
We'll shut up now and just wrap this thing up with some more photos from what was definitely our best Best Day of Your Life ever. If you were there, awesome. If you want to come next year, even awesomer. If you want to throw your own Best Day of Your Life bash, well, don't forget the scary clown.