On August 21, a total solar eclipse will black out the sun in the middle of the afternoon as the moon locks into perfect positioning between the Earth and the sun for the first time in 26 years. What makes this eclipse particularly unusual is that it will pass through the heart of America, with the 70-mile-wide "path of totality" (in which the sun is completely obscured by the moon) stretching across the middle of the country from Oregon to South Carolina.
The eclipse will cut a perfect diagonal swath through Missouri, which means pretty much everyone in the state is, at most, an hour-and-change car ride from experiencing a total solar eclipse. Lots of towns in the eclipse's path have reached the same conclusion and will welcome visitors with festivals featuring everything from live music to cow-patty bingo. Remember, however, that if you need tickets or reservations for something, it's getting very late in the game (and make sure you have the right protective eyewear).
Partial eclipse start time: 11:43am
Totality start time: 1:10pm
Located in the heart of Missouri and almost perfectly centered in the path of totality, Marshall proudly states that it's in "the middle of the middle." Not only does it enjoy one of the longest periods of darkness, but nearby Interstate 70 also makes it easy to reach. Your best viewing bets are the Saline County Fairgrounds and Stone Hedge Golf Club. If you've got time before the big blackout, visit the Jim the Wonder Dog Garden and Museum, dedicated to a long-deceased Llewellyn setter who was declared "Missouri's Wonder Dog," by the state's governor because apparently Jim could carry out complex commands, understand several languages, and, yes, predict the future.
Partial eclipse start time: 11:42am
Totality start time: 1:08pm
Oddly enough, the blackout coincides with an annual event in these parts -- the Steam and Gas Engine Show. Eclipse weekend is filled with down-home celebrations such as antique, steam-powered tractors, lawn-mower tractor pulls, and horseshoe pitching. The show has been extended to Monday, so visitors can watch the eclipse from the grandstands.
Partial eclipse start time: 11:43am
Totality start time: 1:09pm
Tiny Waverly calls itself the "apple capital of Missouri," but eclipse watchers might be more interested in another locally grown fruit. Nearby Baltimore Bend Vineyard plans a "Total Solar Eclipse Party" featuring live music, lunch, a special wine release, and of course, views of the darkness from the grounds.
Partial eclipse start time: 11:44am
Totality start time: 1:11pm
Most eclipse towns offer festivals, but Sedalia's does them one better with the Missouri State Fair, which runs until August 20. So go eat some corn dogs, then, on eclipse day, return to the fairgrounds -- or, more specifically, the Trails End Landmark. There's food, music, cow-patty bingo, and a two-hour horseback ride on the Katy Trail, during which the eclipse takes place.
Partial eclipse start time: 11:44am
Totality start time: 1:11pm
Boonville offers a long list of viewing spots around town to take full advantage of its particularly lengthy slice of totality. Golfers might want to consider the Solar Eclipse Classic tournament held at Hail Ridge Golf Course, one of 24 area courses participating in the event. You can get in 18 and not miss the celestial show.
Partial eclipse start time: 11:47am
Totality start time: 1:14pm
Pass the time before totality by attending Saturday's Wine & Jazz Festival. There's an eclipse viewing party on Hermann Hill on Monday, and if you'd prefer a beverage with your viewing, consider purchasing a Kosmic wine slushy from Stone Hill Winery.
Partial eclipse start time: 11:46am
Totality start time: 1:13pm
Missouri's state capital, located on the Missouri River, offers a full roster of eclipse events, including a bicycle pub crawl, a downtown carnival, and a Saturday night street party. The prime viewing spot is Riverside Park, and the final event is an evening concert by a Pink Floyd tribute band on the grounds of the Missouri State Capitol building.
Partial eclipse start time: 11:47am
Totality start time: 1:14pm
Owensville and its tiny neighbor, Rosebud, have rolled out the red carpet with plenty of live music and food, highlighted by a Midnight at Noon music festival from August 18-21. Take in the eclipse with the townsfolk at Memorial Park, or attend the Blackout at White Mule Winery in Rosebud.
Partial eclipse start time: 11:48am
Totality start time: 1:15pm
St. Clair's period of totality is only two seconds shy of the maximum possible eclipse time. The little burg is taking advantage with an intriguing-looking music event, the Darkening of the Sun Festival, a Northern Cherokee Nation Heritage Event. A high point on the property serves as the designated viewing area.
Partial eclipse start time: 11:48am
Totality start time: 1:15pm
Augusta, an old winemaking region, is up to its ears both in vineyards and viewing spots. There's the Katy Trail State Park Augusta Trailhead, which is part of the nation's longest continuous rail trail. Three local parks -- Klondike, Broemmelsiek, and Quail Ridge -- are also offering festivities and viewing opportunities. There's plenty of options for your personal after-eclipse festivities, because in addition to roughly a dozen wineries, the area also offers locally made beer from the Augusta Brewing Company.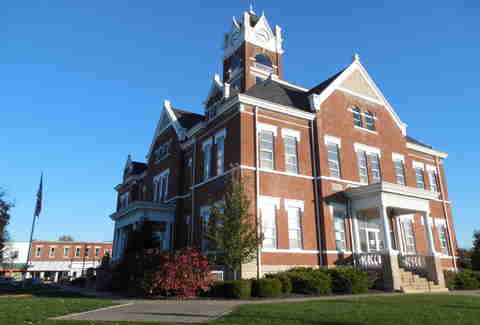 Partial eclipse start time: 11:51am
Totality start time: 1:18pm
Perryville is just over an hour's drive down Interstate 55 from St. Louis, so you might consider bunking in the city and commuting to this scenic country enclave to witness totality. Perryville offers a number of ways to kill time before the eclipse, including a street carnival, live music, and food vendors. And its viewing spots are numerous and varied, including Perry County Community Lake, Lewis & Clark Expedition Lookout, and Perryville Pumpkin Farm.
Partial eclipse start time: 11:49am
Totality start time: 1:16pm
This suburban enclave on the west side of St. Louis offers the Chesterfield Amphitheater Viewing Experience. For $25 per person you get food trucks, artisanal vendors, and a spot in the aforementioned amphitheater. But the best part is the inspired choice for the post-eclipse concert: a Journey tribute band called Eclipse.
Partial eclipse start time: 11:49am
Totality start time: 1:17pm
Think of any possible moon-themed festivity, and chances are they're doing it in Arnold. There's a Moon Pie eating contest, a moonwalk contest, and a Total Eclipse of the Sun Fun Run. The main gathering place is the Jefferson County Library-Arnold, which will also feature live music and food trucks.