Google makes some of the most useful products in the world -- Gmail, Docs, self-driving cars with cameras on them that spy on America one street at a time. Google Translate, however, is only useful if you need to know a single word in another language. It's completely clueless when it comes to translating proverbs, which are essentially cleverly phrased clichés. To highlight this hilarious bug, we took 12 proverbs that sound beautiful in other languages and put them in Google Translate to see what a mess it would make.
Recommended Video
This New Gadget Charges Your Devices Using Your Bare Hands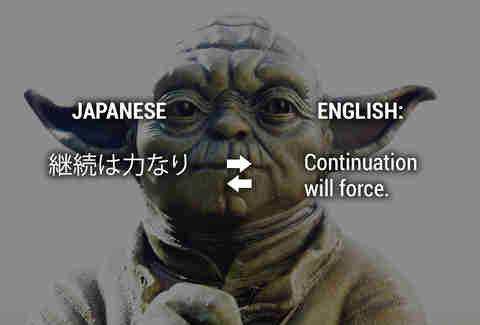 Sounds like a Yoda quote
"Chi da giovane ha un vizio, in vecchiaia fa sempre quell'uffizio."
Italian
What it means: "Old habits die hard."
What Google Translate says it means: "Who as a young man has a vice, in old age is always that office."

The proverb is weirder than the translation
"Coffre ouvert, rend le saint pervers."
French
What it means: "A nice wife and a back door oft make a rich man poor." (WHAT?!)
What Google Translate says it means: "Safe open, makes the perverse saint."
I swear my rig isn't normally like this
"Een slecht werksman beschuldigt altijd zijn tuig."
Dutch
What it means: "A bad craftsman blames his tools."
What Google Translate says it means: "A poorly werksman always blames his rig."
Are books a popular gift in Poland?
"Dar za dar, słowa za słowa."
Polish
What it means: "You must meet roughness with roughness."
What Google Translate says it means: "Gift for the gift of words with words."
Sign up here for our daily Thrillist email, and get your fix of the best in food/drink/fun.
Lee Breslouer is a senior writer for Thrillist, and thinks language is beautiful. Follow him to idioms at: @LeeBreslouer.