11 Unsung People To Put On Your Holiday Gift List This Year
As stressful as holiday shopping can be on our minds and wallets, it's the best time of the year to go the extra mile. This doesn't mean only showing appreciation for your parents, big bro, or boss, either. Whether it's trash collectors, a beloved lifeguard, or the office parking attendant who gets you to crack a smile before 9am, it's time to spread good vibes to the people who make your day-to-day life seamless and garbage-juice free.
"People in the service industry go above and beyond the call of duty," explains Southern California-based etiquette expert Elaine Swann. "They don't just deliver cookie-cutter services. They'll stay late, they'll start early, they throw extra things in. The best way to gauge to whom you should give a gift or tip are the individuals who help make your lives easier throughout the year."
Swann preaches that "cash is king" if you don't know your recipient well enough to give them a specific gift, as long as you spend the extra 10 minutes picking out a thoughtful card to deliver with it. But if you're BFFs with your hairstylist, love catching up with the neighborhood mailman, or want to make sure the dog walker knows you're aware of how difficult the doggo is, here's 11 gift ideas for 11 people who thanklessly help you out 365 days a year.
DOG WALKER
They help keep the dogs happy and thriving while you're jamming away at work or finally relaxing on vacation. "Make sure your gift is well thought out. No swag and no gag gifts," Swann says. "It shows you didn't put very much thought into it and it could seem like it was an afterthought." So add another personal layer for a fellow animal lover by choosing a gift that's also philanthropic.   
What to get them:Grounds & Hounds Coffee, where 20% of profits are donated to rescue organizations
PARK RANGER
With more national parks than any other state, park rangers in California don't really have time for breaks (hello, there's black bears in Yosemite!). From pointing you in the right direction of your campsite to keeping backpackers safe on hikes, surprising them with a small token of your appreciation for their hard work will go a long way. Just remember, when saying "thank you" to any federal employee, cash is no bueno and gifts can't exceed in value over $20.
What to get them: Gear for the outdoors they'll actually use, like inflatable solar lanterns and portable chargers
David Saracino/Thrillist
LAWN SERVICE & GARDENERS
"Gardeners and landscapers in California really do put great effort forward making sure the exterior of our homes and apartments are presentable throughout the year," Swann says. And it's not just that: The maintenance doesn't stop no matter how blisteringly hot it gets. One thing every person tirelessly working in the elements will appreciate? A few free lunches from their favorite lunch spot they can order up whenever they want.
What to get them: Gift card to their go-to restaurant (can never go wrong with Umami Burger)
TRASH COLLECTORS & STREET SWEEPERS
Just in San Francisco, street sweepers remove 25,000 tons of litter every year. That's a lot of trash you don't have to deal with (or smell) during your morning quest for coffee. And speaking of a good cup of joe, these dedicated people are busy grinding away around your neighborhood before your alarm even goes off in the morning.
What to get them:Yeti thermos for that extra-strong coffee or chocolate-covered coffee beans
LIFEGUARD
While you're busy doing a whole lot of nothing, California lifeguards keep you and everyone else at the beach chill and happy. It might seem like a kushy position, but being in charge of watching over hundreds of people and remaining alert for strong riptides, curious kids swimming out past the buoy -- and yes, sharks -- isn't exactly everyone's cup of tea.
What to get them: Fantastic-smelling sunscreen from Sun Bum or an Aerobie frisbee to toss around when they're on break
BARBER & HAIRSTYLIST 
Of course you tip them each time they work their magic, but make sure to thank them again for all the free life advice they've given you about work and your relationship. "Since you should be tipping your barber and hairstylists throughout the year, this is the time to do something a little extra special for them," Swann says.
What to get them:Kiehl's mini gift packs or a shaving set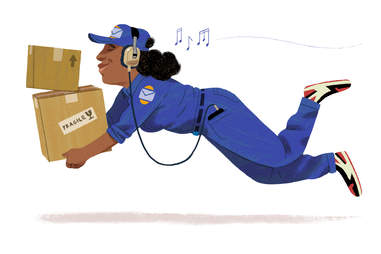 David Saracino/Thrillist
FEDEX & UPS WORKERS
Anyone who has become the middleman in your subscription-box addiction more than deserves a pat on the back. Not only do they brave any storm or heat to get you your packages and mail on time, just think about what it's like to deal with surprise guard dogs. Keep in mind, while FedEx workers can't accept cash, you can get them a gift valued up to $75. For UPS, they say they prefer gifts over cash, and USPS can only accept gifts that can't be exchanged for cash.
What to get them:Clip-on speakers so they can listen to their podcast trying to find your house or fresh-baked goods for the long drive, like California donuts or Arizmendi
YOGA INSTRUCTOR
No one else can keep you zen like your yoga instructor, even when everything else in your personal life is up in smoke. It's true, you really can't put a price on finding your inner peace after a rough day at the office, so show up to the next Vinyasa Flow session with your gratitude for their services wrapped up with a bow. "If you've ever had a conversation with them about the things that they like, go in that direction," Swann says. Not sure where to start shopping? Look for clues in their classroom.
What to get them: Anxiety-reducing lavender candles or a yoga mat carrier
PERSONAL TRAINER
Since exercise and eating well tend to go by the wayside during the back-to-back holiday shuffle, your personal trainer is probably working extra hard to keep you motivated. And when they remind you to keep up with your workout even when you're going crazy at your parents' house, just remember working out releases endorphins, aka the happy, stress-reducing chemicals you probably need the most right now -- and that's thanks to your trainer.
What to get them:Water bottle infusers or a gift card to California-famous active and adventurewear brand prAna
PARKING ATTENDANTS
They have to stand around all day in the California heat and still care whether your car gets dinged. For gifts, pay attention for small hints and clues about what they're into. Swann says sometimes what to get them is hidden in plain sight. "Maybe on the bumper sticker of their car you notice their favorite sports teams," she says. "That can give you an indication that it's something they're into." But keep in mind: Parking attendants who work for the city or state of California can't accept gifts that can be exchanged for cash, either.
What to get them: Whether it's The Kings or the 49ers, get them gear repping their city
SURF INSTRUCTOR
From paddling stationary on the sand to riding out your very first mini wave, it's been quite a long, patient journey for them to teach you how not to wipe out every five seconds. If the ocean bond between you two feels like it requires more than just hitting them with a standard tip, opt for gear they'd buy for themselves anyway. They'll definitely give you a high-five -- and maybe even a discount on your next session.
What to get them:HeadHunter face stick or Sticky Bumps surfboard wax