Paid Content For

10 Ways to Make Even the Tiniest Apartment Feel Big
Paid Content For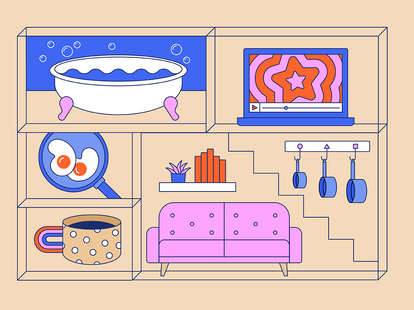 Between shelling out rent for a closet-sized bedroom and fighting for actual closet space with three roommates, apartment living requires not only patience, but a lot of creativity. Thankfully, with a few simple design and storage tricks, you can maximize every (overpriced) square foot. Whether it's making the most of limited counter space or merely drawing the eye up with shelves and art, these 10 hacks will have your place feeling like the spacious palace you rightfully deserve.
Create the illusion of more space with a floor-length mirror
Here's a magic trick anyone can pull off: transform a 500-square-foot studio into a one-bedroom using only a mirror. Yes, a sleek, floor-length mirror will give the illusion of more space and open up the entire room -- even if you're short on actual space. Opt for a tall mirror that can take up most of the height of a bare wall that faces your door, then simply prop the mirror up against the wall to instantly "expand" the space. If you have plants, try having the mirror reflect them to add even more greenery and additional color to your surroundings. Studies show that indoor plants can have a positive impact on your overall psychological and physiological well-being, so even science approves of this last move.
Eliminate mail clutter with clever storage
Even after opting into paperless billing and removing your address from solicitation lists, junk mail can still pile up -- and take up valuable square footage in your place. Instead of keeping important letters in your kitchen's "splash zone" or leaving papers all over your bedside table, purchase a small, chic mail organizer that can double as decor, then use it as your dedicated "junk drawer." (Since small kitchens lack the luxury of having a drawer solely dedicated to random personal effects.) Opt for an organizer with compartments, so you can find what you need on the fly, but keep it compact -- that way you are encouraged to sort through it regularly. Oh, and try to store it outside of the kitchen: no one wants last night's takeout all over their bank statement, anyway.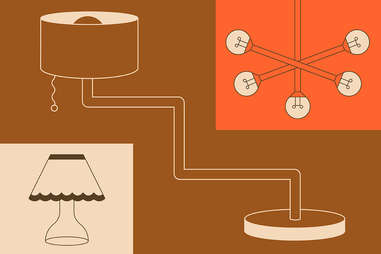 When it comes to lighting, follow the 'rule of threes'
There's a reason why those sun-filled, loft apartments feel enviably massive: all that natural light. And while your landlord won't appreciate you taking on a construction project, you can recreate that effect at home by following the "rule of threes" with lighting. Interior designers say that having at least three light sources in each room will help push back walls and create dimension in your apartment. So mix and match floor lamps, table lamps, and even patterned hanging lanterns to add additional depth to your living space. When it comes to the lampshades, opt for lighter hues or stick with white -- dark colors can make your apartment feel even smaller.
Utilize kitchen walls to gain additional counter space
What your kitchen lacks in cabinet storage, you can supplement by building up. Utilize "forgotten" wall space by hanging a magnetic knife strip or opting for hooks to hold pots and pans, then marvel at your newfound counter space. (And maybe, actually, cook?) Think beyond cooking utensils here, too. Put up easy-to-install floating shelves, then buy large glass jars for items like noodles, rice, and oats to create a pantry that doubles as kitchen decor.

Apartment dwellers are consistently short on three things: space, cash, and time. So heading out to a fancy cafe for a cup of coffee isn't in the cards… and neither is squeezing a bulky coffeemaker onto your kitchen counter. Enter: the Keurig® K-Mini Plus® Brewer. It's their slimmest brewer yet, delivers coffeehouse taste for way less, and provides freshly brewed coffee the moment you want it, without changing out of comfy pants. Now, if only making the rent were that easy.
Opt for kitchen items that pull double duty
Do you have room for a garlic press? A slow cooker and a pressure cooker? If you're reading this story, our guess is probably not. Get real about what gadgets and other kitchen accessories you actually use and only keep items that can be workhorses and accomplish multiple tasks. Putting some dough toward a great chef's knife can take the place of various vegetable cutters and smash your garlic in a flash. Beyond editing your kitchen supplies, purchase bowls, pans, and tools that are designed to collapse, nest together, or stack to maximize space inside your cupboards and avoid culinary avalanches during your next dinner party.
Leave one or two walls empty
In a tiny apartment, filling every wall with photos or decorative art can make it feel even smaller. So leaving a few white walls undressed, whether it's a column or the wall behind your couch, is an easy way to help your place feel a bit more spacious. Resist the urge to cover these walls by instead adding colorful throw pillows or a decorative bench against it, that way the whole wall isn't cluttered and you still get a pop of color.
Make sure rugs are the right size
Nothing makes an apartment feel even smaller than a tiny rug. Do your homework before you make this purchase (getting a beautiful rug can come with a hefty price tag). First, find out the dimensions of your floor; while you're measuring, keep in mind that it's recommended that at least 18 inches of the floor is exposed beyond the rug's edges. Some home and design sites offer easy cheat sheets on what size rug to purchase once you know the size of the space (like a 10-foot-by-12-foot room should have an 8-foot-by-10-foot rug). Beyond correct size, finding a rug with vertical lines or a striped pattern will add even more depth to the space.
Draw the eye upward with decor
To make your space feel bigger, you need to give your eyes a reason to look up. Serious DIYers (who have flexible landlords) can try painting or wallpapering the ceiling to create a statement. Here, bright colors or a simple pattern will give the room even more depth -- and make the ceilings feel higher than they actually are. If revamping your ceiling feels ambitious (or you want to keep your security deposit), install high, floating shelves to hold decorative books and knick-knacks. It will make it feel like you have tall ceilings, even if you don't. This trick goes for art, photographs, and even your curtains, too. The higher you hang them, the bigger your place will feel.
Don't block windows
Scoring a few excellent windows in an apartment is nearly as difficult as scoring an apartment in a big city at all. So you'd be wise not to cover up any natural light with couches, bookcases, or larger pieces like a headboard. Try your best to place furniture in your space so that the windows are highlighted instead. Beyond that, nix curtains and drapes entirely and go for minimalist roll-up shades for privacy and room darkening when you need it. This will ensure that the natural light won't be blocked in any way -- letting it in is one of the easiest ways to make your place feel spacious and airy.
Shop for furniture with legs
If you're buying a new ottoman, pick one with hidden storage. If you want a table big enough to host a small dinner party, find one that folds into a smaller footprint when you're dining alone. Investing in a few multi-purpose items around your apartment will help provide additional space where you want it, and meet your needs on a day-to-day basis. Beyond function, keep height in mind when purchasing new pieces for your apartment. Those few inches under the sofa, coffee table, or bed can can give the illusion of more space and could even provide extra storage if you need it. (A few decorative boxes or baskets will keep this area from looking cluttered, too.)