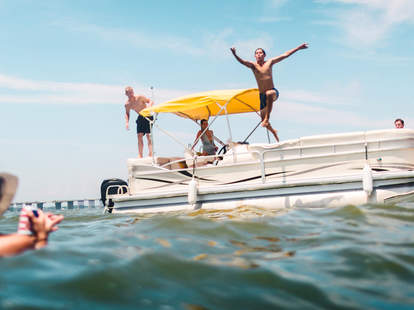 50 Ways to Take Your Summer to The Next Level, Anywhere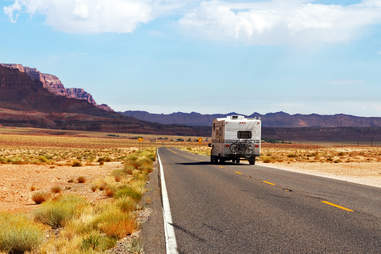 Shutterstock
1. Summer was made for the open road, so we've outlined plans of attack for an epic road trip.  Snack on some of the best bites in the country, tour a dozen national parks, or if you're feeling real crazy (or just have a lot of vacation days), hit all 48 states.
2. Take that summer road trip to super weird levels by checking out the country's wackiest roadside attractions. If taking a picture near the world's biggest pistachio won't get you all the Instagram likes, nothing will.
3. If you don't enjoy a cool beverage with sand between your toes this summer, with a few friends nearby, then you are doing it all wrong. Among the best beach bars in the country is one that can fit 5,000 people. So... either the best party in the USA or your worst nightmare.
4. Seriously, get to the beach. Preferably, hit up one with some character, good food, and good bars where people don't hold wet t-shirt contests and fist pump.
5. Forget baseball, tubing is American's new favorite past time, because it involves all your friends, sunshine, and refreshments floating alongside you. Check out the best places to get your float on this summer.
6. Why merely sightsee when you can taste your way around the country? When you plan your trip around food and drink, everyone is always full and happy, and that sounds like a much better way to vacation to us.
7. Despite what the election coverage this year may be telling you, America is a beautiful place. We promise. Venture to its most underrated locales -- we've outlined what to do when you get there.
8. A bonfire on the beach with your best friends is the quintessential way to kick summer up a notch, so we rounded up all the best beaches to pop-up a tent on.
9. We won't quote Lonely Island, but yes, you should party on a boat this summer, or rent your own.
10. Party in Miami? Yeah, sure, but everyone's done that. Party in Milwaukee where summer kicks off with a two-week party, or at any of these underrated party cities.
11. If you've already hit up Austin and New York, catch a show in Omaha, or any of these other underrated music cities. It's bound to be just as impressive, with half the crowd size.
12. Check out the most unique street art in your city, or make it an excuse to visit one of these.
13. Forget Lollapoolza, we've got better, unexpected options for summer music festivals right here. Summer's already well underway, so scoop tickets ASAP.
14. You'll look like a weirdo if you jump on the trampoline at a kid's 1st birthday, but that doesn't mean you can't host your own, totally awesome adults-only version of your favorite summertime game.
15. Guess what?  There's music in Canada too. And the crowds are probably nicer at these festivals, because everyone is nicer in Canada. Facts.
16. Picnics are great, but you can do so much better than sandwiches. Instead, whip up these suggestions from a master chef.
17. Speaking of weird festivals, we've rounded up the country's wackiest right here. So if you're all about bologna, mooning Amtrak trains, or mothman, check 'em out.
18. Why go to a beer festival, a wine festival, and a music festival, when you can go to one that literally has all of these things in the same location? It's Outside Lands in San Francisco, and we're all about efficiency.
19. How are you doing on our great American bucket list? We've got 50 things everyone should do across the country before they die, and a lot of these need to happen in the summer. Plan accordingly.
20. If your idea of "fun" is breaking your personal record at the gym, then congratulations, you'll probably live to be like 110. But this summer, take your workouts to the next level, and outside, with some intense workouts you can do in any park.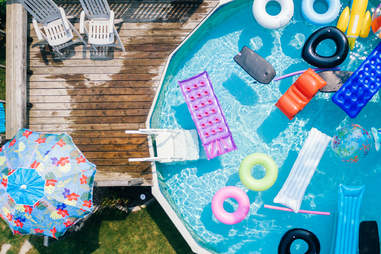 Jen Grantham/Stocksy
21. All the best summer pool parties have a well-stocked bar, and now with this inflatable tiki bar, your guests won't even have to get out of the water for a drink.
22. Mini golf becomes ten times as challenging when you have to sink your putt in a moving target, while trying to not fall in the pool.
23. Bring poker night back into the sunshine, and into the pool. Just don't get the cards wet -- that would ruin everything.
24. Your pool party is going to need to have some great tunes, so we found a floating speaker so you can leave your phone far, far away from the water but still keep the party going.
25. There's a quaint floating tray for drinks and snacks, in case you aren't into big inflatable palm trees. (Although, who wouldn't be?)
26. Forget the drive-in movie, check out a swim-in movie once the sun goes down. We suggest you avoid Jaws, though.
27. You know how people bust open fire hydrants to cool down during a heat wave? It would be pretty cool if drinks sprayed out instead, and now, they can. Sort of.
28. It isn't a pool party unless there is a water gun around for impromptu water fights. This one also brings people drinks, which is just sort of mean, but a great trick.
29. Diving competitions are for amateurs now that there's this intense rock climbing wall you can hook up to your pool.
30. Emulate any Las Vegas pool party with this light system, without, you know,  a mob of people, or "music" that just sounds like unce unce unce.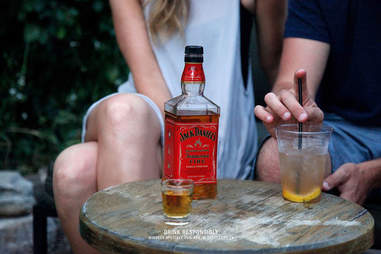 Courtesy of Jack Fire
Because summer without a little heat would be pretty boring. Add even more spice to your plans by escaping with Jack Fire, a red-hot blend of cinnamon liqueur and Jack Daniel's Tennessee Whiskey.
Kate Daigneault/Stocksy
31. Switch things up this summer by trying a new dating app, because your thumbs are probably tired from swiping, and most of these actually encourage you to… go outside?
32. If you're super into Disney, or cuddling, or farming, there's probably a super niche dating app out there. Give it a try and find someone just as crazy about bacon as you. You could also try to get accepted by one of these super exclusive dating apps.
33. If you met someone IRL while you were traveling, the summer lovin' doesn't have to end when you pack your bags, because we've outlined a foolproof strategy to turn your vacation fling into a serious thing.
34. Already got an SO? While the best part about that is the ability to go home early and hang out in your grossest sweatpants, it can get pretty boring, and you probably are feeling a little left out of this whole "Tinder" thing. So use it, together! The first one to get a NSFW pic wins, sort of.
35. Bingo isn't just for senior citizen anymore. Now, there's bingo for Tinder, which is good for a few laughs with your friends, and maybe you'll actually swipe right on the person who helps you win the board.
36. Speed dating was the quickest (and probably most depressing) way to meet people in pre-Internet days, and now, like mom jeans and crop tops, it's back. Find one near you this summer, but first consult how our latest speed-dating adventure went...
37. Learn how to give a proper massage. It's a skill that will definitely come in handy this summer when it's 100 degrees and you're broke, but you still want to do something romantic together.
38. Challenge yourself to keep your dating life off social media for the summer, that way the two of you can actually enjoy hitting up some of the things on this list, rather than making sure you 'gram it first.
39. Sure, you could hit up one of the country's greatest nude beaches, or you spend a week on a completely nude cruise. Either way, things are probably going to get a little weird.
40. Why make a pretty embarrassing trip to the pharmacy for an aphrodisiac when you can literally grow your own, much-safer, versions next to the tomatoes on your balcony? This way, they're also ready whenever you are.
41. If you live in NYC, you really have no excuse to be bored ever -- it's literally called "the city that never sleeps" because there's so much going on. To save you from choice paralysis, we've got plans for your Big Apple summer.
42. Summer in San Francisco is already pretty chilly, but we've got 50 ways to make it even cooler, so pack a sweater.
43. LA has perfect weather all year, so in the summer, you better kick it up a notch, and we've got
50 ways to turn up the heat.
44. True Philadelphians know there's more to the city than cheesesteaks and angry sports fans, so here are 50 ways to show your Philly summer some love.
45. In Chicago, we've outlined every way you can avoid having to explain to a tourist why it isn't actually windy in the Windy City this summer, right here.
46. Everything's bigger in Texas, so your Dallas summer plans better be larger than life after checking out these guides.
47. Same goes for your plans in Houston, too.  
48. Oh, it's about to get real hot in Atlanta, and probably stay that way 'til December, but you've only got 15 weeks of summer like the rest of the country, so get on this list.
49. Boston, you got off easy with winter this year, which means you better make the most of the warm weeks you have until Labor Day, and we've got 50 ways to take advantage before Snowmaggedon comes back.
50. Now that all the tourists are done ogling the cherry blossoms in D.C., the city is yours for the summer, Washingtonians. Here's 50 ways to make the most of it.