The worst weather situation most of us deal with is fighting neighbors with orange cones and folding chairs for parking spaces in the winter. But there's a big, bizarre world of climate out there, and thanks to Sony's Artisan photographers, we can kick back and view what it has to offer from the relative safety and comfort of our screens and frozen beach chairs.

Northern Lights
Reine, Norway | Shot by Brian Matiash
It's not actually caused by aliens, magic, or Thor, but don't be too disappointed because this light show is still pretty metal. The Aurora Borealis is formed when electrons slam into oxygen and nitrogen atoms anywhere from 50 to 310 miles above the Earth. The atoms get excited by the collisions (same, atoms) and when they calm down, that extra energy is released as light. The other term for this phenomena -- "major geomagnetic storm" -- was perhaps a little too metal.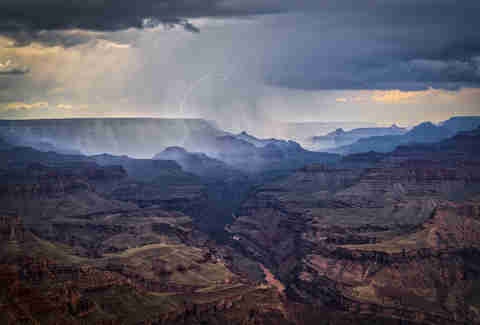 Grand Canyon's monsoon season
Arizona, US | Shot by Don Smith
The word monsoon typically conjures images of extraordinarily arid lands that get drenched for months at a time or WrestleMania analysts. Not always the case, particularly at the Grand Canyon where monsoon season produces only something like ten inches of rain a year. Still, it's a pretty violent and sudden event, often producing flash floods and very dangerous lightning strikes.
Double rainbow
Hawaii, US | Shot by Don Smith
The immediate instinct here is to paste the lyrics to that one song everyone knows about double rainbows and leave it at that, but we'll resist. A true double rainbow like the one featured in this insane shot has its colors flipped -- so if you look closely, you'll see that the faint second rainbow sitting on top of the bolder one actually has red on the bottom, and violet on top; this effect is caused by a double reflection inside the rain, which accounts for the flip.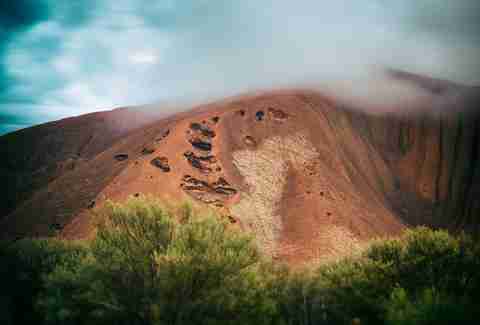 Fog at Uluru
Uluṟu-Kata Tjuṯa National Park, Australia | Shot by Brian Matiash
Even fog at Uluru is an event, seeing as the average rainfall around Uluṟu-Kata Tjuṯa National Park is about 11 inches every year (there are sandwiches longer than that). Even more rare? Catching a glimpse of the spontaneous waterfalls that erupt after one of the sporadic thunderstorms roll through the region.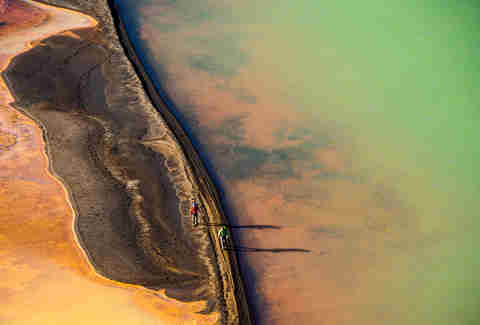 Aniakchak's protective meteorology
Alaska, US | Shot by Gabe Rogel
One of the least-visited National Parks/Monuments in the US, Aniakchak is an incredible geological wonder and will probably remain so as long as the thousands of bears and insane storms keep basically everyone away from it. Located on the Aleutian Peninsula, the light in this photo is usually obscured by nasty weather, a consequence of being stuck between the Bering Sea and the North Pacific Ocean.