Lifestyle
Sponsored By
Everything You Could Ever Want to Know About Beard Oil
Sponsored By
Beards can be incredibly polarizing, with beard haters on one side and the never-shave camp on the other. (And some fans can get pretty weird.) One thing that the pro facial-hair crowd can agree on, though, is that if you're gonna grow it out, you gotta do it right. That means avoiding dreaded overgrown neck hair, obviously, but to take your grooming to the next level, Bulldog Skincare for Men recommends beard oil as the key ingredient in getting that perfect whiskered look. For a primer on beard oil and how to use it correctly, we turned to beard expert Nick Burns, co-author of The Bearded Gentleman: The Style Guide to Shaving Face. Here are our tips for getting the most out of your beard oil (and your beard).
Make it a habit
Treat beard oil the same way you'd treat any part of your skincare routine. (Yes, guys, you should have a skincare routine by now.) "I recommend using beard oil daily as part of your morning routine" Burns says. And just like any other grooming regimen, you have to be consistent to get consistent results. Starting and stopping can irritate your skin, so make it a habit. Plus, using an oil that is fast-absorbing and softening, like Bulldog's Original Beard Oil, will tame stray hairs and keep everything in line, so you're gonna want to use it every day anyway.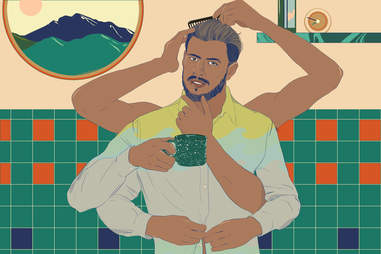 Lindsay Mound/Thrillist
Don't overdo it
Keep in mind it's an oil, so you only need a little to get the job done. For short beards, just apply a couple drops and massage it into the hairs thoroughly. Even for longer beards (more than two to three inches in length), only a pea-sized amount is necessary. You don't want to get a greasy look, so go easy on it -- you can always add more oil as needed.
It's about skincare, too
Beard oil isn't just for beard hair, it's also good for your face. "I'd say it's 50/50," Burns says of the benefits, pointing out that beard oil will hydrate skin in an area that's hard for moisturizers and sunscreens to reach. That means you'll need to make sure the oil gets all the way to the surface of the skin in order to get the full effect. The best way to do this, according to Burns, is to get the oil all over your hands, then use your fingers like a comb and work with and against the grain to get a good, total coating. Make sure you're picking out beard oils that contain ingredients that'll be soft on your skin, too (like the aloe vera, camelina oil, and green tea found in Bulldog's beard oil).
Lindsay Mound/Thrillist
Don't forget to style
In the dark ages of beard care, you had only a few options for styling. You could trim your beard, comb it... and that was pretty much it. With oil in the mix, you have a lot more flexibility -- be sure to use it. The oil will keep stray hairs in line and give them a nice shine, so take the time to comb the beard into the look you want. Plus, the hair will be more pliable, so it should be easier to shape.
Don't expect a miracle
Head hair and beard hair aren't the same, so don't expect them to grow the same, either. "Androgenic hair tends to be thicker and coarser than what you've got up top," Burns explains. That means a lot of things about your beard, but mostly, keep in mind that it'll be much harder to tame than hair that grows from your scalp -- so don't expect soft, luscious locks out of nowhere. Sadly, beard oil also will not make your hair grow faster or fill in any patches. That's just not how beards work. "To support beard growth, I recommend a healthy, well-balanced diet and a whole lot of patience" Burns says. And that part is up to you.