Paid Content For
Mt. Gay Rum
This Is What It Takes to Quit Your Job & Start a Business With a Friend
Paid Content For
Mt. Gay Rum
Natalie Chitwood/Courtesy of Pipcorn
Natalie Chitwood/Courtesy of Pipcorn

We've all had days like this: You're sitting at your desk while fluorescent lights beam down on you. In one window is an email from your boss criticizing you for something menial and in the other you're chatting with your friend about quitting your jobs and finally opening that bar, like you've talked about doing since college. You think, I could run into my boss's office right now and say, "Screw it all, Bob! I'm giving notice." This is the day you turn the bar dream into a reality! And guess what? Once you do, NO buybacks for Bob.
So here's a question: Why not?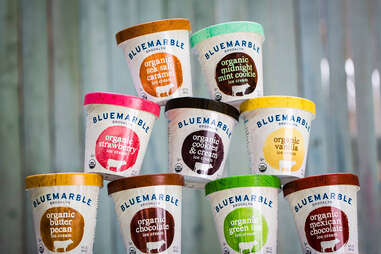 Anything less than 100% commitment is 0%
If you're going to start a business together and truly succeed, it's going to take a few things: money, some more money, and…an insanely computer-savvy guy to build you a sweet website. (You thought the third one was gonna be more money, didn't you?)
Aside from resources and a base, starting a company with a partner who's also part of your personal life means you both need a desire for something more, an unwavering passion, and you need to believe in your product and yourselves more than ever you believed in the Tooth Fairy when you were 9.
But don't just think of passion as an emotion; when it comes to starting a business, passion is the force that compels first-time entrepreneurs to stop everything else they're doing and, in the case of Alexis Gallivan and Jennie Dundas, open up an ice cream shop.
The two didn't know anything about business when they opened Brooklyn's first Blue Marble Ice Cream in 2007. They actually didn't even know how to make ice cream. But Dundas says their love for the idea and their drive told them they had to do it. "[Alexis] just had this inspiration and I shared it immediately," Dundas says. "So we made the decision to kind of jump off the cliff together."
And after they jumped, they quickly learned the importance of having each other. Because of their close relationship, they were able to take challenges head on -- like opening their second location just six months after their first. Dundas explains they were approached by their now landlord about the space in Prospect Heights just months after opening their first scoop shop. The rent was unbeatable, "but we just went through a winter, so we were losing money in the beginning and didn't have a lot of resources," she says. "So Alexis was really hesitant to jump into another location before we had proven the model could work."
But Dundas had a strong intuition about the second shop, so she secured a loan with the trust and support of her business partner, and opened the second Blue Marble.
Nine years later, Blue Marble has three scoop shops and its non-profit organization, Blue Marble Dreams, builds ice cream shops with women in distressed areas like Rwanda and Haiti. That's the power of passion.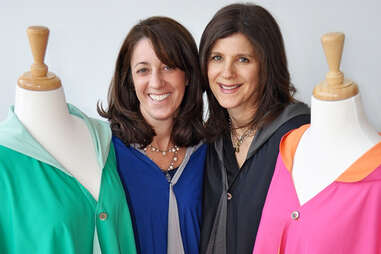 You have to really, really trust your partner
Dundas and Gallivan weren't the only first-time entrepreneurs to take that figurative leap together; RAINRAPS founders Stacy Struminger and Rachel Teyssier built their company from the ground up after Struminger designed the product -- what she describes as "a pashmina for the elements." It's a stylish, waterproof way to stay warm, which Struminger herself needed, saying she was always "prepared for the cold restaurant, the cold movie theater, but never prepared for the rain."
They developed business know-how as they went along, and continue to learn more every day. Something they discovered early on, however, is the importance of trusting your partner -- which comes easy when your business partner is your best friend.
Struminger says their friendship makes dealing with business transactions simple. "We trust each other to write checks, make deposits, keep money [safe]," she explains. "There's nothing I would never not trust her on, and that's such an important thing in business."
Siblings Jen and Jeff Martin of Pipcorn (you know, the tiny popcorn you saw on Shark Tank and now buy six bags of every time you're in Whole Foods) agree that having a close personal relationship makes for a better business duo. "We like the same things and more importantly, we don't like the same things -- which makes it ideal to be business partners because our instincts and values are the same," says Jen. "There are so many decisions we don't need to have big conversations about, which allows us to operate faster and more efficiently."
But don't forget to find a work/play balance
Because you're close friends, you're probably gonna want to keep it that way. It's easy to get caught up in the business, but you need to remember to take time for your personal relationship. The Martins say this was the most difficult part of learning to work together. "The biggest mistake partners make is not separating the business and personal relationships," says Jen. And for this brother and sister team, preserving that personal relationship was crucial. The two barely even remember each other growing up since they come from a family of four siblings, but once they finally got close in high school, they became best friends.
"It is so important to make time to [both] take care of the base of the business and appreciate having one another," Jen adds. If not, what ends up happening is that the personal relationship dissipates, "when in fact, [that] is what allowed you to start and get to where you are in the first place," adding you'll have to "maintain and respect both relationships -- especially as the business grows and matures."
And speaking of balance… balance each other out
Whether you clearly define roles or not is up to you and your partner/BFF/brother from another mother, but make sure all your bases are covered. Over at RAINRAPS, the lines are slightly more blurred when it comes to the ladies' roles. While Struminger designs the product and Teyssier handles tech, their years of experience have taught Struminger enough to step into any role when she needs to.
"Alexis was really great at administrative tasks and I'm horrendous at administrative tasks," says Blue Marble's Dundas. "She's really great at dotting i's and crossing t's and I'm a little more just jump blindly through the hoop or into the fire." However Dundas says Gallivan didn't have as large an appetite for risk as she did, and their combined skills tempered each other to make a business work. So while both "were willing and able to roll up our sleeves and do an unlimited amount of work," as Dundas says, their different personalities were what gave the business the balance it needed to benefit from that work.
Be able to take breaks from each other
After a long day at the office, there's nothing better than meeting your friends for happy hour and venting about work. But when your closest friends are your colleagues, you find yourself talking about investors and jotting down notes while you're waiting to order a drink. (Why'd you go to that bar anyway? You know it's always packed.)
So for the sake of their friendship, Dundas and Gallivan started to separate socially once they felt Blue Marble was at a good place. "We were just so saturated with each other," Dundas says. "We were together 24/7 for the first two-to-three years because growing the business is like the only thing that matters. I took no vacations, no days off, and [Alexis] was the same way."
After those first few years, the two realized they needed to have lives outside of the business. "Eventually you have to start carving time out for yourself [or else] you say, 'What's the point of all this?' "
"It's like a marriage," adds Dundas, "You go through phases where you're irritated by things that don't really matter. What I'm so proud of and so thankful for is that Alexis and I have managed to stay very, very close friends -- even though we've been through times where I'm sure she wanted to throw me across the room."
And there's a valuable lesson to be learned in all of this. What makes someone a great business partner is more than just their skill set or how well you get along in the short-term.
"Would you have a baby with this person? Would you share something that's treasured and that you're devoted to?" Dundas advises. "Cause that's what it's like. Your finances are completely intertwined, your day to day, everything is intertwined."
But reservations aside for a second, everyone's favorite boss Michael Scott once said, "The people that you work with are, when you get down to it, your very best friends." The Office schlub may have put the Dunder in Dunder Miflin, but there's no reason he has to be wrong here. So when you have that next lightbulb moment, take it to your closest pal and you'll already be one step ahead of the game.