Everything You Need to Know Before You Paint a Room
Alright, so you've got a color in mind and found a few brushes in your closet. You're like a modern-day Michelangelo and you're about to Sistine Chapel the crap out of your house. But if you've never painted before, here are a few things you need to know to get from point A to point Z without totally botching it.
Test paint samples on the wall first
A small swatch of paint will give you an idea of what color you want, but that color might be totally different once it's up on your wall, like the interior design equivalent of Harvey Dent. So pick out a few samples to try and pay attention to how the color looks throughout the day in different lighting. You'll prime over them later, so feel free to go wild.

Decide if you want a matte or gloss finish
For interior walls, you'll almost always want to go with a matte. Gloss is super reflective and is primarily used on doors, cabinets, furniture, and the lips of women.

Figure out how much paint you'll need
This is easier than running for president. Benjamin Moore has a great calculator that'll help you figure out just how much paint you'll need. It won't be exact, but like Donald Trump's resemblance to a shaggy guinea pig, it'll be pretty damn close.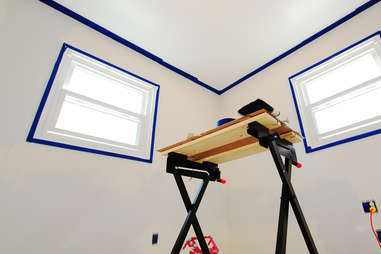 Get the right accessories
Aside from your paint, brushes, paint jug, and sixer of BL Limes, you'll need some add-ons to help you get this job done right. The most common accessories are roller extenders, a step ladder, different-sized brushes for different areas, a drop cloth (or two) for your floor and to cover your furniture), and any Bruce Springsteen album that is called Nebraska.

Clear the room
The next thing you'll want to do is deflate your inflatable couch, chair, and bed, and… wait… you have actual furniture? Oh… yeah, me too. Okay, so the next thing to do is move whatever furniture you can out of the room. Anything that's too big, cover with a drop cloth.

Prep your walls
Use some soap and water to wipe off all the dirt and oil caked on the walls from your dirty, oily hands. You don't have to be too thorough, but it'll help the paint adhere more. Then, use painter's tape to cover up electric sockets and the trim around windows, doors, and ceilings.

Prep rollers and paintbrushes
Wash the rollers and brushes with cold water before using them. The water will take all the fuzz off of the rollers as well as keep the paint from caking to the top of the bristles on your brush. Don't worry about letting them dry either, you can paint with a wet brush/roller.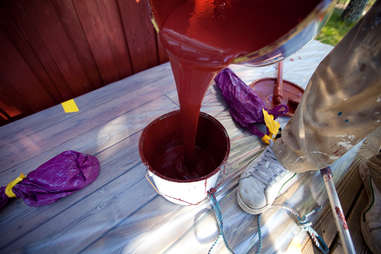 Prime your walls with tinted primer
There are two types of primers, tinted and white. Most pros go with tinted because it does a better job of covering up previous paint, blemishes, and repairs in the wall. What it won't cover is your crippling insecurity over choosing the wrong paint color. That's all on you.

Mix all your paint together in a large bucket or bin
​If you're working with two gallons or more, it's best to mix em' in a large bucket and stir it up like a Bob Marley shirt at a death metal concert. This will ensure all your paint mixes together and you won't be left with even the slightest bit of difference in the hues.
Brush before rolling
There are a lot of places a roller can't go… close to the ceiling and floor, around windows, in tight corners and small spaces. Start with the brush, hit these hard-to-reach places first, and when you move on to the roller, you'll breeze right through it.

Scrape a ridge in textured ceilings for perfect lines
It's difficult to paint a straight line when you're working with a textured ceiling. The trick? Take a screwdriver and create a ridge. When you run the brush by it, the bristles will fall into the ridge and you'll be left with a perfect line and a solid reputation as a painter. Like Van Gogh, but better because you'll still have two ears.
Sign up here for our daily Thrillist email, and get your fix of the best in food/drink/fun.
Alex Robinson is an editor at Thrillist. Follow him on Twitter where he'll paint you a picture of his life in less than 140 characters.