Lifestyle
Sponsored by
8 Cozy Activities That Are Perfect for Winter Weekends
Sponsored by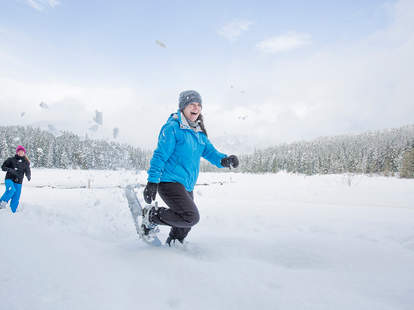 Sing along, everyone: "It's the most wonderful time of the year." No, not just the holiday season -- every second of winter. Marked by a calmer pace of life, ice skating dates, and steaming mugs of hot cocoa, winter represents a full season's worth of unique opportunities. When else can you revel in the outdoors and reconnect with friends & family, all while revamping your wardrobe with warm, comfy layers? To make sure you can fill your calendar up with weekend getaways, new local venues, and life-affirming good vibes, we've rounded up eight activities that will keep you feeling warm and fuzzy throughout the best time of year.
Be a tourist in your own town
There's no need to hop on a plane or drive for hours to feel like you're a tourist on vacation. Dedicate a day this winter to rediscovering all the new and exciting activities taking place in your hometown. Throw on one of Cuddl Duds' SoftKnit Hoodies and gather a group of friends and family to check out a local holiday parade or winter festival. Take a drive through some of your town's best holiday light displays or go on a guided neighborhood walking tour and uncover a new historical anecdote about where you live. Better yet, use the colder weather as an excuse to stop by nearby attractions that can get crowded at other times of year -- like the zoo or a farm (cabbage, brussels sprouts, and squash are all in peak season now) -- and take your time exploring the grounds at your own pace.
Unsplash
Go ice skating
Whether it's at an indoor rink or on a frozen pond, ice skating is a great way to get yourself up when the thermostat keeps dropping down. Another positive to lacing up your skates: Working out in cold weather has health benefits including a boost in energy and mood (thanks to increased endorphin production from your body working harder), plus it can increase the number of calories burned. So recruit some family or friends, pack some healthy snacks, and get ready to work those glutes. And don't forget to put on some stretchy fleece leggings and and a long sleeve fleece crew like the ones offered by Cuddl Duds to protect you from the cold while you attempt to pull off a toe loop.
Perform an act of kindness
The winter season is always good for getting you in that giving mood. Making others feel good doesn't just benefit them, it benefits you, too -- and there's science to prove it. A recent study published in the Journal of Social Psychology concluded that performing kind acts boosts your own happiness and well-being. You can go big, by spending a day volunteering at a local charitable organization. Or, start small: hold a door open for a stranger, shovel a neighbor's sidewalk, or ask the grocery attendant to apply your unused coupons to another customer's order. Feeling creative? Try putting sticky notes with positive affirmations drawn on them on a restroom mirror at work.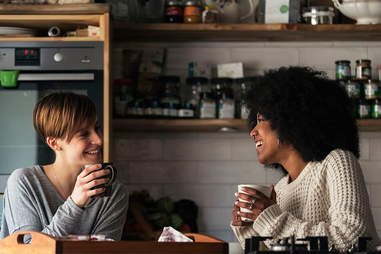 Stocksy
Try a new coffee spot
It's easy to become a creature of habit when you find a coffee spot you love, but what better time than winter, when you're constantly craving hot beverages, to weave a new go-to into the mix? Get your friends in on the experiment by scheduling at least one coffee date a week to catch up on each other's lives. (Allow us to make a few suggestions about where to go.) You can even bring a small group together if your book club is in need of a new venue. If coffee is not your thing, make it a hot chocolate or hot tea date instead. If you're still looking for a caffeine fix, yerba mate ranks a close second to coffee; if you're meeting your friend in the evening, chamomile is known to have a sedative effect to help you wind down.
Embrace a winter wardrobe
When it comes to winter wear, it's all about layering -- not just to keep you warm, but to keep you looking good. Cuddl Duds' warm base layers are multi-functional, super-soft, and come in lots of colors and prints to match your particular style. The best part of layering is the ability to peel items off depending on your temperature. A pair of Cuddl Duds soft, stretchy leggings worn under your favorite pair of jeans will keep you warm on outdoor adventures, while their hooded tunic works just as well under your jacket as it does for lounging at home. Plus, the items are lightweight enough to ensure that dressing in layers won't make you feel at all confined.
Unsplash
Go on a cabin getaway
One of the most enjoyable trips you can take is much closer (and a lot more affordable) than you think. By booking a cabin in the countryside and gathering your crew for a girl's weekend, you'll have a vacation where you'll actually get to relax. The best part of this lodging arrangement is the BOGO aspect: You rented the cabin, but you get the accompanying landscape for free, so take advantage of it. Go on a group hike to a nearby historic site, or if it's not too snowy, take a bike ride to town to explore the antique shops. Inside, get everyone to pitch in making flapjacks or break out a nostalgic board game. Pro tip: Somebookingsites have sections just for cabin rentals, so start your search there to find your ideal rustic vacation home. 
Make your home comfy & cozy
A winter weekend is the perfect opportunity to cuddle up with a good book and cozy blanket. To prepare your reading nook for maximum relaxation, place an essential oil diffuser nearby, stocked with your preferred scent. Consider warm options like cinnamon to boost your focus or bergamot to decrease stress. Then, put your phone on silent while you dive deep into a new read. You could always scan the latest bestsellers, but may we suggest choosing a winter-set tale. Transport yourself to snowy Russia by revisiting Leo Tolstoy's classic Anna Karenina or following two sisters' complicated relationship with their mother in Winter Garden by Kristin Hannah.
Dress warm and hit the trails
Hiking is great, but to truly get the most out of the winter landscape, make this the year you try snowshoeing. The recreational activity is low impact, inexpensive to try, and if you can walk, you're already more than halfway to being able snowshoe. Start by dressing for warmth by wearing a pair of Cuddl Duds Stretch Thermal Leggings and a Cuddl Duds Stretch Thermal Hoodie underneath your winter coat. To get your feet wet (er… snowy), there are plenty of great online beginners' guides, but as a newbie, keep it simple and look for a flat-terrain snowshoe designed for easy walking. Really it's a one foot in front of the other endeavor, so locate your nearest rental shop and be sure to ask them about the best local trails -- you'll be conquering them in no time.