Where To Practice "Less Is More" In Your Life This Spring -- And Why It Matters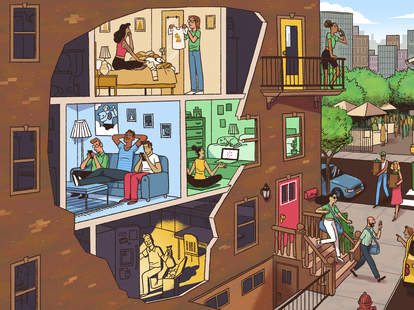 Spring is here -- and that means everyone wants to tidy up around the house (like how our moms wished we did in high school). Of course, organizing your physical space is essential, but this spring cleaning methodology should extend into your daily habits and rituals, too. From prioritizing your morning coffee breaks with less sugar to scheduling necessary social media breaks, here's how to embrace a well-rounded "less is more" lifestyle this spring (and, hopefully, every day moving forward).
Get real about what's in your refrigerator...
From paying attention to costly food waste to limiting takeout that sits in the fridge, tackling bad food behavior is essential for your wallet and your body. Considering Americans throw out about a pound of food a day, use methods like "the first in, first out" rule, so you're always utilizing everything in your fridge and not accidentally buying more grub. Only shop for what you eat regularly and then make one-off trips for special meals, so nothing goes in the garbage. Incorporate minimalism into your diet by nixing artificial ingredients for higher-quality foods. No post-work excuses either, considering you can hit up the freezer aisle for fruit, veggies, and other quick, healthy snacks instead of relying on Seamless.
David Saracino/Thrillist
...And in your AM pick-me-ups
"Less is more" also matters when it comes to refreshing coffee drinks. Instead of reaching for caffeine pick-me-ups topped with whipped cream and sprinkles for a boost before the big meeting, try grabbing a can of Peet's Iced Espresso -- a high-quality espresso beverage you can take on the go. Pairing fresh milk and pure cane sugar with their single-origin dark roast Colombian espresso, it's rich and creamy without any artificial colors, preservatives or sweeteners. Oh, and it has less sugar than most bottled coffee drinks. Since their top-selling drinks at their coffee bars inspired it, it's like you're getting a coffee shop-quality espresso, minus waiting in line.
Declutter your finances
It's time to use your bank account to empower you to embrace minimalism in your finances. Go through a few months' worth of statements and note patterns that emerge in your spending. It'll help you decide what's essential (Trivia night with the crew and Sunday yoga) while fixing or letting go of cringe-worthy habits ($17 salads and credit card fees). Make excess mail a thing of the past by going completely paperless so you never miss a bill or a notice. Speaking of paper, if making a traditional budget stresses you out, apps like Mint are real lifesavers since they track everything in one organized place.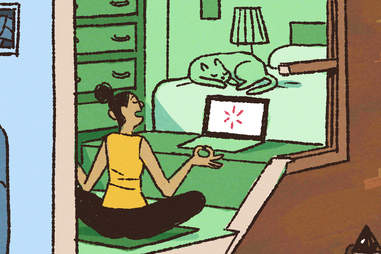 David Saracino/Thrillist
Free up your inbox (and your mind)
The power of getting to "zero unread emails" might not be attainable for everyone (personally, I have 1,277 unread emails) but that doesn't mean you can't start somewhere. Beyond utilizing apps like Mailstrom that can help you accomplish project Inbox Zero without doing it by hand, start deleting new messages immediately after you read them if they aren't worth keeping around. Tackle the problem in another proactive way by unsubscribing from daily sales emails, newsletters, and other things that clutter up your inbox that you never read -- it will also help you feel less tempted to shop. Less email clutter, happy minds (and subsequently increased closet space).
Focus on quality over quantity in your closet
There's no denying the joy that comes with snagging a fresh pair of sneakers, but if your closet doors haven't fully closed in a year and are screaming SOS, it's time to make some adjustments. Just like the "first in, first out" rule in your fridge, move clothes you haven't worn in a while to the front of the closet, so they're top of mind before you go shop -- you'll probably re-discover some hidden gems. When you still need to buy new stuff, hit up end-of-season sales to get staple items, like jackets and boots, so you get a good deal and a higher-quality piece you don't have to worry about buying next year.
David Saracino/Thrillist
Scale back on overpacking
We're all guilty of stuffing in a week's worth of "essentials" into a bag for a two-day trip, only to re-wear elements of one outfit the entire time. Considering checked bags can rack up anywhere from $50 to $120 for a roundtrip flight, that's cash you could use for beach cocktails if you brought three less pairs of shoes. Start by packing outfits for each day and not just a random assortment of stuff you grabbed and praying for the best. Bring staple items you can re-wear with different accessories, like black pants and jean jackets, and utilize laundry services in a hotel or Airbnb. Because overpacking means more clutter and less room for trip souvenirs you actually care about.
Spring clean tech habits
Adults spend nearly half of their day  consuming digital content and check their phone about 47 times a day. Some studies even show there's less risk for depression and anxiety for adults if they focus on living IRL. Monitoring usage is as easy as going into the "Screen Time" breakdown in your iPhone settings or downloading apps like Space that can track it for you on any device. Once you get a clear picture of your vices, set limits on apps that become total timesucks (looking at you, IG). Practice social media breaks by eating meals without looking at a screen, and then see if you can handle a few days Twitter-free. Hello, more quality "me" time that involves doing things to reset your brain -- like going outside or actually reading a book.