This Is Why Sunday Funday Isn't Just For Summer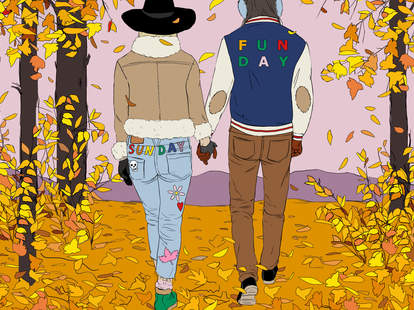 The park is way nicer in the fall.
No, really -- the fall is the most serene time to spend a Sunday in the park. Besides being able to enjoy *fall foliage,* you've got the park all to yourself on chilly days come October. That means whether you get there early or late, you'll still have a spot to lay down your blanket far away from any bathrooms or trash cans. Plus, with all that extra space, you can actually throw a frisbee or football around without bonking someone on the head or treading over a small child. Just throw an extra layer on and bring some warm hot chocolate in a thermos to keep you toasty while you jump in big piles of leaves.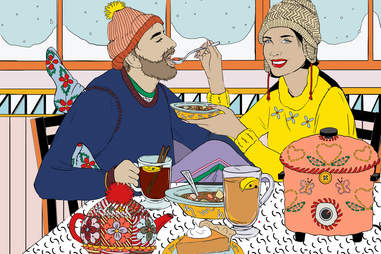 Lindsay Mound
Apple pie? Slow-cooked beef stew? Cheese and carbs? They're back.  
Celebrate sweater season the right way: eating all the warm, cheesy, carby things you've missed after a sweltering summer. Hearty stews, pies, mashed potatoes loaded with cheese and bacon -- all of these are totally ambitious meals in August when the heat index is at 110. Also, you're never going to be able to hang out on the beach after carb-loading on pumpkin spiced cinnamon rolls -- but hanging on your couch after? Totally doable. Whip up the meatiest, cheesiest, most carb-filled dish and no one will give you side-eye. Looking for inspiration? Here are the best loaded mac and cheese recipes we could find, and all the slow cooker meals that'll keep you warm this winter. Go ahead and grab seconds and thirds; that's what fall layers are there for.
Football is a pretty good reason to party, even if you don't watch it
Even if you can't name a single QB, football is one of the best ways to get everyone in your friend group out of their living room and into a bar, (or at least into the same living room) together on Sunday. Some casual beers and a few dozen wings might be enough to lure even the most hermit-y person in your group out of the house. Best of all, any talk of exes, politics, or work can be silenced with a resounding "Hey, the game is on!" If you're making plans to go to an actual game, you'll spend the entire morning tailgating, which leads us to...
You can still have brunch outside; it's just called tailgating
It may be too chilly to sip a bloody mary on a rooftop, but that doesn't mean you're stuck without outdoor brunch 'til March. A tailgate is the equivalent of a summer Sunday brunch: it starts early in the day, can last for a few hours, and you can totally eat anything from sausage and bacon and eggs to ribs and burgers. Really, the whole "football game" thing is just an excuse to party -- some people don't even go to the game, they just keep tailgating right on through it. However, if you're still dead-set on brunching like you normally would, brunch only gets better after summer because...
There are fewer people at brunch in the winter
Colder weather and gray days mean more people sleep in (the ones with no Sunday Funday spirit, at least), so you'll get all the coffee and eggs benedict you want without waiting an hour for a table. And even though it'll be hard to wake up when you're snug in your bed and the weather is trying to convince you to stay put, the payoff will be legit: you'll finally be able to hit up that super-popular breakfast spot, without showing up at either 7am or 3pm.
Bad weather is just an excuse to hole up in a cozy bar
A blizzard or torrential downpour on a Sunday doesn't mean your day has to be spent with sweatpants and hours of Food Network. (I mean, unless you want to?) If there's a bar within walking distance to your place, a stormy #SundayFunday is the time to head there. You'll make some new friends with others who braved the rain or snow, as well as the bartender -- giving you instant "regular" status (and probably a few comped drinks over the course of the next year of your lease). Better yet, if you find a bar that also has a fireplace, you'll be way cozier than sitting in front of the "crackling fireplace" video on your TV.
Lindsay Mound
Fall is the best time to go see a movie
Spending a rainy Sunday at the movies is a classic #SundayFunday activity any time of year, but the fall is the best time to go, hands down. The films are just better. In the summer, you're stuck with blockbusters like the seventh version of Spiderman. (Not to mention you're spending the whole time wishing you could be watching this movie outside.) But come October, when silver-screen contenders are pandering for an Oscar-nomination, you'll not only be entertained, but cultured too. Plus, seeing a movie on a Sunday afternoon means cheap matinee tickets, so you can splurge on the XXL popcorn. (Or really just the medium size, amirite?)
Because summer isn't the only season with festivals
Festivals in the summer get all the love, with their teeth-rattling, bass-heavy music lineups and clumps of sweaty bodies too close together. Weekend fall festivals, however, celebrate harvest season (and zombies-jumping-out-of-hay-bales-and-scaring-you season) and are severely underrated in comparison. You've got chowder cook-offs and chili competitions, where burly dudes stir giant pots of delicately crafted meat and seafood soups. There's craft beer festivals, with every type of seasonal brew you can drink, (and all the apple cider you can handle) -- and you won't sweat through your flannel. To find out what's going on near you, you can check out the website for your local park, check Facebook events in your area, or, you know, head over to one of the city sections of this lovely website. An added bonus of these fests: you'll also still have the ability to hear the Monday morning meeting, which we guess is a good thing.
Fall Sundays are the best days to go on a date
It's cold. We get it. There are going to be some Sundays where all you want to do is hibernate -- preferably not alone (which is why fall is cuffing season). Maybe after spending a full weekend on the go, come Sunday all you want to do is cuddle up with someone and watch The Walking Dead. Everyone is on the prowl for someone to shack up with through the brutal winter days ahead, and the best day to go on a date for a potential candidate is on Sunday. 1.You have the perfect excuse to head out early if it isn't going well and 2.You get to see your date in a beautiful, autumnal glow (AKA broad daylight). Also, being able to actually talk over coffee (which is a pretty successful first date) will more likely result in a long-term thing than screaming to each other over drinks in a loud bar.
Miss summer barbecues? Just replace 'em with a Sunday dinner.
Italian-Americans have one Sunday tradition you should be copying: the Sunday dinner. While you might not have a secret family "gravy" recipe or an Italian nonna who dumps extra cheese into the lasagna, you still have the perfect excuse to gather your buds at your house over grub way after cookout season is over. Like a barbecue, you can start these gatherings early (say 2pm?) so everyone is out of your hair by 6, and no one will leave hungry. (Bonus: your friends won't be asking you whether you plan on getting married in this lifetime like Nonna.) Really, as amazing as potato salad is, the food at these gatherings is secondary to having the opportunity to chill with your friends while some chicken bakes in the oven. Point is, it doesn't need to be a lot of hard work and planning. We do suggest you use it as a chance to hone your cocktail mixing skills, though.